UBC Pharmacy Student (1st Year)
This webpage is for UBC students going into first year pharmacy school.
If you are going into 2nd, 3rd or 4th year, you must renew your student pharmacist registration with the College prior to the start of each new school year.  See this page for details instead: Registration Renewal.
If you are a 4th year pharmacy student planning to apply as a full pharmacist after graduation, visit this page instead: New Pharmacist – Student Pharmacist (UBC)
All pharmacy students from the University of British Columbia (UBC) are required to register with the College as student pharmacists prior to the start of their first year. Student Pharmacist registration allows students to undergo their structured practical training, or to provide pharmacy services while under the supervision of a full pharmacist. Pharmacy students must maintain their registration throughout the length of their pharmacy program by completing their online renewal prior to the start of each school year, and may apply for Full Pharmacist registration after graduation when they have met all the requirements.
Student Pharmacist Registration for UBC Students
Student Pharmacist Registration process Overview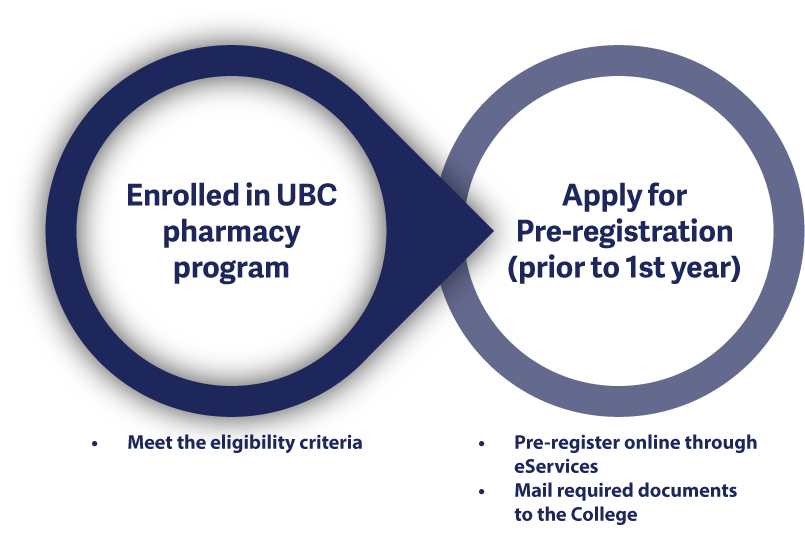 Eligibility Criteria
Enrolment in the undergraduate program with the Faculty of Pharmaceutical Sciences at the University of British Columbia.
Application Process
Review the General Registration Information for Student Pharmacists before beginning the application process to ensure you have all the correct documentation required for your application.
To apply for Student Pharmacist registration, complete the following steps:
Apply online through eServices

Note: Online access is now open

Go to eServices and select "Pre-Registration" in the top menu
Create an eServices account by clicking on the "Register" button
Select your registration category: "Pharmacist" and "Student (UBC)"
Review and complete information online
Make payment with credit card online

Mail the following documents to the College:

Completed Notarized Identification form;
Notarized copy of primary ID;

Birth certificate or Canadian citizenship certificate/card

Copy of name change or marriage certificate (if applicable);

If the names on your documents are inconsistent and a name change or marriage certificate cannot account for the differences (e.g. different spelling), you must provide a notarized affidavit (see sample affidavit template).

Notarized copy of evidence of authorization to work;

Acceptable documents include: Canadian birth certificate, Canadian citizenship certificate or card, Canadian passport, Permanent Resident card or work permit.

Letter of Standing sent directly from each of your previous regulatory bodies if you have been registered in a health profession in any other jurisdiction.

Letters(s) must be dated no earlier than 3 months of receiving your application. If you were registered elsewhere but you are unable to provide a letter of standing, you must submit a notarized affidavit (use the​ sample affidavit template).

​ If you have never been previously registered as a health professional, a letter of standing is not required.
To check the status of your registration application, follow the steps below:
Log onto your eServices account
Click on the "Apply for Pre-Registration" button
Click on the "4. Summary & Payment" tab
Once your application is complete, a notification email will be sent to the email address which you used to register for your eServices account. Ensure your email address under the "My Profile" tab on eServices is up-to-date. Add the College's email addresses to the Safe Sender List if necessary.
registrant renewals.
Full Pharmacist Registration for UBC Student Pharmacists
You will need to complete the required assessments in the last year of your pharmacy program before applying for Full Pharmacist registration. Review the information on the New Pharmacist > Student Pharmacist (UBC) page before registering as a Full Pharmacist.
Summary of activities required with the College for UBC pharmacy students: