Pharmacy Education Site
A pharmacy education site is licensed solely for the purpose of pharmacy education and pharmacy services are not provided to any person.
Eligibility Criteria FOR THIS LICENCE TYPE
The pharmacy education site must be located in an educational institution where pharmacy education is offered.
The pharmacy education site must not be open to the public seeking pharmacy services. 
The pharmacy education site may store Schedule I, II and II drugs, but not any controlled drug substances.
Application Process
A summary of the process and requirements to open a new pharmacy education site is listed below.  Read the "Opening a New Pharmacy" section in the Pharmacy Licensure Guide for details before you start applying.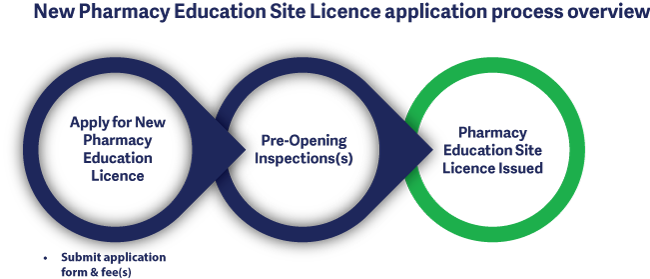 Submit Phase 1 Requirements: Ownership/Manager Requirements

Apply for a Pharmacy Education Site Licence

​Submit the following documents and refer to the appropriate section in the  Pharmacy Licensure Guide for more information:

Signed copy of the attestation using PODSA Form 5: Manager/Direct Owner/Indirect Owner – Proof of Eligibility from the proposed manager

 

Allow up to 14 days for processing.

When processing is complete, the manager will receive instructions via email to complete his/her Criminal Record History if one has not be done with the College in the previous 5 years.

Submit Criminal Record History (CRH) to Complete Proof of Eligibility

The manager should complete their Criminal Record History (if required) as soon as possible upon receipt of the email from the College.

It will take up to 7 days to process a Criminal Record History result.

When all the requirements for Phase 1 are met, Health Insurance BC (HIBC) of the Ministry of Health will be notified.  The authorized representative will receive a notification via email and may start building your pharmacy education site.  

Build the Pharmacy Education Site

Build the new pharmacy education site.

Notify the College at [email protected] if there is a change in the proposed licensure date that was originally indicated in your application to avoid delays in the next phase of the process.

Phase 2:  On-site Pre-Opening Inspection by College Inspector

Contact the College at least 30 days prior to the proposed licensure date to schedule an on-site pre-opening inspection by a College Inspector.

A College inspector will conduct a scheduled pre-opening inspection at the pharmacy education site, if required.

Note: A subsequent visit will be required if requirements are not met, which may delay the opening of the new pharmacy.
Once all the above documents are complete and all requirements are met, the authorized representative will be notified by email when the pharmacy education site is authorized to open.  A pharmacy education site licence will be issued and HIBC will also be notified.
A pharmacy education site licence is valid for 12 months and must be renewed through eServices annually no later than 30 days before the expiry date.  An email notification will be sent to all authorized representative(s) approximately 75 days before the pharmacy licence expires.  Ensure that your email contact information on eServices is always up-to-date.