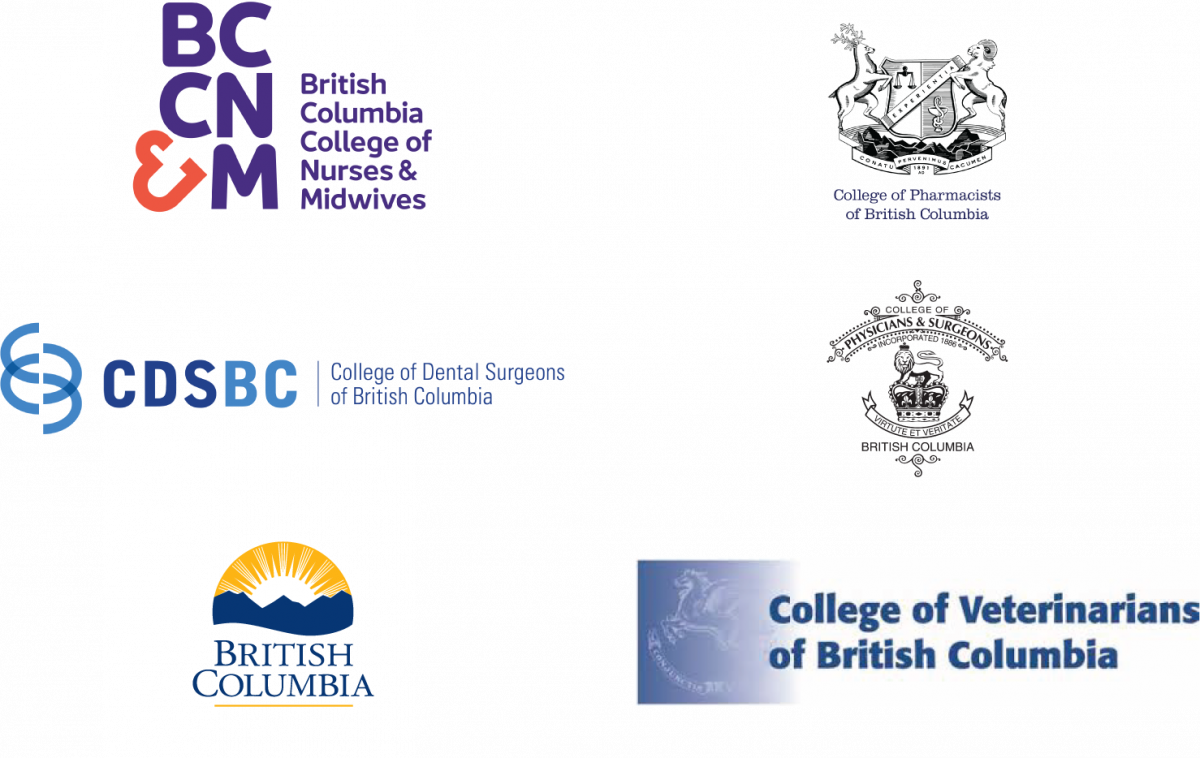 CONTROLLED PRESCRIPTION PROGRAM
The Controlled Prescription Program aims to reduce inappropriate prescribing of selected controlled drugs and to prevent forgeries. Prescriptions for the controlled drugs specified in the program must be written on the duplicate prescription pad specially developed for this purpose.
Program Partners
BC College of Nurses and Midwives
College of Dental Surgeons of BC
College of Pharmacists of BC
College of Physicians & Surgeons of BC
College of Veterinarians of BC
Ministry of Health (PharmaCare Program)
Representatives from each of these organizations make up the Controlled Prescription Program Advisory Committee which is responsible for regularly reviewing and updating the Controlled Prescription Program requirements and drug list, and making recommendations regarding drugs that should require a duplicate prescription, and the information that should be provided by registrants of each college on a duplicate prescription.
In addition, the committee provides a collaborative forum to discuss common concerns and knowledge related to prescribing of drugs with a high-risk profile. Best practices discussed by the forum also help guide development of related College standards for health professionals.
Under section 19(6)(a) of the College of Pharmacists of BC's Bylaws under the Pharmacy Operations and Drug Scheduling Act, the controlled prescription form must be approved by the Boards of both the College of Pharmacists of BC and the College of Physicians and Surgeons of British Columbia.
In addition, under section 22(1) of the Pharmacy Operations and Drug Scheduling Act the College of Pharmacists of BC is also responsible for making amendments as needed to the Drug Schedules Regulation, which specifies the terms and conditions for the sale of drugs in the province.
How the Program Works
The selected drugs included in the program may only be prescribed in writing using a special Controlled Prescription Program duplicate pad printed for the purpose.
Once the prescription is written, the prescriber retains the bottom copy marked "PRESCRIBERS COPY" and provides the patient with the original identified as "PHARMACY COPY," which the patient gives to the pharmacist.
Note: Controlled Prescription Program duplicate prescription pads must still be used when using Electronic Medical Records (EMRs). As with all prescriptions, prescribers must ensure that all fields on Controlled Prescription Program forms are completed correctly including one generated from an EMR.
The Controlled Prescription Program also includes requirements and guidance on:
ordering duplicate prescription pads
safe keeping and reporting lost, stolen, or forged prescription pads
record retention
prescription from delivery options, including mailing and receipt of forms to pharmacy
Drugs Included in the Program
The list of drugs covered by the program has been agreed to by all the program participants. Unless otherwise specified, both single-entity products and preparations or mixtures of the scheduled drugs require the use of Controlled Prescription Program forms.
Drugs included in the program are listed as Schedule 1A drugs in the Drug Schedules Regulation under the Pharmacy Operations and Drug Scheduling Act. 
Prescriptions for long-term and extended-care facility patients do not require the use of Controlled Prescription Program forms.
Note: More than one strength of medication can be included on one Controlled Prescription Program form, provided the orders are legible.
The following summary highlights many of the Schedule 1a drugs that drugs require the use of a Controlled Prescription Program form:
Alfentanil​​

Fentanyl​

Morphine

Kadian
M-Ediat
M-Eslon
Morphitec
Morphine HP
M.O.S.
M.O.S.-SR
MS-IR
MS Contin
Tincture of Opium 

Anileridine

Hydrocodone (Dihydrocodeinone)

Coristine-DH
Dimetane Expectorant-DC
Hycodan
Hycomine syrup
Hycomine-S (pediatric syrup)
Novahistex DH
Novahistex DH Expectorant
Novahistine DH
Ratio-Coristex-DH
Tussionex

Normethadone

Buprenorphine

Hydromorphone (Dihydromorphinone)

Dilaudid
Dilaudid-HP
Dilaudid-XP
Hydromorph Contin

Oxycodone

Endocet
Endodan
Oxycocet
Oxycodan
OxyContin
OxyNeo
Percocet
Percocet-Demi
Percodan
Percodan-Demi
Supeudo​

Butalbital

Fiorinal
Fiorinal C 1/2
Fiorinal C 1/4
Ratio-Tecnal
Ratio-Tecnal C 1/2
Ratio-Tecnal C 1/4

Levorphanol 

Pentazocine

Butorphanol 

Meperidine (Pethidine)

Propoxyphene (Dextropropoxyphene)

Darvon-N
692 Tablets
642 Tablets
Novo-Propoxyn
Novo-Propoxyn Compound

Codeine when prescribed as a single entity, when included in a preparation containing 60 mg or more per dosage unit , or when included in a liquid preparation containing 1.6 mg or more per mL

Codeine 15, 30 and 60 mg tablets
Codeine Contin
Empracet-60
Ratio-Codeine
Ratio-Lenoltec No. 4
Tylenol with Codeine No. 4

Methadone

Sufentanil

Diacetylmorphine (heroin)

Methaqualone

Tapentadol

Ethchlorvynol

 
 
Note: product names are examples only and are not intended to represent a complete list of all products available.
The following drug products are not Controlled Prescription Program drugs and do NOT require the use of a Controlled Prescription Program form:
| | |
| --- | --- |
| Amobarbital  | Ketamine  |
| Anabolic Steroids | Methylphenidate |
| Cocaine eye drops / topical  | Nabilone (Cesamet) |
| Delta-9-tetrahydrocannabinol (Sativex)  | Opium and Belladonna Suppositories |
| Dextroamphetamine (Dexedrine, Adderall)  | Pentobarbital |
| Diphenoxylate (Lomotil)  | Secobarbital  |
Controlled Prescription Program Form
The Controlled Prescription Program Form is a specialized duplicate prescription with additional security measures to prevent forgeries. The duplicate prescription forms are prepared by the Ministry of Health and are only available to physicians, veterinarians, nurse practitioners, registered nurses, registered psychiatric nurses, registered midwives and dentists through a secure ordering process.
A new harmonized Controlled Prescription Program form will be available in June 2021.
The new forms will be gradually phased in as prescribers begin to order new forms. This means prescribers can continue to use their existing forms. Pharmacists can accept both the existing CPP forms and the new harmonized CPP form.
The creation of the new harmonized form brings together the two different duplicate prescription forms currently required to be used: the generic CPP form used for the majority of controlled prescriptions, and the methadone CPP form which is used to prescribe methadone for maintenance treatment.
The new CPP form reflects updated OAT delivery guidance and no longer requires physician authorization for delivery. Pharmacists are expected to use their professional judgement to determine whether or not to deliver OAT to a patient in accordance with the College of Pharmacists of BC's Professional Practice Policy – 71 (Delivery of Opioid Agonist Treatment). Prescribers are also able to specify when delivery is not permitted.
See additional information on the development of the new harmonized CPP form
Harmonized Controlled Prescription Program Form
See the following examples of how to use the new CPP form for different types of prescriptions.
For questions on how to complete a CPP form, please reach out to your respective College.
Patient Delivery Options
Unless otherwise indicated, a pharmacist may deliver controlled drugs to a patient based on their professional judgement if they feel delivery is appropriate and in the best interest of the patient.
Prescribers have the opportunity to prevent delivery to a patient if the prescriber indicates that delivery is not permitted:
For drugs prescribed for Opioid Agonist Therapy, prescribers can use the NOT AUTHORIZED FOR DELIVERY option on the new harmonized CPP form. 
For drugs prescribed for Opioid Agonist Therapy using the existing CPP forms, or for other drugs included in the Controlled Prescription Program, prescribers can indicate "Do Not Deliver" on the form or directly communicate with the pharmacist.
Verbal and Faxed Prescriptions
Normally, prescriptions for Schedule 1A drugs transmitted verbally or by facsimile may not be accepted by a pharmacist in a community pharmacy.
However, due to the COVID-19 pandemic, temporary amendments were made to the Controlled Prescription Program that enable the following :
Verbal prescriptions: A registrant may dispense drugs included in the controlled prescription program upon receipt of a verbal prescription from a practitioner if doing so is permitted under a section 56 exemption to the Controlled Drugs and Substances Act. The pharmacy must receive the original prescription form from the practitioner as soon as reasonably possible.
Faxed prescriptions: A registrant must not dispense a prescription authorization received by facsimile transmission for a drug referred to on the Controlled Prescription Drug List, except in a public health emergency declared by the provincial health officer (note: this includes the opioid overdose public health emergency). In a public health emergency, the pharmacy must receive


a completed copy of the Controlled Prescription Program form transmitted by facsimile prior to dispensing the medication; and
the original form by mail as soon as reasonably possible.
Prescribers and Pharmacists should watch for updates on these temporary amendments from their College.  
Note: The College of Pharmacists of BC's Professional Practice Policy-71: Delivery of Opioid Agonist Treatment sets out specific requirements for pharmacists and pharmacy managers working in community pharmacy settings on the delivery of opioid agonist treatment (OAT) drugs by pharmacists directly to patients. This includes a requirement for pharmacists to ensure the decision to deliver or to not deliver (including the rationale for the decision) is reflected in the patient's record.
Ordering Duplicate Prescription Pads
Duplicate prescription pads are ordered through a prescribers' respective College.
The processing time for orders is 2-3 weeks. To ensure the safety and security of the pads, prescribers should always sign for deliveries of the pads.
Orders should be mailed to the work address listed on file with your College and located within the province of British Columbia. Prescribers need to contact their respective college to change their address for the delivery of the pads.
Note: For prescribers who have multiple work addresses, please contact your College to determine the delivery address. Delivery of the prescription pad to your home address may also be acceptable under extraordinary circumstances, but only after discussion with your College.
Record Retention
Records should be retained in accordance with requirements by respective Colleges.
For prescribers, do not retain the completed duplicate blue copies in the prescription pad. The duplicate copies should be filed with client/patient health records as per employer's medical records management policies. Electronic copies of the prescription are acceptable but must be kept with the patient's record.
Pharmacists must keep a hard copy of the prescription. The hard copy of the prescription must be filed with the patient's record. Electronic copies of the prescription, if any, must be filed with the dispensing record.
Lost, stolen, or forged prescription pads
Prescribers must ensure secure storage of the prescription pads. If you are concerned that a prescription pad has been lost, stolen, misplaced or forged, or if you did not receive a prescription pad order within specified delivery time, you should contact your respective College as soon as possible.
Prescribers can also report a lost or stolen prescription pad or duplicate prescription pad to PharmaNet Support Services for communication to pharmacies via FanOut.
Voiding a Prescription Pad
Program Contacts
For any specific questions not answered through the Controlled Prescription Program information document, please contact your respective regulatory College for further details.