PROFESSIONAL PRACTICE POLICY-66: OPIOID AGONIST TREATMENT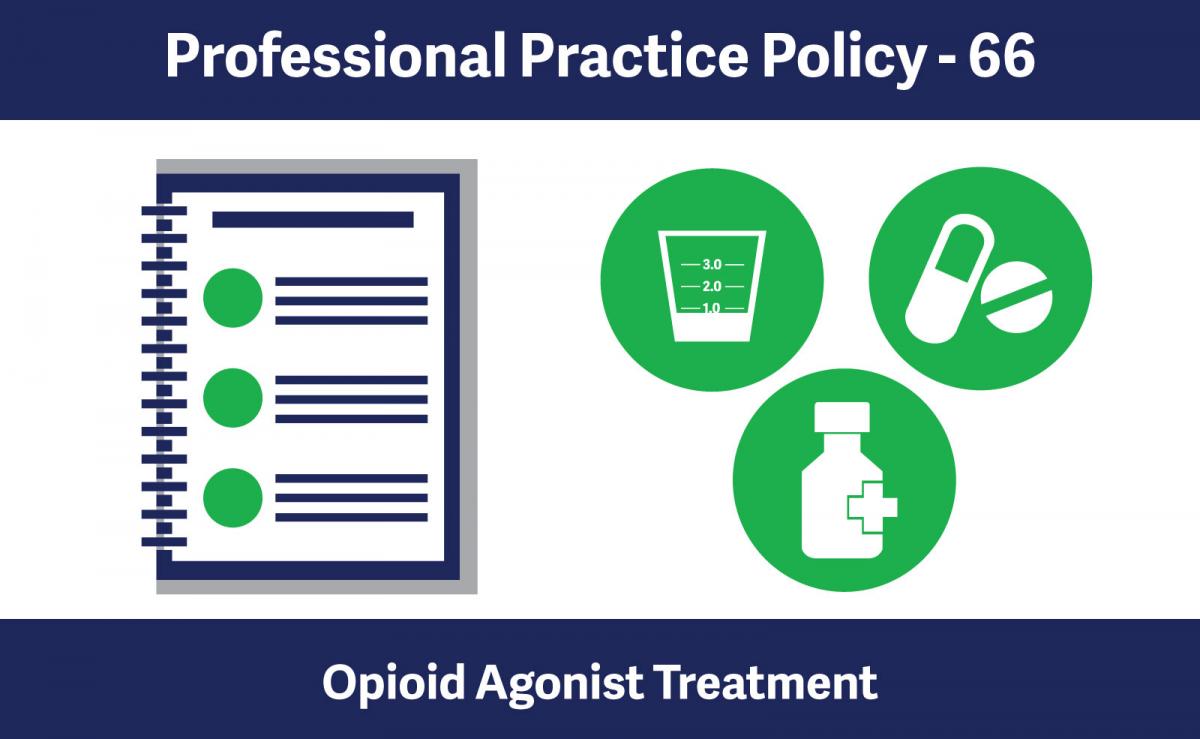 [Last Updated on October 01, 2021]
Professional Practice Policy-66: Opioid Agonist Treatment sets out requirements for safe dispensing of drugs used to treat opioid use disorder. This policy aligns with the Provincial Guidelines for the Clinical Management of Opioid Use Disorder developed by the BC Centre on Substance Use (BCCSU).
The BCCSU guidelines recommend buprenorphine/naloxone as the preferred first-line opioid agonist treatment (OAT) for opioid use disorder. Methadone remains a first line option when buprenorphine/naloxone is contraindicated or unfeasible, and slow-release oral morphine may be used  when both the first and second-line treatments are ineffective. This guideline serves as the provincial clinical practice guideline for all clinicians who wish to prescribe oral OAT to patients with opioid use disorders.
Opioid Agonist Treatment Training Requirements for Community Pharmacy
The Opioid Agonist Treatment Compliance and Management Program (OAT-CAMPP) for community pharmacy focuses on reducing stigma and expanding pharmacists' knowledge about buprenorphine/naloxone, methadone, and slow-release oral morphine.
As of October 1, 2021, all pharmacy managers, staff pharmacists, relief pharmacists and pharmacy technicians employed in a community pharmacy that provides pharmacy services related to opioid agonist treatment must have completed any applicable components* of OAT-CAMPP in order to fulfill the College's OAT training requirements as outlined in Professional Practice Policy-66: Opioid Agonist Treatment (PPP-66).
* P​​harmacy technicians only need to have completed the online component of OAT-CAMPP. The content of the in-person workshop focuses primarily on clinical cases that are not as relevant for pharmacy technicians.
Registrants who have not completed the required training should do so as soon as possible. During the ongoing opioid overdose crisis, it is in the public interest to maintain patient OAT treatment wherever possible.
PPP-66 also requires pharmacy managers to educate all non-pharmacist staff regarding their role in the provision of community pharmacy services related to OAT and document the completion of the education of individual non-pharmacist staff members. 
PharmaCare also requires every pharmacist at a pharmacy that provides opioid agonist treatment to have completed the OAT-CAMPP training by October 1, 2021. OAT-CAMPP training is also required for pharmacies to enrol in the OAT provider sub-class and to maintain enrolment. (See PharmaCare Newsletter Edition 21-008: August 4, 2021 OAT training: deadline reminder)
Learn more about the Opioid Agonist Treatment training requirements
Note: The College's Methadone Maintenance Treatment (MMT) training program is no longer be available.
Declaration of Completion
After successfully completing the College's Opioid Agonist Treatment training requirements, submit a declaration of completion through the College's eServices website. 
The College would like to remind registrants that BC's Registered Nurses (RNs) and Registered Psychiatric Nurses (RPNs) are able to prescribe some opioid agonist treatments (OAT) to treat substance use conditions. 
On September 16, 2020, the Provincial Health Officer (PHO) issued an order temporarily authorizing RNs and RPNs to diagnose and treat a problem substance use condition or substance use disorder, including by providing opioid agonist treatment and by prescribing pharmaceutical alternatives to illegally produced or street procured drugs.
---
Opioid Agonist Treatment Guides
---

Pharmacists can reach the 24/7 Addiction Medicine Clinician Support Line and speak to an Addiction Medicine Specialist by calling:
The 24/7 support line for clinicians and pharmacists is available, offering live, in-the-moment addiction medicine support while they are meeting with patients across British Columbia. Click here for more information.
QUESTIONS?
For questions about the College's Opioid Agonist Treatment requirements, including the required OAT-CAMPP Training, please contact [email protected].
For questions related to submitting the Declarations through eServices, please contact [email protected].