Back to list
Now Accepting Nominations for the 2022 Board Elections
Districts Up for Elections
The College is seeking pharmacy professionals to run for elections in the following districts:
District 1 - Metropolitan Vancouver
District 3 - Vancouver Island / Coastal
District 5 - Northern British Columbia
District 7 - Community Hospital
You can play an important role in these elections by identifying and nominating the best possible candidates!
Board members have a significant role and responsibility. It is important to remember that while an election process is used to establish Board membership, the mandate of the Board is to uphold the College's duty as set out in the Health Professions Act: to serve and protect the public. It is an honour and a privilege to self-regulate our own professions and one which we all take seriously.
Board members, whether pharmacists, pharmacy technicians or public appointees, bring diverse points of view to the table and work as a team to make sound policy and governance decisions in the public interest. Every new Board member receives an orientation to the Board's governance model and is required to take and sign an Oath of Office indicating their understanding and commitment to their role. Visit our College Board Information page to learn more about what it means to be a Board Member.
These are exciting and challenging times for pharmacy – Board members play an important role in setting the foundation to ensure all British Columbians can receive high-quality person-centred pharmacy care. The College needs passionate and forward-thinking Board members who are dedicated to serving and protecting the public through the regulation of pharmacy practice.
Submitting Nominations
Nominations are open for registrants in Districts 1 (Metropolitan Vancouver), 3 (Vancouver Island/Coastal), 5 (Northern British Columbia) and 7 (Community Hospitals). See the  District Chart.
Nomination forms must be submitted electronically to the College by emailing the form to [email protected] or by faxing to 604-733-2493 (toll free 800-377-8129).
Nominees must also email an electronic document with a 500 word or less biography and a high-resolution digital photo (JPG or PNG) to [email protected].
Nomination forms and information about the role and responsibilities of the College Board are available online.
The deadline for election nominations is Tuesday, September 6, 2022 at 5:00 PM (PDT).
Writing Your Bio
Nominees are required to submit a brief biography as part of the College's Board Elections and are encouraged to provide an Indigenous land acknowledgment for the lands on which they live and practice pharmacy.
Nominee bios should focus on promoting the health and wellness of the public through the regulation of pharmacy practice, and not on advocating for the pharmacy profession.
In order to assist prospective candidates in writing appropriate bios, the College has developed the following guidance document.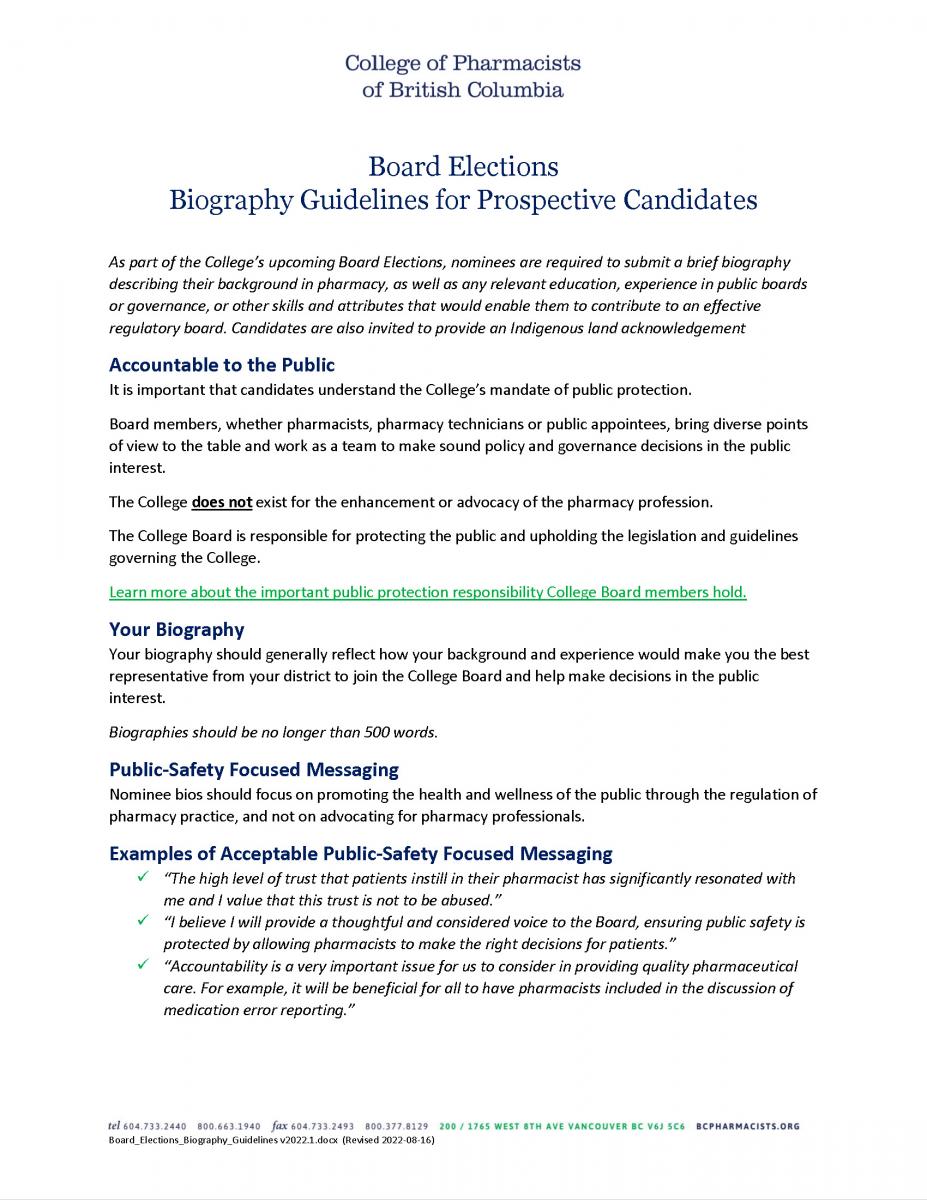 Board Elections: Key Dates
September 6, 2022 - Deadline for nomination forms, biographies and photos (5:00 PM PDT)
September 21, 2022 - Online election poll opens (9:00 AM PDT)
October 21, 2022 - Online election poll closes (5:00 PM PDT)
Acknowledgement
The College of Pharmacists of BC acknowledges with respect that itis located on the ancestral and unceded territory of the Coast Salish peoples – sḵwx̱wú7mesh úxwumixw (Squamish), sel̓íl̓witulh (Tsleil-Waututh), and xʷməθkʷəy̓əm (Musqueam) nations whose historical relationships with the land continue to this day.
As the regulator for pharmacy practice in what is now known as British Columbia, we recognize all the ancestral and unceded territories of First Nations peoples and the Indigenous peoples living across BC. The College encourages all registered pharmacists and pharmacy technicians to reflect on the traditional territory where they live and practise pharmacy.
Learn more about the College's commitment to cultural safety and humility.
DIVERSITY, EQUITY AND INCLUSION Commitment
The College is committed to making our health system more culturally safe and free from racism for Indigenous Peoples of First Nations, Inuit, or Métis ancestry. We are committed to fostering, cultivating, and preserving a culture of diversity, equity and inclusion and believe that every individual has the right to fair and equal treatment as well as access to the appropriate resources and opportunities. 

As recognized in our newly updated Strategic Plan and the In Plain Sight report, we are very interested in recruiting Indigenous Peoples to be a part of our Board and encourage their nomination.

Aug 16, 2022