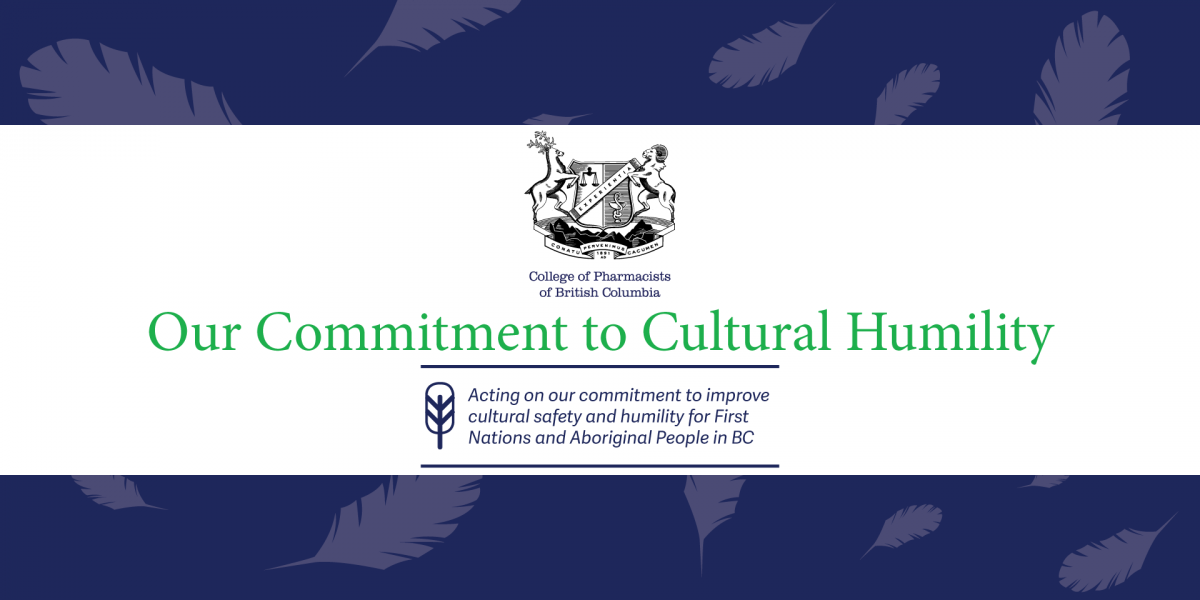 RACISM IN HEALTH CARE: AN APOLOGY TO INDIGENOUS PEOPLE AND A PLEDGE TO BE ANTI-RACIST

Photo courtesy of Capilano University

Indigenous people (First Nations, Métis and Inuit) have waited far too long for their legal rights to be recognized. And they have waited too long for health-system leaders to dismantle the racism that was built into our colonial health-care system—racism that continues to cause harm to this day.
As the leaders of the four largest health regulatory colleges in British Columbia, we offer our apology to the Indigenous people and communities who have experienced racism while engaging with us and with the health professionals we regulate.
As regulators, we govern more than 90,000 professionals who provide the foundational health services that British Columbians rely on, including physicians and surgeons, nurses, midwives, dentists, and pharmacists.
Our job is to protect patients and the public by ensuring that the professionals we regulate provide ethical, safe, quality care. However, Dr. Mary Ellen Turpel-Lafond's report, In Plain Sight, provided evidence of widespread fear and mistrust of the health-care system due to the prevalence of stereotypes, discrimination, racism and abuse experienced by Indigenous people. The report's findings illustrated how our current health-care system continues to limit access to medical treatment and negatively affects the health and wellness of Indigenous people—and that Indigenous women and girls are disproportionately impacted.
We must take specific actions, as individual leaders, within our organizations and as partners in the wider health system.
Our pledge now is to become anti-racist and to support the health professionals we regulate to do the same.
We will take this journey together, knowing that recognizing racism in ourselves and others will not be comfortable or easy. We will be guided by Indigenous elders and professionals, the recommendations contained in the In Plain Sight report, and by the legal and ethical requirements to provide respect, dignity and equitable health care for the Indigenous people of this province.
It is only through consistent concrete action to uphold Indigenous rights and eliminate racism within the health-care system that we can begin to slowly earn the trust of Indigenous people.
What you can expect from us
As leaders, we will:
Apologize to Indigenous people for the harms suffered in a racist health-care system, of which we are a part
Be anti-racist leaders who will foster a speak-up culture, where stereotypes, discrimination and racism are called out and eliminated
Establish clear accountabilities for cultural safety and humility within our leadership teams
As health regulatory colleges, we will:
Draw on Indigenous Knowledge Keepers and professionals to guide our work
Provide education and develop practice standards to ensure Indigenous people receive culturally safe health care
Invest in supports and remove barriers to ensure that Indigenous people do not feel isolated or unsafe when filing a complaint
Ensure board, staff, and committee members are trained in cultural safety and humility, anti-racism, unconscious bias, and, as appropriate, trauma-informed care
Broaden Indigenous participation on our boards and committees and staff teams
Promote anti-racism and Indigenous cultural safety and humility as core competencies for current and future health-care providers
As part of the health-care system, we will:
Build partnerships with Indigenous-led organizations to promote system change and dismantle racism
Work with our fellow provincial health regulators to implement the recommendations of the In Plain Sight report
Identify and support changes in legislation and bylaws to deconstruct colonialism, value Indigenous ways of knowing, and eliminate harm for Indigenous people
Cynthia Johansen
Registrar and Chief Executive Officer

British Columbia College of Nurses and Midwives

Regulatory college for BC's 63,000 licensed practical nurses, registered midwives, nurse practitioners, registered nurses, and registered psychiatric nurses 

Bob Nakagawa
Registrar and Chief Executive Officer

College of Pharmacists of British Columbia

Regulatory college for BC's 9,000 pharmacists and pharmacy technicians

Dr. Chris Hacker
Registrar and Chief Executive Officer

College of Dental Surgeons of British Columbia

Regulatory college for BC's 10,000 certified dental assistants, dental therapists, and dentists

Dr. Heidi Oetter
Registrar and Chief Executive Officer

College of Physicians and Surgeons of British Columbia

Regulatory college for BC's 14,000 physicians and surgeons
Commitment to Cultural Safety and Humility
The College of Pharmacists of BC is committed to making our health system more culturally safe for First Nations and Aboriginal people.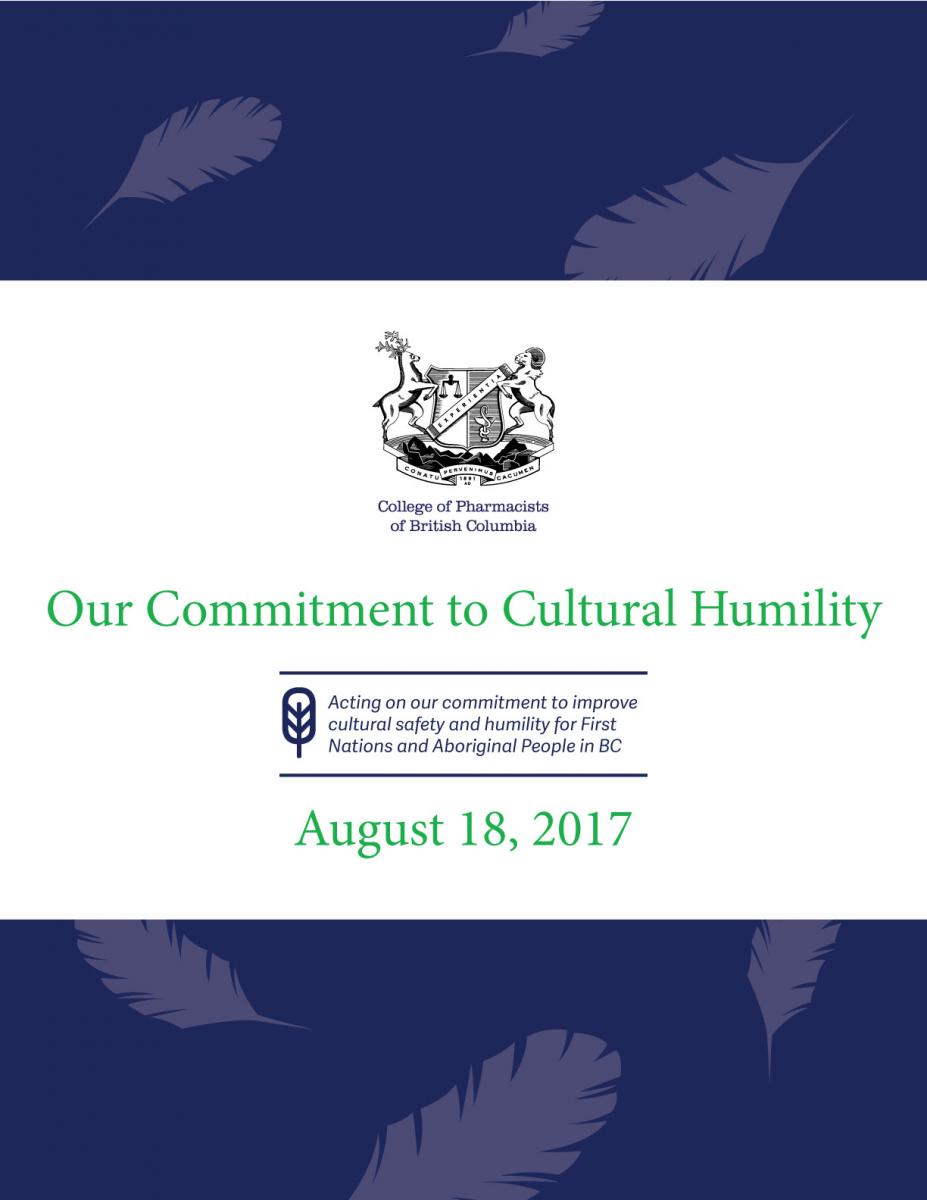 College's strategy to fulfill its pledge to improve BC pharmacy professionals' work with First Nations and Aboriginal People.
The College believes that cultural safety and humility are vital for the provision of fair and equal health services, as well as the creation of a healthcare environment free of racism and discrimination, where individuals feel safe and respected. 
On March 1, 2017, The College's Registrar, Bob Nakagawa, pledged the College's commitment to improving BC pharmacy professionals' work with First Nations and Aboriginal People by signing the "Declaration of Cultural Safety and Humility in Health Services Delivery for First Nations and Aboriginal Peoples in BC."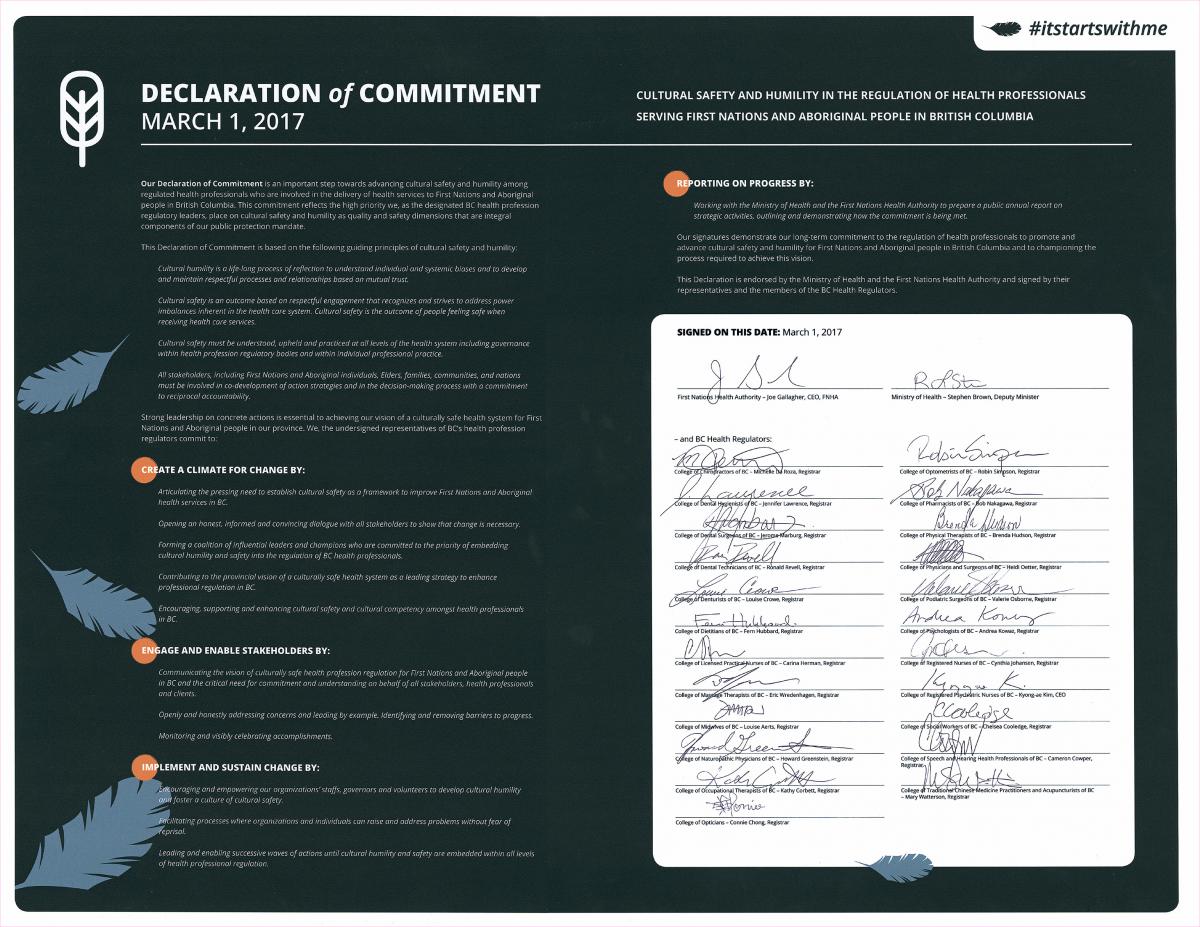 Signing the Declaration of Commitment reflects the high priority place on advancing cultural safety and humility for Indigenous people among regulated health professionals by committing to actions and processes which will ultimately embed culturally safe practices within all levels of health professional regulation. 
This Declaration of Commitment is based on the following guiding principles of cultural safety and humility: 
Cultural Humility is a life-long process of reflection to understand individual and systemic biases and to develop and maintain respectful processes and relationships based on mutual trust. 
Cultural safety is an outcome based on respectful engagement that recognizes and strives to address power imbalances inherent in the health care system. Cultural safety is the outcome of people feeling safe when receiving health care services. 
Cultural safety must be understood, upheld and practised at all levels of the health system including governance within health profession regulatory bodies and within professional practice. 
All stakeholders, including First Nations and Aboriginal individuals, Elders, families, communities, and nations must be involved in co-development of action strategies and in the decision making process with a commitment to reciprocal accountability. 
The Declaration commits the College and other health regulators to report on their progress via annual reports outlining strategic activities which demonstrate how they are meeting their commitment to cultural safety. 
The declaration consists of three main pillars: 

Cultural Safety Training 
The College encourages BC's pharmacy professionals to complete cultural safety training. As one of the most accessible health care professions, having BC's pharmacy professionals acknowledge racism in healthcare and pledge to work towards improving the quality of health services for First Nations and Aboriginal People is important in leading our provincial health system toward a more inclusive future. 
SAN'YAS INDIGENOUS CULTURAL SAFETY COURSE 
The College encourages all pharmacy professionals to consider completing the online San'yas Indigenous Cultural Safety course as part of their professional development. Currently less than 2% of all licensed pharmacists in BC have taken the course which is provided by the Provincial Health Services Authority, making this a significant commitment for you and other pharmacists to make.
San'yas Indigenous Cultural Safety course: Core ICS Health. Indigenous Cultural Safety (ICS) training is a unique, facilitated on-line training program designed to increase knowledge, enhance self-awareness, and strengthen the skills of those who work both directly and indirectly with Aboriginal people. Participants learn about terminology; diversity; aspects of colonial history such as Indian residential schools and Indian Hospitals, time line of historical events; and contexts for understanding social disparities and inequities. Through interactive activities participants examine culture, stereotyping, and the consequences and legacies of colonization. Participants will also be introduced to tools for developing more effective communication and relationship building skills.
Core ICS Health Training was designed for Health Authority, Ministry of Health, and other professionals working in the health care field. It includes the foundation provided in Core ICS with an additional two modules that focus on health care issues for those working with Indigenous people in British Columbia.
Core ICS Health Training is Accredited
The British Columbia Core Health program is an Accredited Self-Assessment Program eligible for up to 8.0 Section 3 credits as defined by the Maintenance of Certification Program of The Royal College of Physicians & Surgeons of Canada. This program has been reviewed and approved by UBC Division of Continuing Professional Development.
CULTURAL SAFETY AND CULTURAL HUMILITY WEBINARS
Watch the 12 part Cultural Safety and Cultural Humility Action Series hosted by the First Nations Health Authority and BC Patient Safety & Quality Council. The series will support the development of tools and skills on how to be effective allies for advancing cultural safety and humility and what health service staff and allies can do to understand and integrate this work into their practice or interaction with First Nations and Aboriginal People. Hear from thought leaders such as Joe Gallagher, Dr. Evan Adams, Dr. Nadine Caron, Margo Greenwood, and representatives from each regional health authority in the province.
CULTURAL HUMILITY PORTAL HEALTH AUTHORITY 
Learn more about cultural safety and humility and how to improve your practice with the resources available in the First Nations Health Authority Cultural Humility Portal, and pledge your commitment to cultural safety and humility.
CULTURAL SAFETY AND HUMILITY READLINKS SERIES 
Learn about the culture and experiences of First Nations and Aboriginal Peoples in BC, the importance of acknowledging racism in healthcare, and the role of cultural humility and safety in providing care in this Cultural Safety and Humility ReadLinks Series. The series also captures the College's journey in learning about cultural safety and humility including what we hear through engagement with First Nations and Aboriginal Peoples in BC.