The College's Next Strategic Plan 
The College has developed four strategic goals and objectives that will guide its 2020/2021 to 2024/2025 Strategic Plan. 
With 2020 and the launch of our next Strategic Plan approaching, the College has been hard at work drafting its strategic goals for the next five years of pharmacy practice in British Columbia. 
As a regulator, the College aims to be forward-thinking and to anticipate changes to support good pharmacy practice. This means the College needs to ensure it's prepared to protect the public as new ways of providing health care emerge.
2020/2021 to 2024/2025 Strategic Plan Goals and Objectives
At its September 2019 meeting, the Board approved Goals and Objectives for the College's 2020/2021 to 2024/2025 Strategic Plan.
These goals were developed and refined using the insights gleaned from the public engagement, an environmental scan of emerging trends in pharmacy practice, and the regulation recommendations in the Cayton Report.
The College's Strategic Plan 2020/2021 to 2024/2025 Goals and Objectives are as follows:
| Goal  | Objective |
| --- | --- |
| The public is given evidence-informed, patient centre, team-based care. | ​To develop a plan to support the provision of evidence-informed, patient-centred, team-based care that includes cultural safety and humility​. |
| To enable practice innovation through regulation that enhances health and wellness of the public and ensures patient safety.  | Ensure patient safety and health and wellness of the public by implementing a transparent plan that engages the public in identifying practice innovations and determining the College's role. |
| To have the public and health professionals see pharmacy professionals as valuable resources who are acting first and foremost in the public interest.  | To communicate what the public and health professionals can expect from pharmacy professionals. |
| To have strong, collaborative engagement with all healthcare providers to advance patient-centred, team-based care.  | Enhance patient health and wellness through collaborative engagement with all healthcare providers. |
Developing Our Strategic Plan
Public Engagement
In order to develop and finalize these goals and objectives, the College began by conducting a public consultation on the following strategic themes: 
Emerging Practice Trends 
Professionalism in Pharmacy 
Excellence in Pharmacy 
Modernizing Standards of Practice 
 ​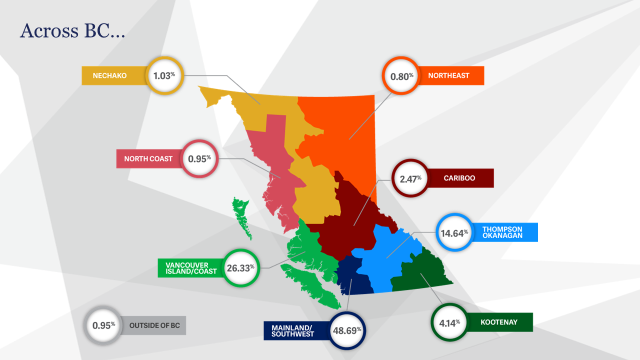 The online survey ran from March 15 – 31, 2019, during which time the College received over 1,200 responses and over 7,000 comments from respondents across BC. Respondents were comprised of pharmacists, pharmacy technicians, students, health professionals and members of the public. 
The survey attracted significant public participation with over 19% of respondents identifying as members of the public.  
Respondents ranged in age from 18-64 years, representing a diverse range of cultural identities. Equity and diversity are vital for the provision of fair, equal and inclusive health services, and as such, are a priority for the College. Additionally, the College is committed to improving cultural humility and safety for First Nations and Aboriginal Peoples in BC in order to help create a healthcare environment free of racism and discrimination, where individuals feel safe and respected.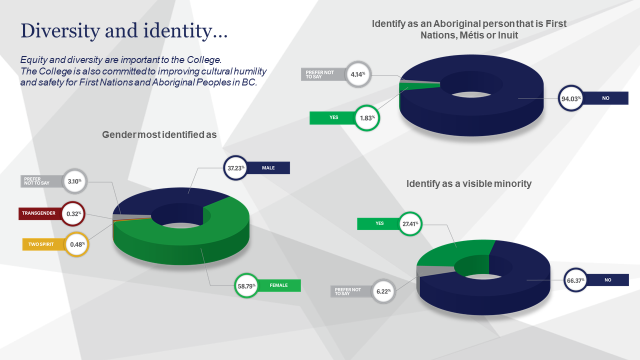 During the consultation, the College also heard from a wide range of stakeholder groups, including: 
Pharmacists 
Pharmacy Technicians 
Pharmacy Students 
Members of the Public 
Pharmacy Support Persons 
Other Health Professionals 
Respondents included people from a diverse range of communities, age groups and practice settings, bringing valuable, varied perspectives on a number of pharmacy issues. 
For a more in-depth look at what we heard during the engagement process, please refer to our Strategic Plan Engagement Report. 
Engagement Process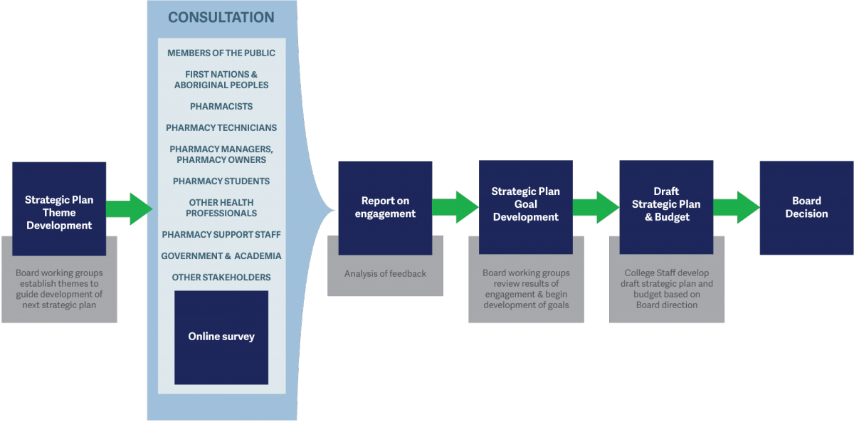 This engagement was conducted at the level of INVOLVE on the spectrum of engagement (based on IAP2 Participation Spectrum).
Recommendations from the Cayton Report
In addition to input provided through the public engagement, much of the discussion surrounding the development of the goals and objectives was focused on the report by Harry Cayton 'An Inquiry into the performance of the College of Dental Surgeons of British Columbia and the Health Professions Act' ('the Cayton Report').
As a result of this report, the newly formed 'Steering Committee on Modernization of Health Professional Regulation' recently released a consultation paper, seeking feedback from stakeholders and the public. 
The consultation paper proposes wide ranging changes to current structures and the creation of new structures to strengthen the province's framework for health profession regulation.
The College was significantly influenced by the findings in the report, and in preparing for the future of pharmacy practice, will continue to follow regulatory best practices including 'Right Touch Regulation.' Right Touch Regulation means always asking what risk we are trying to regulate, being proportionate and targeted in regulating that risk or finding ways other than regulation to promote good practice and high-quality healthcare.
Questions
For further questions, please contact communications@bcpharmacists.org
Stay tuned for more on the College's Strategic Plan for 2020/2021 to 2024/2025 which will be launched in March 2020.
 
Featured Image: