The College's New Look!
As the College continues to evolve as a regulator and leader in health care and public safety, it is important that our organizational identity continues to reflect the society we live in.
The College is pleased to introduce its updated 2022/23 – 2027/28 Strategic Plan along with a new Commitment Statement, Organizational Values and Logo!
The Updated 2022/23 – 2027/28 Strategic Plan
In 2022, the College conducted a comprehensive review of the goals, objectives and actions outlined in the 2022/23 – 2027/28 Strategic Plan to ensure alignment with 2023/24 Budget as well as key emerging regulatory and operational priorities.
The updated plan better aligns the College's priorities with the ever-changing nature of BC's health landscape and refines our approach to health regulation in a way that improves accountability and transparency.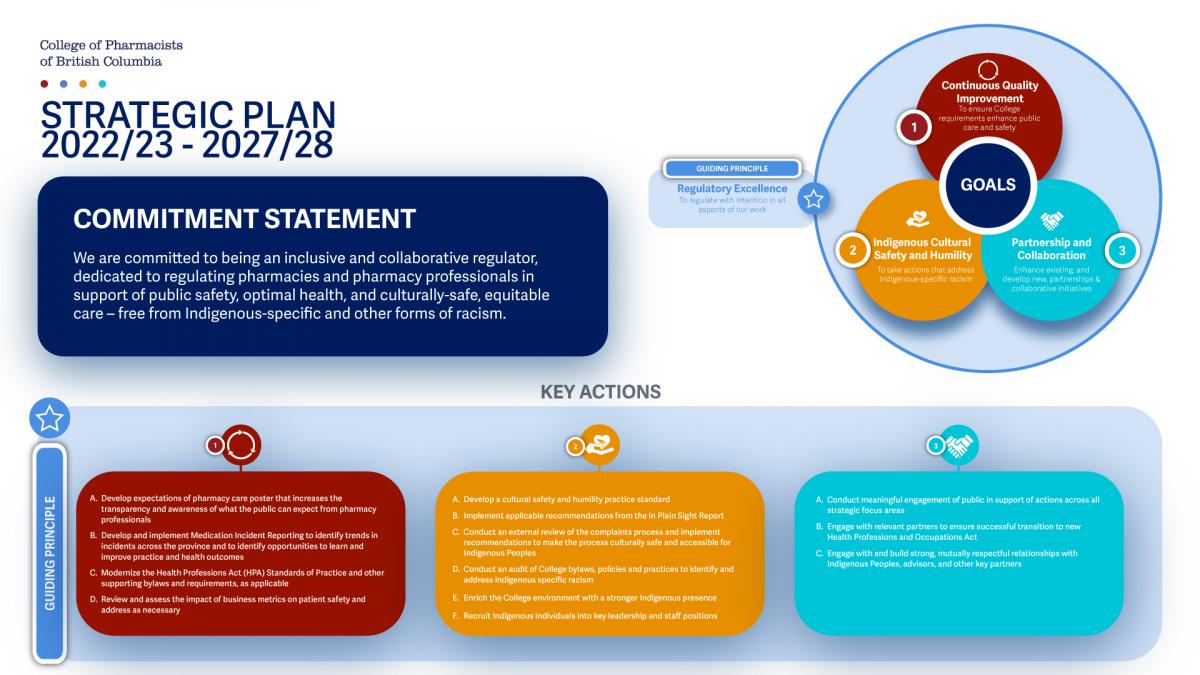 The updated plan also reflects the College's ongoing commitment to improving Cultural Safety and Humility for Indigenous Peoples when accessing pharmacy services in BC.
To learn more about our new Strategic Plan please visit:
Bcpharmacists.org/STRATEGIC-PLAN
New Commitment Statement and Organizational Values
In conjunction with the updates made to our Strategic Plan, the College also introduced a new Commitment Statement and Organizational Values.
In the years since we pledged our commitment to improving BC pharmacy professionals' work with Indigenous Peoples, several events placed added urgency on us, as a leader in healthcare, to re-evaluate the ways in which we fulfill our duties to British Columbians. Evidence of pervasive Indigenous-specific racism in BC's healthcare system as outlined in the In Plain Sight Report; the discovery of unmarked graves on the sites of former residential schools; as well as surges in racism, violence, and discrimination against Black, Asian, Muslim, and other BIPOC communities in North America made it noticeably clear that we needed to change the way we approach healthcare regulation in 2023.
And while we have made considerable progress toward dismantling racism in healthcare, after looking at our organization's identity it became clear that we needed to do a better job of embodying this commitment.
As a starting point, the College took a critical look at its Mission, Vision and Values and decided that they were no longer adequately reflecting our current social realities or the ideals we aspire to as a culturally safe, patient-centric, and equitable healthcare organization.
As such, the College Board and Staff worked with an external consultant to re-envision the College's organizational purpose and objectives, as previously expressed in its Mission, Vision and Values Statements.
Our New Commitment Statement
We are committed to being an inclusive and collaborative regulator, dedicated to regulating pharmacies and pharmacy professionals in support of public safety, optimal health, and culturally-safe, equitable care – free from Indigenous-specific and other forms of racism.
Our New Values
Learn more about our Commitment Statement and Values at:
Our New Logo
Finally, to tie everything together, we are also please to introduce the College's new logo, which features a simple wordmark along with four coloured dots, as depicted below:

Accompanying the wordmark, we introduced four new colours to the College's brand identity. These colours are intended to align with, and support, our new strategic plan, commitment statement and organizational values.
The College's crest, or coat of arms, was originally designed in 1912 and reintroduced as the College's official logo in 2015. The new logo repurposes the wordmark from our previous logo to connect our past with our future, all while ensuring our commitment to public safety, optimal health, and culturally safe, equitable care for all British Columbians.
Featured Image: