Back to list
Our Strategy Starts With You
Have Your Say on the College's 2020-2023 Strategic Plan
As the College of Pharmacists of BC begins to set out its next strategic plan we are seeking input from pharmacy professionals, health professionals and the public on how they expect pharmacy care to evolve to meet the future needs of British Columbians.
The Future of Pharmacy Practice
With 2020 fast approaching, the College continues to move ever faster toward a safer, more effective future of pharmacy practice in British Columbia. Good pharmacy practice involves responding to the needs of the people who use the pharmacy services to provide optimal, evidence-based care.
As a regulator, the College aims to be forward-thinking and anticipate change to support good pharmacy practice. This means the College needs to ensure it's prepared to protect the public as new ways of providing health care emerge.
Existing standards may need to change to enable innovation and advancements that improve patient care, while new requirements may be needed to ensure the public is protected through the provision of pharmacy services in new ways.
In preparing for the future of pharmacy practice, the College will follow best practices for regulation such as the concept of Right Touch Regulation. Right Touch Regulation means always asking what risk we are trying to regulate, being proportionate and targeted in regulating that risk or finding ways other than regulation to promote good practice and high-quality healthcare.
Your Input Matters!
As we look toward the next five years, we need your input to help us ensure that we can protect the public and enable best practice through the regulation of pharmacy practice in British Columbia.
This survey will be available until March 31, 2019 and should take no more than 15-20 minutes to complete.
The College is seeking your input on the following key themes identified as being most important to the College's multi-year strategy:
Emerging Practice Trends
Professionalism in Pharmacy
Excellence in Pharmacy
Modernizing Standards of Practice
Who we need to hear from 
Members of the public (especially patients and the family, friends and communities that support them)
First Nations and Aboriginal Peoples
Registered pharmacy professionals (pharmacists and pharmacy technicians)
Pharmacy managers
Pharmacy owners
Pharmacy students
Pharmacy staff support persons who are not regulated health professionals (such as pharmacy assistants)
Other healthcare professionals
Other interested stakeholder groups
Government
Academia
Engagement Process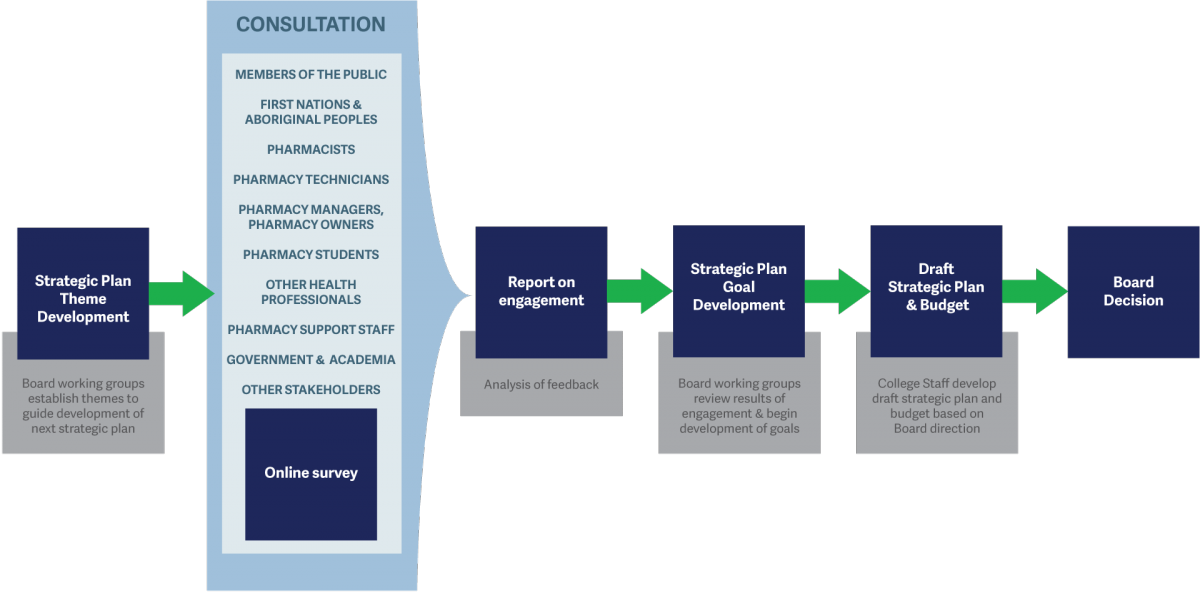 This engagement is at the level of INVOLVE on the spectrum of engagement (based on IAP2 Participation Spectrum). This means the College has promised to ensure that public concerns and aspirations are understood and considered in the development of its strategic plan, and will provide feedback on how input affects the plan.
Questions
For further questions, please contact [email protected]

Mar 15, 2019