Back to list
Opioid Agonist Treatment Alert - Potential Slow Release Oral Morphine (Kadian) Shortage
From The British Columbia Centre on Substance Use
There is potential shortage of some dosage strengths of slow-release oral morphine (SROM) brand name Kadian for the treatment of opioid use disorder. More information can be accessed via the website www.drugshortagescanada.ca; search records for "Kadian". There may be a backlog of orders yet to be delivered at select pharmacies, so your patients may be reporting that their pharmacies cannot fill their prescriptions.
This includes the following dosage strengths and the corresponding DIN PINs:
NAME

PIN
DIN
Kadian

 50 mg capsule

22123347

2184443

Kadian

 100 mg capsule

22123348

2184451
As of today, there is available Kadian supply in the 10 mg and 20 mg strengths.
In order to support patients on Kadian during this shortage, pharmacies are encouraged to:
Order 10 mg and 20 mg strength capsules.
Connect with a pharmacy that has supply of 50 mg and 100 mg capsules to see if transferring supply is an option.
Place orders for 50 mg and 100 mg capsules as soon as they become available (estimated dates in March and April).
Prescribers can discuss options with pharmacies for achieving the prescribed dose of Kadian. If a pharmacy is able to use 10 or 20mg capsules to get the full dose for the patient, the prescriber could consider not sprinkling these capsules to facilitate this.
If Kadian supply cannot be obtained:
Contact patient, determine treatment plan and document in patient's medical record
If the decision is made to switch to M-ESLON in the short term, cancel existing SROM prescription
IMPORTANT NOTICE: The conversion to M-ESLON is a temporary measure to address potential shortages of KADIAN. When the shortage is resolved, patients and providers should discuss the transition back to once-daily dispensed KADIAN.
Converting Patients to M-ESLON
Convert and write a prescription for 12-hour sustained-release oral morphine brand name MESLON (same therapeutic dosage of KADIAN, but divided into 2 doses) o e.g., KADIAN 400 mg/day is equivalent to M-ESLON 200 mg BID
The first dose will be DAILY WITNESSED AND DISPENSED and the 2nd dose may be a take-home carry. Prescribers can consider witnessing of the second dose and indicate such on the prescription. However, take into consideration the hours of the pharmacy and logistics for the patient, as 12 hours are needed between doses. 
See table below for information on available M-ELSON dosage strengths and DINs: 
| NAME | din |
| --- | --- |
| M-Eslon 10 mg capsule | 02019930 |
| M-Eslon 15 mg capsule | 02177749 |
| M-Eslon 30 mg capsule | 02019949 |
| M-Eslon 60 mg capsule | 02019957 |
| M-Eslon 100 mg capsule | 02019965 |
| M-Eslon 200 mg capsule | 02177757 |
NOTE: M-ESLON is eligible for coverage under PharmaCare Plans C, G, and I. Pharmacists should use the DIN to put through the prescription.
An example prescription is provided below. Note that clinician may consider witnessing for the 2nd dose: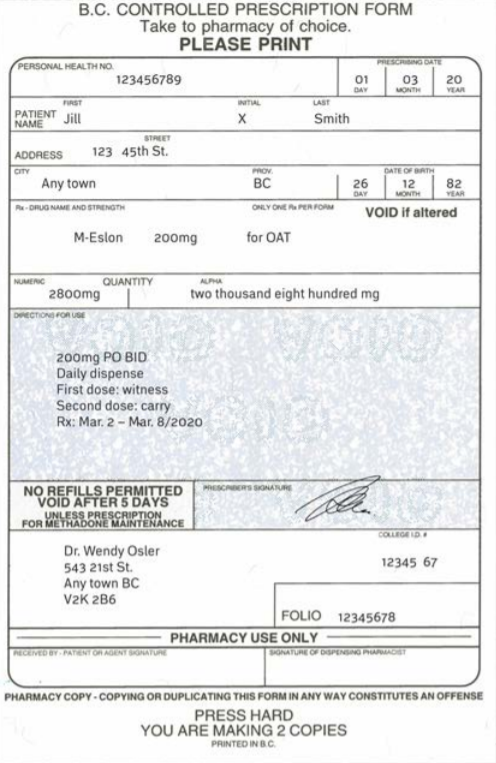 Consult the RACE Line for support as needed (M-F 0800-1700; 604-696-2131 or 1-877-696-2131; Press 1 for addiction medicine)
When the shortage is over, discuss transition back to once-daily dispensed KADIAN 
Mar 10, 2020