Back to list

new pho order Permits pharmacy technicians to administer flu vaccines
On November 4, 2022, Provincial Health Officer, Dr. Bonnie Henry, issued an Order permitting health professionals, including pharmacy technicians, already authorized to administer COVID-19 vaccines, to also administer influenza vaccines.
ORDER OF THE PROVINCIAL HEALTH OFFICER
REGULATED AND UNREGULATED HEALTH PROFESSIONALS
influenza IMMUNIZATION - november 04, 2022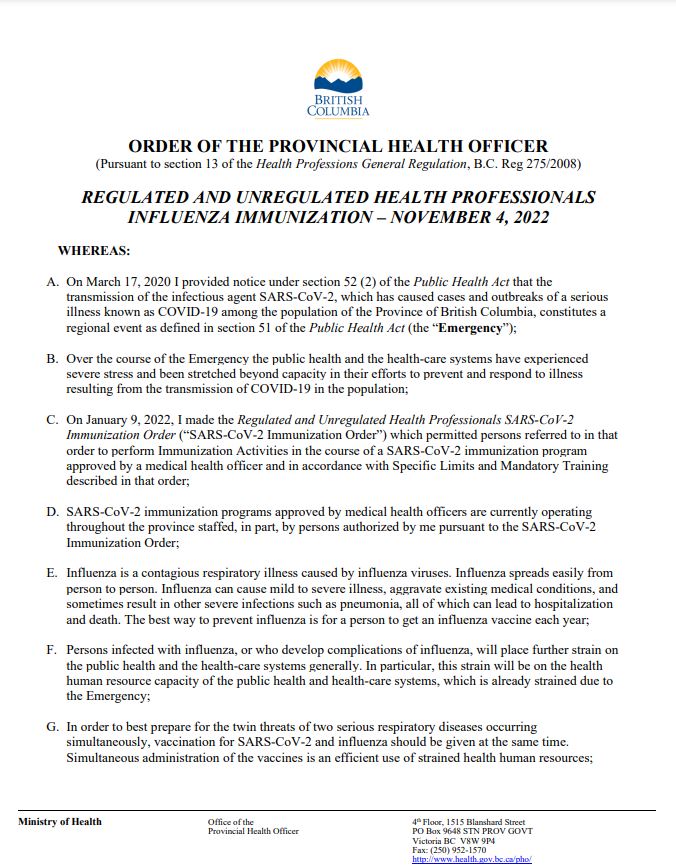 Note: This Order does not apply to health professionals, including pharmacists, who can normally provide immunization services under their health profession regulations.
The Order builds on a previous Order issued in January 2022 which authorized pharmacy technicians to administer an injection of a COVID-19 vaccine under the supervision of a registrant who is authorized under a health profession regulation, and competent, to perform immunization activities.
The intent of this Order is to encourage the administration of influenza and COVID-19 vaccines in public health clinics by the same providers, in order to reduce the strain on our healthcare system caused by seasonal influenza and preserve our capacity to continue to respond to the COVID-19 pandemic.
Influenza is an infection of the upper airway caused by the influenza virus that can spread from person to person through coughing, sneezing or face-to-face contact. Every year, thousands of British Columbians are afflicted by the virus, usually between the months of November and March, during what most of us refer to as "Flu Season." 
One of the best ways to protect yourself against influenza and reduce the spread of the virus, is by getting vaccinated every year.
Pharmacy technicians must complete all mandatory training (listed in the table below) before performing influenza immunization activities. ​
Immunization Activity, Excluded Services, Specific Limits and Mandatory Training for Pharmacy Technicians 
---
Questions
Questions about this order should be directed to the PHO at:

Dr. Bonnie Henry
Provincial Health Officer
PO Box 9648 STN PROV GOVT
Victoria BC V8W 9P4
Fax: (250) 952-1570
Email: [email protected]

 

Nov 16, 2022