Back to list
Dismantling Indigenous-Specific Racism in Health Care: Two-Year Update from the Colleges
In May 2021, the College of Pharmacists of BC, the College of Physicians and Surgeons of BC, the College of Nurses and Midwives, and the College of Dental Surgeons of BC, issued an apology to Indigenous Peoples and communities in BC for the racism and discrimination they have experienced while engaging with us and with the health professionals we regulate.
As part of this apology, the Colleges pledged to take specific actions both within our organizations, and as partners in the broader health landscape, to address and dismantle the Indigenous-specific racism that exists within our health care system.
We are pleased to share a two-year update on the collective actions and accomplishments of all four colleges in the following report.
In sharing this report, we recognize that we still have a long way to go on our cultural safety and humility journey and that there is still much work to be done to uphold Indigenous rights and eliminate racism within our colonial healthcare system.
Dismantle Racism in Health Care: Two-year Update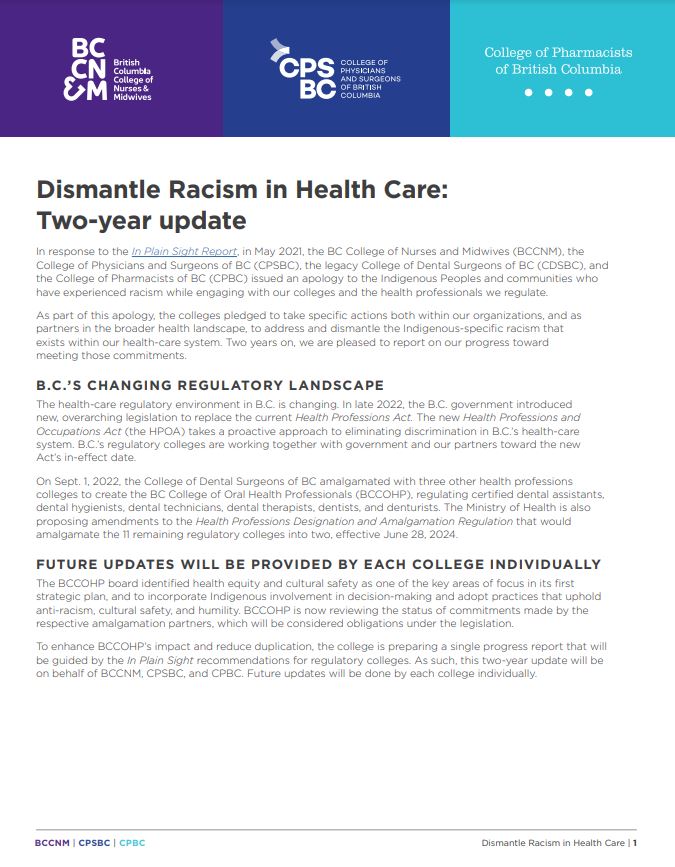 We call on all health professionals to practice vigilant cultural humility and safety. To learn about and understand the impacts of residential schools on First Nations Communities in Canada; to acknowledge and reflect on the social issues faced by Indigenous Peoples; and to understand the historical contexts from which these issues originate.

To learn more about Indigenous Cultural Safety, Cultural Humility and Anti-Racism at the College, please visit:

Jul 05, 2023