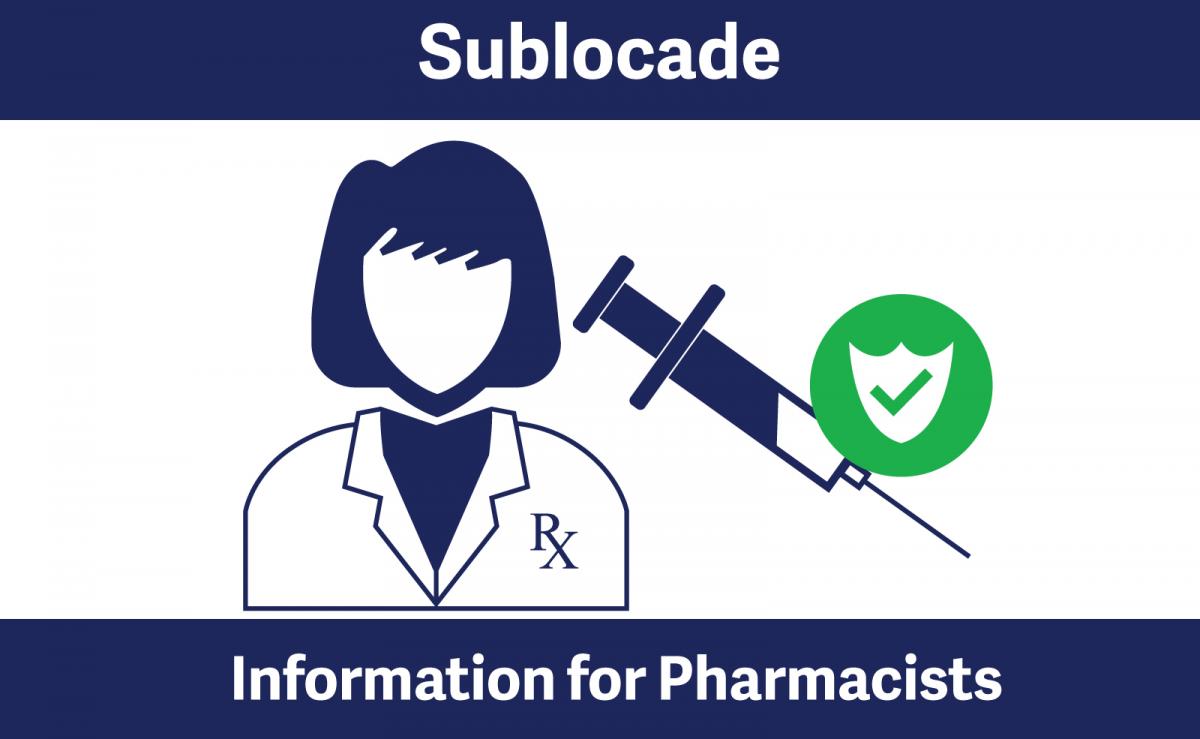 Sublocade: Information for Pharmacists 
Some patients in BC are now being prescribed buprenorphine extended-release injection for the treatment of moderate-to-severe opioid use disorder (OUD).
As of April 30, 2020, Sublocade, a subcutaneous-injection, long-acting formulation of burprehorphine, is available as a limited coverage PharmaCare benefit.
COVERAGE EFFECTIVE

April 30, 2020

DRUG NAME

Buprenorphine (Sublocade™)

INDICATION

Opioid Use Disorder

DIN

02483084

STRENGTH AND FORM

100mg/0.5mL subcutaneous injection
02483092
300mg/1.5mL subcutaneous injection

PLAN G BENEFIT

 

PLAN P BENEFIT

No 
Sublocade is an extended-release formulation of buprenorphine that is administered monthly via abdominal subcutaneous injection for the management of moderate to severe opioid use disorder. 
Sublocade is associated with significantly higher treatment retention and mean abstinence percentages (over 40%) in individuals with moderate to severe opioid use disorder. 
Information for Pharmacists
Dispensing Sublocade
Sublocade must be administered by a prescriber (MD or NP) or nurse (RN or RPN)  who has completed the manufacturer's training course. As the formulation carries significant risks to the patient if not administered correctly, Sublocade must never be dispensed directly to the patient. 
Given the unique dispensing pathway necessary for Sublocade, prescribers and pharmacists should create a plan in advance for each prescription. 
Examples of information to include in plans includes: 
What day the prescription will be dispensed and picked up
Who will pick-up the prescription 
Any additional information necessary to meet College requirements 
Pharmacists must also provide adequate counselling at the time of dispensing each prescription in accordance with the College's counselling requirements.
Sublocade is to be either picked up by a nurse or prescriber on behalf of the patient, or delivered to the clinic, keeping in mind proper storage and delivery of the prescription. 
Storage of Sublocade in Community Pharmacies 
Sublocade must be safely and securely stored and maintained following appropriate cold chain management. 
Sublocade is typically stored at 2-8 degrees Celsius. However, once outside this refrigerated temperature, Sublocade can be kept at room temperature (i.e. 15-30 degrees Celsius) for up to 7 days prior to administration. 
While the College's current narcotic storage bylaws do not include provisions for the refrigeration of Schedule 1A drugs, community pharmacies are expected to take additional care to ensure appropriate security, storage and refrigeration of Sublocade. This includes: 
Not ordering more of the drug than is necessary;
Implementing additional security procedures if needed; and
Ensuring narcotic record-keeping requirements are met, including but not limited to: 

Maintenance of a perpetual inventory 
Physical inventory counts 
Reconciliation 
Documentation 
With a Schedule 1A drug that requires refrigeration beginning to be used by patients in BC, the College will be reviewing related requirements on narcotics storage and proposing updates as needed. For now, community pharmacists are expected to use their professional judgement to ensure appropriate security and storage of Sublocade, keeping in mind that the drug needs to be refrigerated.
Additional Resources