PRP INSIGHTS: Community Pharmacy Security 
The College has requirements to ensure the security of community pharmacies across BC. These measures are important for preventing pharmacy robberies, break and enters, and unauthorized access to schedule I, II, III, controlled drug substances and personal health information. During Pharmacy Reviews, security requirements are reviewed to ensure pharmacies possess the required equipment and have implemented the required security measures.  
METAL SAFE 
All community pharmacies that stock schedule IA drugs must have a metal safe that is secured in place, preferably to the floor, and equipped with a time delay lock set at a minimum of five minutes. All schedule IA drugs must be kept in the locked metal safe, including raw materials for compounding and expired drugs that are pending return or destruction, separated in the safe from active inventory. DrugSafeBC signage must also be clearly displayed at all external entrances that identify the premises as a pharmacy, and at the dispensary counter. 

DrugSafeBC signage can be downloaded for printing and posting at your pharmacy. The signage should be printed in colour and trimmed to the appropriate size to provide a consisten province-wide deterrent message that additional layers of security are in place. 
SECURITY CAMERA SYSTEM AND MOTION SENSORS 
All community pharmacies must install and maintain a security camera system. Compliance Officers will check to ensure that the camera system has date/time stamped images that are archived and available for no less than 30 days. Pharmacy Managers are expected to know how to retrieve the security footage and are responsible for ensuring that the camera system is checked daily for proper operation. Under the Personal Information Protection Act (PIPA), pharmacies must also post visible and clear signage that informs the public that the premises is monitored by cameras. 
In addition to a security camera system, all community pharmacies must also install and maintain motion sensors in the dispensary. 
PHYSICAL BARRIER AND MONITORED ALARM 
If the premises in which a pharmacy is located is accessible to non-registrants while a full pharmacist is not present, additional security measures such as physical barriers and a monitored alarm are required to prevent access to the dispensary.  
Physical barriers provide an additional layer of security and prevent unauthorized access to schedule I, II and controlled drugs substances and personal health information. The physical barrier can be tailored to the individual structure of the community pharmacy but must reasonably prevent access. Examples of physical barriers include, but are not limited to, locked gates, grillwork and locked doors. In addition to physical barriers, the dispensary area must also be secured by a monitored alarm which would detect and alert of any access to the dispensary while a full pharmacist is not present. Compliance Officers review the requirement for a physical barrier and monitored alarm while conducting Pharmacy Reviews.  
If the premises in which a pharmacy is located is open and accessible to the public while a full pharmacist is not present, access to schedule III drugs must also be restricted. As per the Drug Schedules Regulation, schedule III drugs may only be sold by a pharmacist and therefore must not be available for selection or sale while a full pharmacist is not present. 
The requirements for physical barriers, a monitored alarm and restriction to schedule III drug access are summarized in the chart below: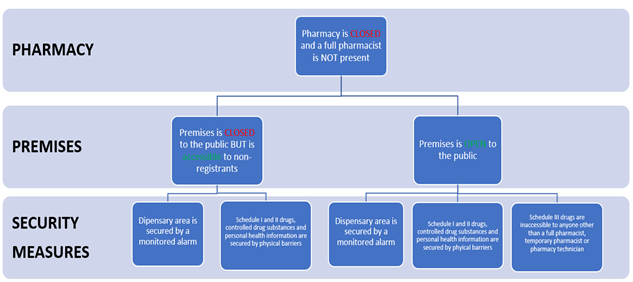 To learn more about the Practice Review Program, including how to prepare for your review, visit: