COVID-19 Vaccination Aftercare
Those who have received a COVID-19 vaccine are reminded to continue to follow public health guidelines even after you are vaccinated. This includes:
Maintaining physical distance of 2 metres (6 feet)
Cleaning your hands regularly
Wearing a mask
Following public health precautions and restrictions
For additional aftercare information please refer to the following documents:
For the most up-to-date, general information about getting a COVID-19 vaccine, please visit:
PHO Issues updates to Order Authorizing Pharmacy Techs to work in COVID-19 immunization clinics
As part of BC's COVID-19 Immunization Plan, on March 14, 2021, Provincial Health Officer, Dr. Bonnie Henry issued an order allowing a number of health professions, including pharmacy technicians, to work in COVID-19 immunization clinics with appropriate training. 
This order replaces and repeals a previously issued order that was released on February 23, 2021.
The order authorizes pharmacy technicians to participate in the preparation of vaccines, including the drawing of doses from a vial, and also includes specific Limits and mandatory training requirements.
This must be conducted in accordance with the resources issued by the BC Centre for Disease Control. Pharmacy Technicians must  complete all mandatory training before performing COVID-19 immunization activities.
The March 14, 2021 order provides updates to the mandatory training requirements for pharmacy technicians (reflected in the table below). It also clarifies requirements for employers to assess the competence of a pharmacy technician to perform immunization activities.
Note: The requirement for supervision, included in February 23, 2021 order, is no longer in effect.  
 
Immunization Activity, Limits and Mandatory Training for Pharmacy Technicians 
Immunization Activities 
Services Specifically excluded from the authorized immunization activity
mandatory training

Preparation of vaccines, including the drawing of doses from a vial

Initial patient assessment, including review of patient assessment forms to determine suitability of a patient for immunization and obtaining patient consent;

Administering an injection of a COVID-19 vaccine;

Post-immunization monitoring of the patient, including monitoring for adverse events (i.e. anaphylaxis), situation assessment and treatment of adverse events.

 

 

 

relevant to preparation of

 
Table above adapted from Appendix A: Immunization Activity, Limitations and Mandatory Training , ORDER OF THE PROVINCIAL HEALTH OFFICER, REGULATED AND UNREGULATED HEALTH PROFESSIONALS SARS-CoV-2 IMMUNIZATION ORDER – March 14, 2021.    
Assessment of an Authorized Health Professional's Competence to Perform the Immunization Activity
The March 14, 2021 order provides additional information on the role of employer assessment, clarifying how this assessment is to be completed in the event that the authorized health professional's employer is not a registrant: 
The Authorized Health Professional's employer or a medical health officer must first assess the Authorized Health Professional's competence to perform the Immunization Activity in a manner that is safe for both the patient and the Authorized Health Professional, including by requiring the Authorized Health Professional to demonstrate knowledge and skill, in accordance with the Resources, respecting the Immunization Activity. The Authorized Health Professional's employer may only make this assessment if the employer is a registrant, or is acting on the advice of a registrant, who has assessed the Authorized Health Professional and who is authorized under a health profession regulation, and competent, to perform the Immunization Activity.
Order of The Provincial Health Officer 
Regulated and Unregulated Health Professionals
SARS-CoV-2 Immunization Order - March 14, 2021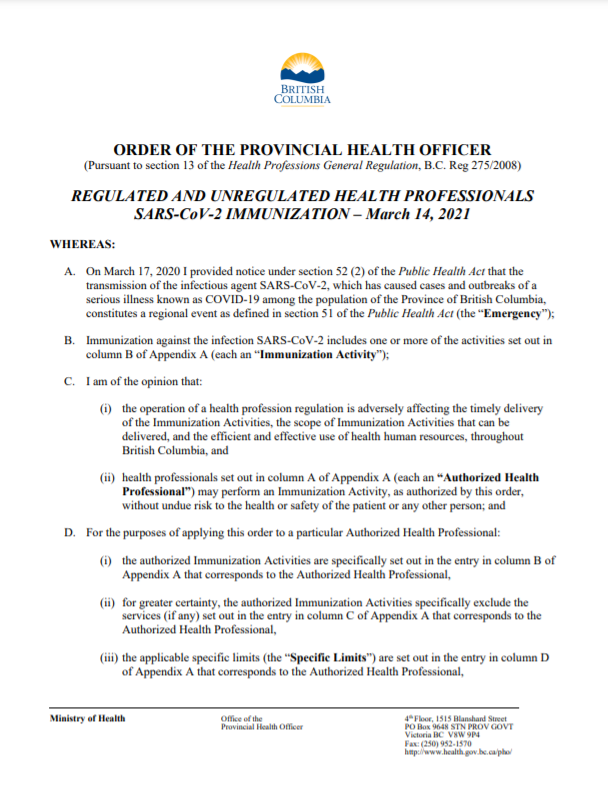 Note: The order does not apply to health professionals who can normally provide immunization services under their health profession regulations. For more information on BC's COVID-19 Immunization Plan and Pharmacist's Injection Authority see the related ReadLinks article here.
Health professionals who are interested in participating in the immunization campaign, including those authorized in the PHO Order, are able to register their interest online through the COVID-19 Emergency Health Provider Registry (EPHR). Learn more at bcpharmacists.org/covid19.