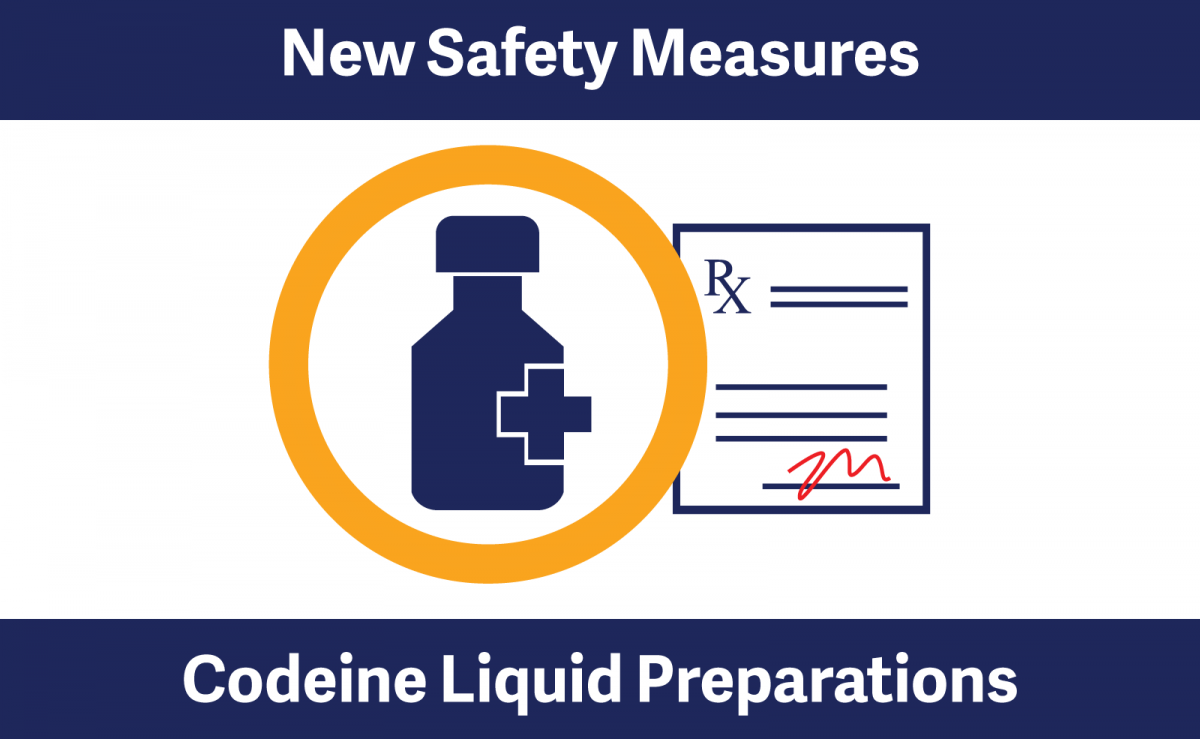 New Safety Measures for Codeine Liquid Preparations Coming Soon
Starting January 2, 2020, prescriptions for certain codeine containing liquid preparations will require a Controlled Prescription Program duplicate prescription form. As with all Controlled Prescription Program drugs, these preparations must also be stored in a time-delay safe. 
Codeine is an opiate pain killer – most often used to treat mild to moderate pain – that has seen an increase in recreational abuse and diversion. Codeine containing cough syrup products are the most common type of preparations included in this change.
On September 13, 2019, the College Board approved amendments to the Drug Schedules Regulation (DSR) under the Pharmacy Operations and Drug Scheduling Act (PODSA) in order to move certain Schedule I codeine containing liquid preparations to Schedule IA.
Rescheduling the codeine containing liquid preparations listed below to Schedule 1A will improve oversight of these drugs, increase barriers to their access, and help to address public safety concerns, including: 
Addiction and non-medical use of these drugs,
Prescription forgeries for these drugs, and 
Pharmacy robberies and thefts targeting these drugs.
This change is intended to address important public safety concerns and not negatively impact patient care or access in British Columbia.  
The changes to the Drug Schedules Regulation will come into effect on January 2, 2020. 
However, prescribers and pharmacists do not need to wait for this change to begin to implement these safety measures. Prescriptions for these drugs can already be made using duplicate prescription forms and pharmacies can begin to store these drugs in the pharmacy's time-delay safe to deter robberies and thefts. 
Codeine Containing Liquid Preparations Included in Schedule Change
DIN
PRODUCT

2298708

ACETAMINOPHEN ELIXIR WITH 

8MG

 CODEINE PHOSPHATE SYRUP

816027

PMS-ACETAMINOPHEN WITH CODEINE ELIXIR

2198630

CALMYLIN

 ACE

2243063

COVAN

 SYRUP

2244078

DIMETAPP-C

1934740

ROBITUSSIN AC

2169126

TEVA-COTRIDIN

2244079

DIMETANE

 EXPECTORANT C

2053403

TEVA-COTRIDIN

 EXPECTORANT
Codeine Public Safety Concerns 
Codeine is an opiate pain killer that has seen an increase in recreational abuse, especially by young people. According to the 2018 Canadian Community Health Survey, the most commonly used opioid pain medications were products containing codeine. 
While codeine containing liquid preparations* have always been prescription-only in Canada, there is still misuse amongst young people. 1 in 10 Canadians aged 15 and older who reported using any opioid pain medication in the past year, reported taking the medication in greater amounts than prescribed, or more often than directed, using it to get high, for reasons other than pain relief, or tampering with a product before taking it. 
Addiction to codeine and other opioid medications often begins with patients abusing a prescription. While much of the efforts towards fighting the opioid overdose crisis is focused on inappropriate use of oxycodone and illicit sources of fentanyl and carfentanil, it is still important to recognize that codeine is a narcotic preparation with a potential for misuse. 
In addition to public safety concerns relate to addition and misuse these drugs, there is also significant concern around increasing forged prescriptions and pharmacy robberies and thefts targeting these drugs.
Controlled Prescription Program Will Provide Additional Safety Measures
Starting January 2, 2020, prescriptions for these codeine containing liquid preparations must be written on a Controlled Prescription Program (CPP) duplicate prescription form which is designed to prevent forgeries. 
BC has seen a disproportionately high number of prescription forgeries for these preparations making the change to require duplicate prescriptions an important step to reduce diversion of these opioids. 
Requiring a duplicate prescription will also help remind prescribers and pharmacy professionals about the risks and potential dangers of these medications when evaluating if they are appropriate to provide to a patient. 
Requirement for Time-Delay Safe Will Help Deter Thefts and Robberies
Rescheduling these drugs to Schedule 1A requires community pharmacies to store them in time-delay safes along with other narcotic substances as a security measure to deter theft and robbery. 
The College is aware that there have been pharmacy robberies and thefts specifically targeting codeine containing liquid preparations. Between 2016 and 2018, the College was informed of seven instances of break and enters or armed robberies where very large volumes of Cotridin (1.5 to 7L) were stolen or taken. This is not unique to BC as codeine thefts are particularly high in other provinces such as Manitoba.
Time-delayed safes were introduced by the College in 2015 as part of a new suite of pharmacy security requirements, and were proven to be effective in reducing pharmacy robberies.
Considerations for Community Pharmacies 
Managers of Community Pharmacies involved in the dispensing of any of the above codeine containing liquid preparations will be required to implement the following measures on or before January 2, 2020: 
Storage of applicable codeine containing liquid preparations in a time-delay safe.
In order to accommodate this change, pharmacy managers may need to reconfigure the shelves in their pharmacy's safe or transfer current supplies of codeine containing liquid preparations into appropriately sized containers. 
Require the use of CPP duplicate prescription forms when dispensing applicable codeine containing liquid preparations.
As of January 2, 2020, BC pharmacists may no longer fill prescriptions for applicable codeine containing liquid preparations unless they have been prescribed in writing using a 

CPP

 duplicate prescription pad. 

Pharmacists should remind prescribing physicians to ensure use of duplicate prescription pads for these products, if not already doing so. 

For more information on the duplicate prescriptions see the Controlled Prescription Program information. 
Questions about the Controlled Prescription Program or pharmacy security requirements can be directed to practicesupport@bcpharmacists.org.  
While these requirements are not in effect until January 2, 2020, community pharmacy managers are encouraged to begin implementation of these measures at their earliest convenience. 
Use Emergency-Use Naloxone to Save a Life
Like other opioid drugs, overuse or abuse of codeine containing preparations puts users at high risk of an overdose event. Information on how to use naloxone to temporarily reverse the effects of an opioid overdose is available on the College's Naloxone Resources site, including patient handouts. 
All health professionals have been authorized to administer emergency use naloxone, even when administering a drug may not be within their scope of practice. 
Additional Resources 
*a previous version of this article stated that all "codeine preparations have always been prescription-only in Canada". This is untrue and as such, has been corrected.
Featured Image: