Members needed for new Indigenous Student Advisory Group
The College is supporting a new BC Health Regulators (BCHR) initiative to develop and implement Indigenous Cultural Safety and Humility education for regulated health professionals.
As part of its Indigenous Cultural Safety and Humility Education Toolkit project, BCHR is inviting Indigenous students from across the province to bring their perspectives and opinions to this important work through a new Indigenous Student Advisory Group.
Indigenous voices, perspectives and worldviews from across the territories in what is now commonly referred to as British Columbia will be paramount to the development of the Toolkit.
BCHR is seeking post-secondary Indigenous students (First Nations, Métis and Inuit) at the diploma, baccalaureate, or post-graduate level from disciplines such as health sciences, Indigenous studies, law (including Indigenous law), or other relevant fields.
In your role as a student advisor, you will meet with Knowledge Carriers and other members of the project team online for roughly 2 hours, once every 6 to 8 weeks for a period of 8 to 10 months. In addition to contributing your knowledge to the project and serving your community, you will build relationships with other project participants and gain valuable leadership experience.
Apply Now
If you are (or know of) an Indigenous student who may be interested, applications are open until November 16. To learn more and apply, click here.
About the Indigenous Cultural Safety & Humility Education Toolkit
The BCHR Cultural Safety Task Force is developing a resource toolkit that will help member colleges to develop and implement a mandatory Indigenous Cultural Safety and Humility (ICS&H) education framework for regulated health professionals.
This collaborative project will minimize duplication of efforts and make it possible for the colleges to have a consistent approach to ICS&H education.
The Health Profession Regulator's Indigenous Cultural Safety and Humility Education Toolkit will support BCHR's commitment to embed Cultural Safety and Humility within all levels of health profession regulation.
The goal of this educational resource is to establish an entry level ICS&H competency standard specifying the knowledge, skills and attributes required for health regulatory college registrants who are new/returning to the profession or new to practice in BC, and to support the ongoing development and maintenance of ICS&H knowledge and skills for regulated health professionals.
Recognizing that each college has unique needs, the toolkit will be designed to enable each college to create a unique framework that aligns with its specific regulatory requirements and practice needs of registrants.
The first part of the Toolkit will focus on tools that can be used to develop foundational training for each profession's entry-level education programs and for new registrants entering practice in BC.
The second will assist the colleges with developing and implementing an education framework for current registrants that can be used for ongoing continuing maintenance of the ICS&H knowledge and skills required for practice.
---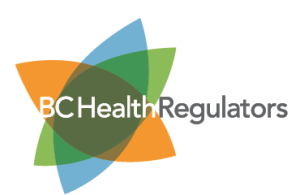 About BC Health Regulators 
BC Health Regulators (BCHR) brings all 19 health profession regulators – known as health regulatory colleges – in British Columbia together, providing an administrative and organizational foundation for collaboration between the colleges. Our shared mandate is to serve and protect all people in British Columbia, ensuring regulated health care providers deliver qualified, safe, and ethical care to their patients and clients.