JURISPRUDENCE EXAM MODERNIZATION PROJECTED COMPLETED
The College's Jurisprudence Exam Modernization Project (JEMP) is now complete.  After initial postponement due to the COVID-19 pandemic,  the JEMP started in March 2021, and the exam development process was completed in April 2022.
Jurisprudence Exam (JE)
The Jurisprudence Exam (JE), also known as the provincial pharmacy law exam, is based on legislation contained in federal and provincial acts, including the Code of Ethics, their regulations, College bylaws, and the College's Professional Practice Policies that pertain to pharmacy operations and a registrant's responsibility in the practice of pharmacy at entry to practice. Completion of the JE is a requirement for registration as a pharmacist or pharmacy technician in British Columbia and is held three times per year in February, June and October.
Every five to seven years, the College conducts a full review of the JE, in accordance with international assessment standards. This review helps to maintain the JE's effectiveness as an assessment tool for ensuring that prospective pharmacists and pharmacy technicians understand their responsibilities to patients and the public under the relevant legislation.
Exam Development Process
At the start of the project, the College invited all pharmacists and pharmacy technicians in BC to participate in the exam development process. Participants were selected based on their practice setting and years of experience representative of the College's diverse registrant base.  After receiving training, participants provided input in one or more stages of the example development process.
The Exam Development Process is comprised of six stages, with the full cycle taking approximately 12-18 months in total.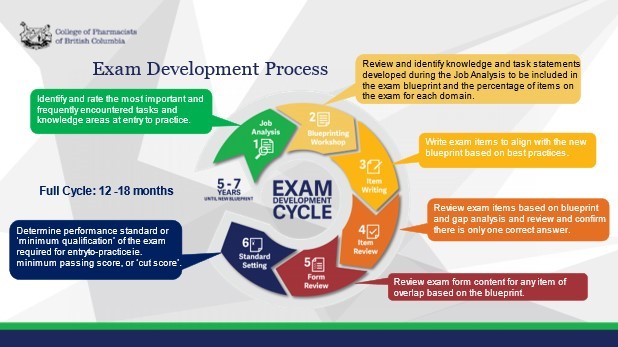 The College would like to thank the following participants for their participation in the various stages of the exam development process. 
The JEMP would not have been possible without your dedication, time and expertise. 
Tony 

Seet

 (Pharmacist)

Jennifer Jun (Pharmacist)
Alana Ridgeley (Pharmacy Technician)
Rachael Lee (Pharmacist)
Ali Ladak (Pharmacist)
Leanne Suchanek (Pharmacy Technician)
Anoop Khurana (Pharmacist)
Lucy Lin (Pharmacist)
Angela Bains (Pharmacist)
Mabel Yan (Pharmacist)
Atamjit Bassi (Pharmacy Technician)
Mandy Yang (Pharmacist)
Bing Wang (Pharmacist)
Margaret Willcox (Pharmacy Technician)
Cara Hills (Pharmacist)
Melanie Johnson (Pharmacist)
Charles Park (Pharmacist)
Pavan Derodra (Pharmacist)
Chelsea Huang (Pharmacist)
Anonymous (Pharmacy Technician)
Melvin Lau (Pharmacist)
Shane Pawluk (Pharmacist)
Judy Yu (Pharmacist)
Sheryl Lau (Pharmacist)
Connie Chan (Pharmacist)
Tara Oxford (Pharmacist)
Doreen Phone (Pharmacist)
Vanessa Lee (Pharmacy Technician)
Engy Attalla (Pharmacist)
Wayne Rubner (Pharmacist)
Gillian Blaine (Pharmacist)
Yi Cong Wang (Pharmacist)
Ivana Gojkovic (Pharmacist)
Sandy Lu (Pharmacist)
Jessie Johal (Pharmacist)
Lily Liang (Pharmacist)
Jason Wong (Pharmacist)
 
Next Steps
The JE now consists of 150 questions, of which 125 are scored and 25 are unscored. Unscored questions are placed on the exam to determine their statistical performance before becoming scored questions. Candidates will not be able to differentiate between scored and unscored questions.
The College will continue to develop new questions through item writing workshops in the coming years and will continue to involve pharmacists and pharmacy technicians in the process. 
General information about the JE can be found on JE webpage under the Registration tab on the College website.