Guest Post: Zuclopenthixol decanoate; ClopixolR vs Zuclopenthixol acetate; Clopixol AcuphaseR
Zuclopenthixol decanoate is a first generation depot antipsychotic available in Canada in 200mg /ml solution for injection (ampoule).  It is usually simply known by its brand name ClopixolR.  It is used for maintenance treatment of schizophrenia or psychosis. Usual maintenance dose: 150 to 300 mg IM every 2 to 4 weeks. Dose may be reduced in the elderly; or those with hepatic dysfunction
Zuclopenthixol acetate is best known by part of its trade name AcuphaseR. It's base allows for more rapid absorption then the decanoate preparation; Onset of action is 2 to 4 hours (2 hours for sedation) time to peak is 24 to 48 hours (8 hours for sedation).  Acuphase is used in acute care/tertiary care wards or units for acutely disturbed behaviour, usually only if an acutely psychotic patient has required repeated injections of short acting antipsychotic drugs such as haloperidol IM.  It is available in 50mg/ml solution for injection. The usual dosage is 50 to 100mg IM. The Dose may be repeated after 2 to 3 days.
AcuphaseR is not intended for long-term use and duration of treatment should not be more than two weeks. The maximum accumulated dosage should not exceed 400 mg and the number of injections should not exceed four.
The following 2 cases are examples of clients prescribed clopixol decanoate depot IM in community and were inadvertently dispensed and administered Zuclopenthixol acetate or AcuphaseR.
June 2019 63 yo male; Client was switched from Fluphenazine to Zuclopenthixol decanoate: The prescription was written as clopixol im 50mg q 2weekly. The Pharmacy dispensed Zuclopenthixol acetate 50mg/1ml ampoule; and client was administered one dose. The client resides in a facility where the injection was administered.
April 2018: 42 yo male usually on Zuclopenthixol decanoate 50mg IM q 3weekly.  In April 2018 the pharmacy dispensed Zuclopenthixol acetate instead of decanoate; The injection was administered by the clients GP on a Friday; In this case the client drove himself home and thereafter experienced extreme fatigue; and some difficulty breathing. Client returned to Mental Health centre with his mother on the Monday, complaining of unusual tiredness; having missed work due to sedation lasting about 60 hours;   upon investigation it was discovered he had received the acuphase preparation instead of the depot.
The community pharmacist should be extra vigilant when dispensing prescriptions written simply as "Clopixol" IM; the errors above occurred when the dose of the decanoate was 50mg the same commercially available strength as the acetate ampoules.
The Acetate formulation is only administered in acute care/tertiary inpatient settings as most clients will be extremely sedated post dose and would require additional monitoring.
When a physician prescribes "clopixol" for an outpatient or client in residential care (community clients) it should always be interpreted as the depot or decanoate formulation; especially if the prescription is repeated q 2wkly (or 3 or 4 weekly).   If in doubt the prescriber should always be contacted for clarification.
Below is a summary of differences between the Depot and Acuphase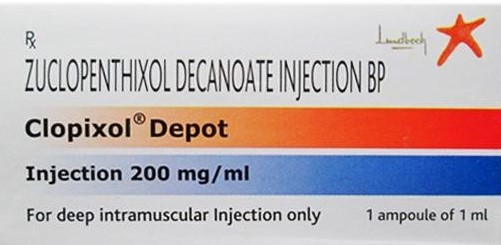 Indication: Maintenance treatment of psychosis or schizophrenia
Duration of action: 2 to 4 weeks
Maximum dose: 400mg q2 wks.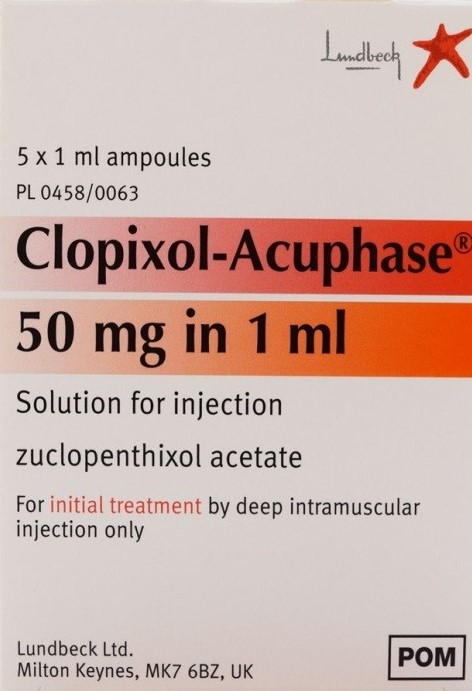 Indication: Initial treatment of acute psychosis/mania
Duration of action: 2 – 3 days
Maximum dose: accumulated dosage should not exceed 400mg over a max of 4 injections
Acuphase is  not intended for long term use and is reserved for acute /tertiary inpatient care
References
Electronic Medicines Compendium https://www.medicines.org.uk/emc/product/6414/smpc for product monograph clopixolR200mg/ml solution for injection 
https://www.medicines.org.uk/emc/product/993 for clopixol acuphaseR injection
The Maudsley Prescribing Guidelines in Psychiatry 13th edition – David Taylor et al
Prescribers Guide Stephen Stahl 6th edition
Lexicomp online
FH parenteral drug therapy Manual (PTDM  )for Zuclopenthixol acetate
FH PDTM Zuclopenthixol decanoate long acting
---
By Radia Esop,  BPharm PsychDipPharm
Clinical Pharmacy Specialist – Mental health and Substance Use; Fraser Health
Radia completed her pharmacy degree at Rhodes University in South Africa. Thereafter she completed a Diploma in Psychiatric Pharmacy at Aston University in the UK in 2003.  She is has worked in Mental Health since 2001.
Reviewed by: Deborah Thompson: BScPharm, PharmD, BCPP
Clinical pharmacy Specialist –Mental health and Substance Use; Fraser Health
Debbie completed her pharmacy Degree at UBC; she than went on to complete a Pharm D at University of Washington and is Board certified in Psychiatry Pharmacy.   She has a wealth of knowledge and experience in Psychiatric pharmacy having worked in this field for a number of years.
Featured Image: