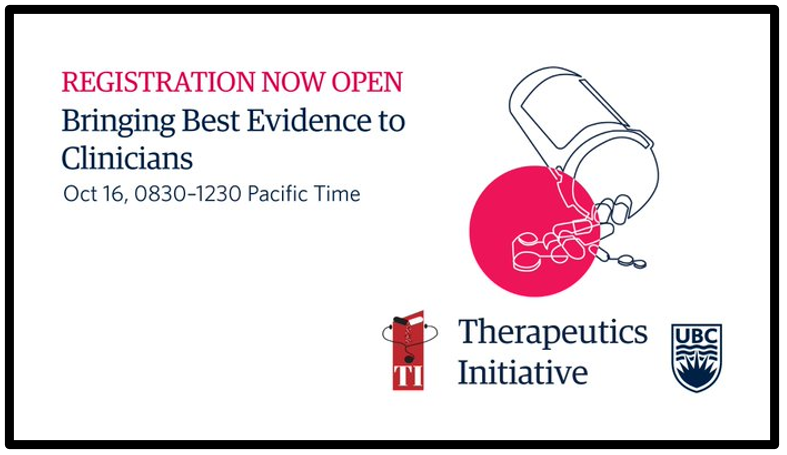 Guest Post: UBC Therapeutics Initiative - Bringing Best Evidence to Clinicians 2021 Virtual Event
About the TI
The Therapeutics Initiative (TI) was established in 1994 by UBC's Department of Pharmacology and Therapeutics in cooperation with the Department of Family Practice.   Our mission is to provide clinicians with up-to-date, evidence-based, practical information on prescription drug therapy.  To reduce bias as much as possible the TI is an independent organization, separate from government, pharmaceutical industry and other vested interest groups. Supporting our commitment to unbiased assessments of evidence on drug therapy we maintain a strict no conflicts of interest policy with the pharmaceutical manufacturers.
Join Us on October 16th!
Every year the TI hosts a conference for physicians, pharmacists, nurse practitioners and other allied health professionals who want a refresher on evidence around drug therapies for a variety of common conditions. This year our conference runs from October 16th, from 8:30 to 12:30 and features a variety of speakers.
Kicking off the program will be our keynote speaker and internationally acclaimed health journalist, Julia Belluz who will discuss "lessons from the trenches of evidence-based health journalism."  Other highlights of the program include:
Exercise Prescriptions
Victoria physician, Dr. Josh Levin has a special interest in lifestyle – specifically exercise as medicine – and the application of rational testing and prescribing. He will be leading a discussion of exercise prescriptions.
Thoughtful Observation and Identifying Drug Harms
Dr. Tom Perry believes that listening and observing thoughtfully can help protect your patients from avoidable adverse effects.  As a specialist in internal medicine and clinical pharmacology at UBC he often uses video recordings to demonstrate changes in functioning of patients after reducing or stopping problematic medications.  His topic, "How well do you know the drugs you prescribe?" will get you thinking more deeply about the potential things that can go wrong in prescribing.
Prescribing Cascades
Dr. Aaron Tejani is a pharmacist and researcher with the Therapeutics Initiative and co-chairs our Education Working Group. He will discuss the common problem of "prescribing cascades" where some medications given inappropriately or in too high dosages can cause adverse effects that engender the prescribing of other drugs to treat those effects.  Reducing harm is often a matter of managing doses and monitoring effects.
Evidence around New Drugs for Diabetes
Back as our visiting scholar is University of Manitoba Associate Professor of Pharmacy, Dr. Jamie Falk who studies treatments and patterns in chronic disease management, focusing on diabetes, chronic obstructive pulmonary disease (COPD), and chronic pain. He will discuss the growing body of literature of evidence on SGLT-2 inhibitors, new treatments for Type II diabetes.
Want to know more about the Therapeutics Initiative?  Check out at www.ti.ubc.ca
General registration for the course is $125 (Can), students only $30 and will earn you 3.75 Mainpro+ credits. 
---
Guest Post Disclaimer

ReadLinks Guest Posts are intended to expose the public and pharmacy professionals to a diverse range of knowledge, and expertise, with the goal of expanding awareness of issues related to public safety and pharmacy practice. While the College enforces strict Guest Post Submission Guidelines, the views and opinions expressed in Guest Posts articles are those of the author(s) and do not necessarily reflect the official standards or positions of the College of Pharmacists of British Columbia.