Pharmacists promote medication safety through identifying and reporting adverse drug reactions
Clinical pharmacists Hans Haag, Charles Au, Amanda Driver, and Ming Chang celebrate Pharmacy Appreciation Month by highlighting the contributions of clinical pharmacists in the Emergency Department at Vancouver General Hospital.
Adverse drug reactions are unintentional harms that occur from medication use. Adverse drug reactions cause approximately 5% of Emergency Department visits, are often preventable, and can lead to serious illness, hospitalization or even death. Unfortunately, adverse drug reactions may be mistaken for other medical illnesses, leading to a delay in diagnosis and treatment. In some cases, adverse drug reactions might be promptly identified but not clearly communicated to all health care providers, which may result in accidentally re-prescribing of the drug and cause further harm.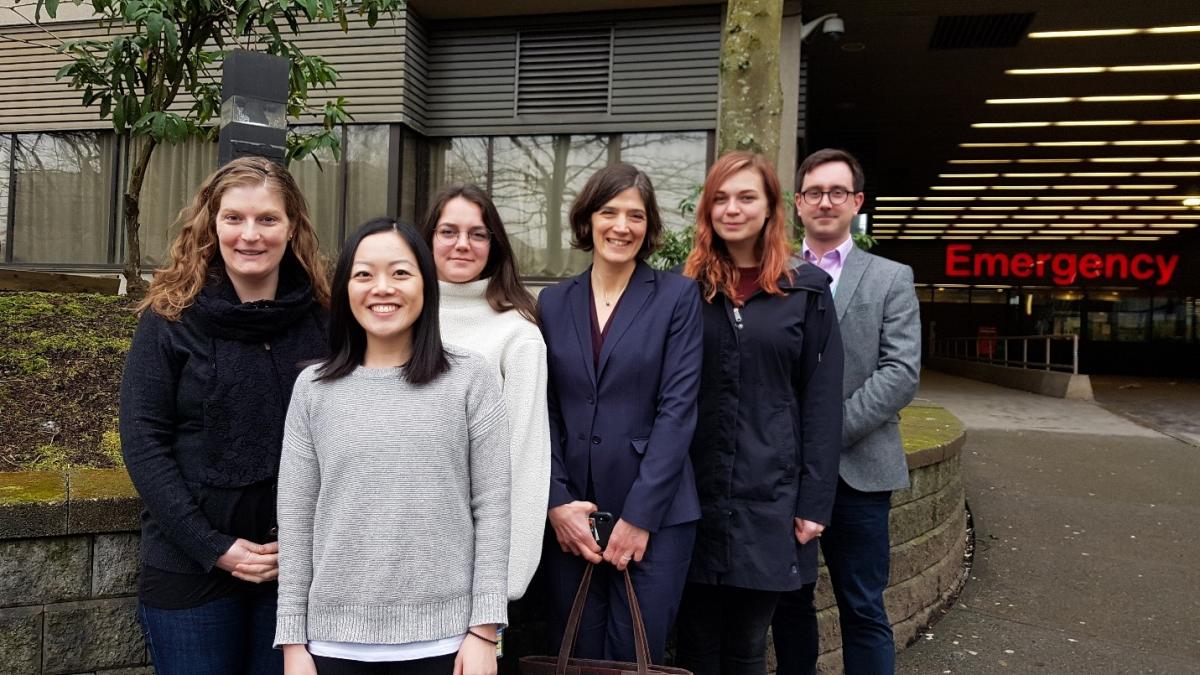 From left to right: Amber Cragg, Erina Chan, Serena Small, Dr. Corinne Hohl, Meave Wickham, Joe Larkin. (Photo from February 2020)
To address this unmet need at Vancouver General Hospital (VGH), clinical pharmacists have been deployed in the Emergency Department to identify and help manage potential adverse drug reactions. Dr. Corinne Hohl, an emergency physician, successfully advocated for greater pharmacist involvement in the Emergency Department, through her research that demonstrated their significant impact on patient care.
"Our clinical pharmacists do such valuable work in helping us identify unintended effects caused by medications and recommending best treatments for our patients - something which others within the health care system often don't have the time or expertise to do. Their involvement is always appreciated and helps us provide better care by preventing patient readmissions."
In addition, adverse drug reactions are historically underreported to Health Canada, which limits the ability to detect serious or previously unknown harms of drugs on the Canadian market. This gap was recently addressed by the Protecting Canadians from Unsafe Drugs Act (also known as Vanessa's Law), which as of December 2019 mandates the reporting of serious adverse drug reactions and empowers Health Canada to take stronger action on recalling potentially unsafe drugs.
To address the communication gaps in ensuring that identified adverse drug reactions are shared between health care providers, ActionADE was developed as a pilot project at VGH and has now been implemented at other sites, including Lions Gate Hospital, Mount Saint Joseph Hospital, UBC Hospital, Squamish General Hospital, Richmond General Hospital, and St. Paul's Hospital. ActionADE connects health care providers across hospital and community settings with detailed and up-to-date information about their patients' adverse drug event history. As of December 2020, ActionADE communicates directly with PharmaNet, the provincial drug information system. This allows new adverse drug events reported in acute care hospitals to be visible in community care settings, such as providing a warning to community pharmacists about a prior adverse reaction when the drug is prescribed to the same patient again.
Erina Chan, the clinical pharmacist on the ActionADE project team, has played an integral role in the implementation of ActionADE at VGH.
"I think this is a very exciting opportunity for hospital pharmacists, as we often identify adverse drug events in our patients that other members of the health care team may not catch. With ActionADE, we are now able to easily and automatically communicate these events via PharmaNet to the community pharmacies and other health care providers, something we weren't able to do before in a hospital setting. The work that we put into this will help prevent re-dispensation of culprit medications, avoid repeat adverse drug events, and improve patient safety."
So when you see your pharmacist next time, know that they are essential members of your health care team and that they help ensure your medications are safe, through such work as assessing patients for potential adverse drug reactions and collaborating on projects such as ActionADE.
---
About the Authors 
Hans Haag, Charles Au, Amanda Driver and Ming Chang are clinical pharmacists at Vancouver General Hospital. Our pharmacy team works together with physicians, nurses and allied health professionals to provide quality patient care.  
---
Guest Post Disclaimer

ReadLinks Guest Posts are intended to expose the public and pharmacy professionals to a diverse range of knowledge, and expertise, with the goal of expanding awareness of issues related to public safety and pharmacy practice. While the College enforces strict Guest Post Submission Guidelines, the views and opinions expressed in Guest Posts articles are those of the author(s) and do not necessarily reflect the official standards or positions of the College of Pharmacists of British Columbia.
Guest Post; Medication Error Reporting; Adverse Drug Reaction