FLU SEASON AND THE COVID-19 PANDEMIC 
As BC continues to respond to the COVID-19 pandemic, influenza vaccines are more important than ever in order to help alleviate the pressures already faced by our province's health-care system. 
"All British Columbians should get vaccinated against influenza to protect themselves and their loved ones from serious illness, to reduce the strain on our hard-working health workers and to do our part to make sure the health system continues to be there for people who need it, where they need it and when they need it." 

 
Influenza is an infection of the upper airway caused by the influenza virus that can spread from person to person through coughing, sneezing or face-to-face contact. Every year, thousands of British Columbians are afflicted by the virus, usually between the months of November and March, during what most of us refer to as "Flu Season." 
One of the best ways to protect yourself against influenza and reduce the spread of the virus, is by getting vaccinated. The exceptionally low rate of influenza infection we saw in 2020 means that our immunity against this year's seasonal influenza may be lower than usual. 
As such, this year, influenza vaccination is free for everyone in BC six months and older.
Vaccination is especially important for people who are at high risk of serious illness from influenza (such as young children, pregnant women, the elderly and people with certain medical conditions), those able to transmit or spread influenza to those at high risk, and people who provide essential community services. 
Getting Your Influenza Vaccine During the COVID-19 Pandemic
The College's Drug Administration Certification requirement and Standards, Limits and Conditions for Drug Administration by Injection and Intranasal Route ensures that qualified pharmacists, and other authorized registrants, can safely provide flu shots in BC. 
Under normal circumstances, most pharmacies offer injection services on a walk-in basis. However, due to COVID-19, some BC pharmacies are employing different approaches to help prevent the spread of the virus while providing flu immunizations (e.g. appointment systems and screening questionnaires). 
With influenza vaccines more broadly available to the public, British Columbians are encouraged to check their health authority's website or call their health-care provider or pharmacist to check for vaccine availability and to make an appointment. 
You can find your closest community pharmacy using the College's Find a Pharmacy Tool.
You can also take a look at Immunize BC's Influenza Clinic Locator or call HealthLink BC at 811 to find your nearest public vaccination clinic.
Please avoid visiting a pharmacy if you are feeling unwell or experiencing any COVID-19 symptoms. 
Providing Immunization Services During the COVID-19 Pandemic
The BC Center for Disease Control (BCCDC) has updated its Guidance for Influenza Vaccine Delivery in the Presence of COVID-19 document which includes recommendations for influenza immunization programs.
GUIDANCE FOR INFLUENZA VACCINE DELIVERY IN THE PRESENCE OF COVID-19
(BC CENTRE FOR DISEASE CONTROL)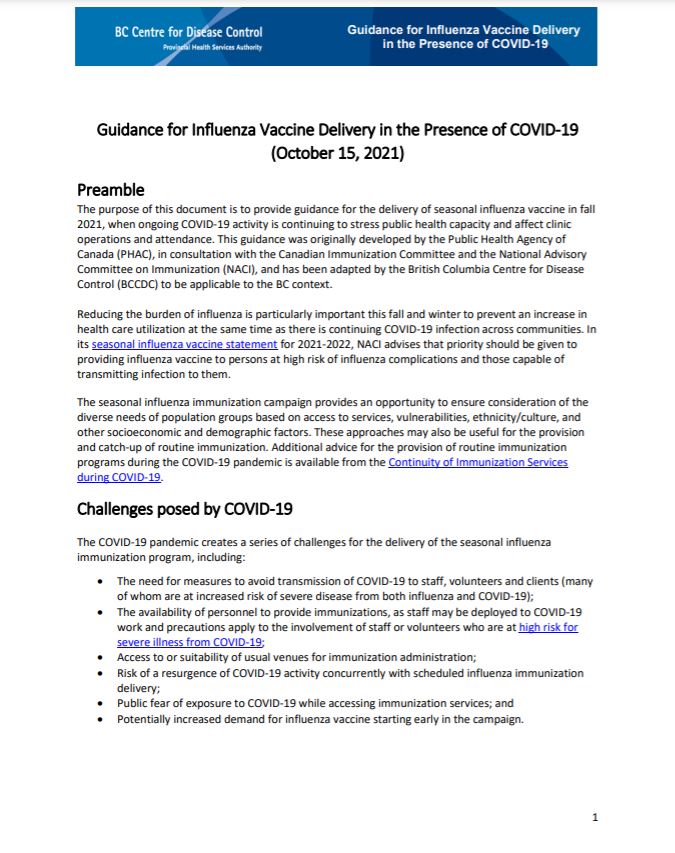 The BCCDC will continue to provide any updated information or guidance for pharmacy professionals on this page as it becomes available. Keep checking this page for updates.
Drug Administration Certification 
In order to administer immunizations, qualified pharmacists and other authorized registrants must have and maintain a valid Drug Administration Certification and follow the College's Standards, Limits and Conditions for Drug Administration by Injection and Intranasal Route. 
You must apply to the College and have a valid (current) Drug Administration Certification before immunizing any patient.  
To confirm whether you have a valid Drug Administration Certification, go to the registrant (pharmacist) directory on the College's website, found at "Find a Pharmacy or Registrant" link on the top of the website (or click here for a complete list of registrants).  Note the status under the column "Authorized for Drug Administration".
If you do not have Drug Administration Certification but would like to administer a drug by injection or intranasal route, refer to the College website for information regarding obtaining Drug Administration Certification: 
For those who already have Drug Administration Certification from the College, in order to maintain your Drug Administration Certification, you must have a valid (current) certification in first aid and Cardiopulmonary Resuscitation (CPR) at all times. 
If you do not maintain your First Aid/CPR certification and it expires, your drug administration certification will no longer be valid and you must cease from administering drugs via injection and intranasal route immediately, regardless of whether or not your re-certified at your last registration renewal, or re-certify at your upcoming registration renewal. 
The College has not made an exception to any requirements for maintaining drug administration certification during the COVID-19 pandemic. 
Injection certified pharmacists and other authorized registrants must understand and be familiar with the standards, limits and conditions associated with Drug Administration Certification for drug administration by injection and intranasal route. They can be found in the HPA Bylaw Schedule F Part 4 – Certified Practice – Drug Administration By Injection And Intranasal Route Standards, Limits And Conditions.
For more information about Drug Administration Certification, contact our Registration Department at: registration@bcpharmacists.org.
Reminder: Ensure Proper Injection Techniques
Earlier this year the College received some reports of improper injection techniques used by pharmacists, specifically with respect to landmarking; as well as the selection of the appropriate needle length and guage for a patient's age, muscle mass, subcutaneous tissue, and gender. 
The College would like to remind injection certified pharmacists and other authorized registrants to review proper injection techniques for vaccines administered via the intramuscular (IM) route in order to ensure patient safety and avoid injury and harm. 
ADDITIONAL RESOURCES