February is Black History Month
During Black History Month, the College encourages all British Columbians to join us in celebrating the achievements of Black Canadians and appreciating their role in making British Columbia and Canada a more culturally diverse, compassionate and prosperous place to live. 
The 2021 theme for Black History Month in Canada is" The Future is Now." "The Future is Now" is a chance to celebrate and acknowledge the transformative work that Black Canadians and their communities are doing now.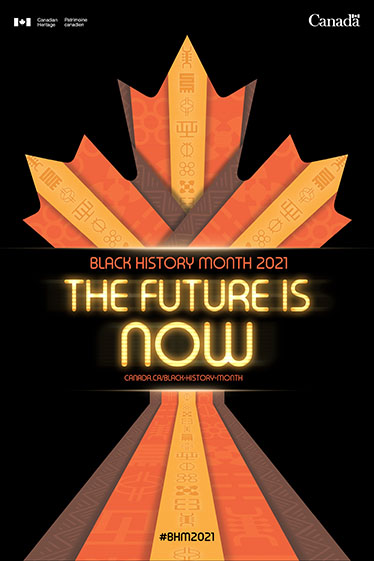 Black History Month is an opportunity to learn more about and celebrate Black Canadians in addition to reflecting on the racism Black people have had to experience, endure and overcome, so that we can address implicit biases and work toward creating a more inclusive and equitable future. 
Black History Month takes on an even greater significance after the events of the past year. Throughout 2020, we mourned alongside Black Communities and allies across the US, Canada and abroad for the lives of George Floyd, Ahmaud Arbery, Breonna Taylor Tony McDade and countless others who lost their lives at the hands of police brutality perpetrated by a culture of systemic racism and violence. 
However, we also witnessed the power of people, from all walks of life, coming together and speaking out against countless racial injustices and the culture of anti-Black discrimination within which they occur. And though our hearts remain heavy, it is in this shared, collective stand against racism that we find hope for 2021 and beyond. 
While we are encouraged by these shows of solidarity and support for Black Communities by people, organizations and governments across the world, we'd like to remind British Columbians of how important it is to keep the conversation going and to continue to seek out and explore resources to stand up against and combat the systemic racism faced by Black Canadians. 
About Black History Month in Canada
Black History Month is about honouring and celebrating the achievement and contributions that Black People have made and continue to make within Canadian history, culture and society. Unfortunately, Black Canadian history is still often not talked about in Canadian schools or represented in popular Canadian culture. 
"Few Canadians are aware of the fact that African people were once enslaved in the territory that is now Canada, or of how those who fought enslavement helped to lay the foundation of Canada's diverse and inclusive society." 

- Government of Canada
After years of recognition in America, in 1978, founders of the Ontario Black History Society presented a petition to the City of Toronto to have February formally proclaimed as Black History Month. In 1979, the first-ever Canadian proclamation was issued by Toronto. 
In December 1995, the House of Commons officially recognized February as Black History Month in Canada following a motion introduced by the first Black Canadian woman elected to Parliament, the Honourable Jean Augustine. The motion was carried unanimously. 
As a society, we still have a long way to go in recognizing the many contributions of Black Canadians throughout our country's history. Black History Month is a time to learn about these contributions and to celebrate the importance of Black communities in shaping our country's history. 
The Importance of Self-Education
As health professionals, self-education is especially important in addressing the unconscious or implicit biases that are all too present within our health system. It's important to recognize that these biases are rooted in our history and culture. "There is little mention of the fact that slavery once existed in [Canada], or that many of the Loyalists who came here after the American Revolution and settled in the Maritimes were black." (BC Teachers Federation.) These omissions are at the heart of the inequities faced by Black Canadians in our health system. 
"We can start by educating ourselves, although we certainly can't stop there. There is great power in curiosity: Try to understand how it feels to be spoken to like an outsider, even when you've lived here all your life."

- Kasari Govender, BC Human Rights Commissioner
While it may be difficult to participate in in-person community-led Black History Month events this year, we ask all British Columbians to take some time to self-educate, reflect on and learn about the significant efforts of Black Canadians, and their foundational role in shaping our country's history. 
The College Stands in Solidarity with the Black Community 
In June 2020, College CEO & Registrar, Bob Nakagawa, pledged the College's commitment to developing a plan to guide our organization in raising awareness of, and combatting the racism faced by Black People in BC. In order to achieve this, the College established an internal working group to help lead the change and identify ways to address racism within our health system.  
Since then, the College's Black Lives Matter Working Group has been working to develop an organizational framework to guide the College as we move toward a more equitable future for Black Canadians. 
Black History and Anti-Black Racism Resources
Explore the following resources to learn more about the history of Black Canadians and anti-racism.   
Featured Image: