COVID-19 Vaccination Information – What You and Your Patients Need to Know 
The following content has been adapted from various resources developed by the BC Centre for Disease Control, the First Nations Health Authority and the Ministry of Health. 
[This article was updated on May 27, 2021]
On January 22, 2021, the BC Government shared the strategy for the province's evidence-based COVID-19 Immunization Plan. The plan is focused on saving lives and stopping the spread of COVID-19, meaning that as long as there is a limited supply of the vaccine, priority will be given to protecting those most vulnerable to severe illness first. 
Health care providers play a crucial role in communicating facts and information about the COVID-19 vaccine. 
This article is intended to help pharmacy professionals easily access and provide trusted and accurate resources to British Columbians looking for information about the COVID-19 Vaccine.  
COVID-19 second doses: register through Get Vaccinated
The majority of eligible B.C. residents will need to be registered through Get Vaccinated (gov.bc.ca/getvaccinated) in order to book their second dose of the COVID-19 vaccine -- whether they will receive their second dose in a pharmacy or a public clinic. This is required for people who received their first dose in a pharmacy.
If someone is already registered through Get Vaccinated, they should not register again. The province will notify them when it's time to schedule their second dose, at the approximate 16-week timeline. If patients received their first dose of COVID-19 vaccine in March or April, they would be eligible for their second dose in June or July.
Please encourage patients to register online at gov.bc.ca/getvaccinated, if they aren't already registered, so they can be scheduled for a second dose. This is the fastest way to register and is available 24/7. 
People can also register through a provincial call centre between 7 am and 7 pm (Pacific time), toll-free, at 1-833-838-2323, or in person at their nearest Service BC location.
If someone received their first shot in a pharmacy and have been invited to book a first dose through the provincial system, do not book the appointment. There may be technical issues with the online registration system as it expands to support booking for second doses, but the province is working to address these immediately.
Please note: registering through Get Vaccinated is not the same as registering for Health Gateway. Anyone in B.C. can register for Health Gateway, using their mobile BC Services Card. In Health Gateway, they can see their immunization records, including for COVID-19; COVID-19 test results; filled prescription history, and more.
This information is also available in some of the languages most common to BC residents at gov.bc.ca/getvaccinated.
How the COVID-19 Vaccines Work 
There are two different types of COVID-19 vaccine currently available for use in Canada – Messenger RNA vaccines, – commonly referred to as mRNA vaccines – and Viral Vector vaccines. Both vaccine types work by teaching your body's immune system to remember and recognize a virus so that it can then defend you if you are exposed in the future. Both vaccine types are completely safe and effective. 
Benefits of Getting Vaccinated 
The vaccine will help reduce the spread of COVID-19 in B.C. Vaccines save lives by preventing disease, especially for people most likely to have severe illness or die. If enough people get vaccinated, it makes it difficult for the disease to spread. 
This gives protection not only to people who receive the vaccine, but can also protect those who cannot be immunized – this is called 'herd immunity'. As more British Columbians get vaccinated, we can return to activities that haven't been possible during the pandemic. 
The Facts About COVID-19 Vaccines – Handout
(First Nations Health Authority)
Vaccine Safety Matters
Vaccines are among the most strictly regulated and effective tools of modern medicine. However, vaccine misconceptions can quickly gain momentum in the media, despite a lack of scientific credibility. Vaccine hesitancy can undermine the success of vaccine programs and can ultimately lead to lower coverage rates, which increase a populations susceptibility to disease outbreaks. 
Research has shown that concerns about vaccine safety can delay or prevent individuals from receiving recommended immunizations. Serious adverse events following immunization (AEFI) are very rare. However even expected and common reactions can be a cause for concern for some and may impede their confidence in receiving future immunizations. 
The BCCDC's Vaccine Safety Matters infographic shares information on how vaccines are tested and approved.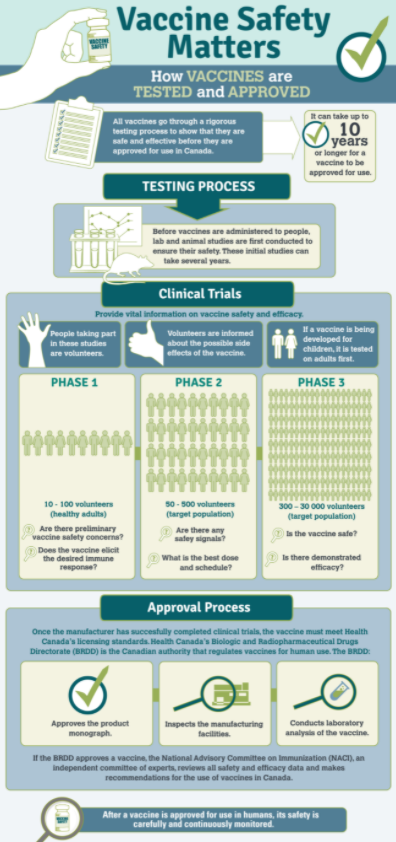 Vaccine Considerations
Nearly everyone will be able to safely receive the vaccine, although a very small number of people may need to avoid vaccination due to severe allergies to parts of the vaccine.
Information for the public on vaccine considerations, including information for people with allergies, and people with health conditions including those considered clinically extremely vulnerable is available from the BCCDC.
Pregnancy or Breastfeeding 
For most people, getting a COVID-19 vaccine is the safest choice to protect them from COVID-19. The Canadian Society of Obstetrics and Gynecology (SOGC), the National Advisory Committee on Immunization (NACI) and public health experts in B.C. all agree that people who are pregnant and breastfeeding can get the vaccine.
The BCCDC's COVID-19 vaccine planning guide for people who are pregnant or breastfeeding includes information for the public on the benefits of getting a COVID-19 vaccine while pregnant or breastfeeding.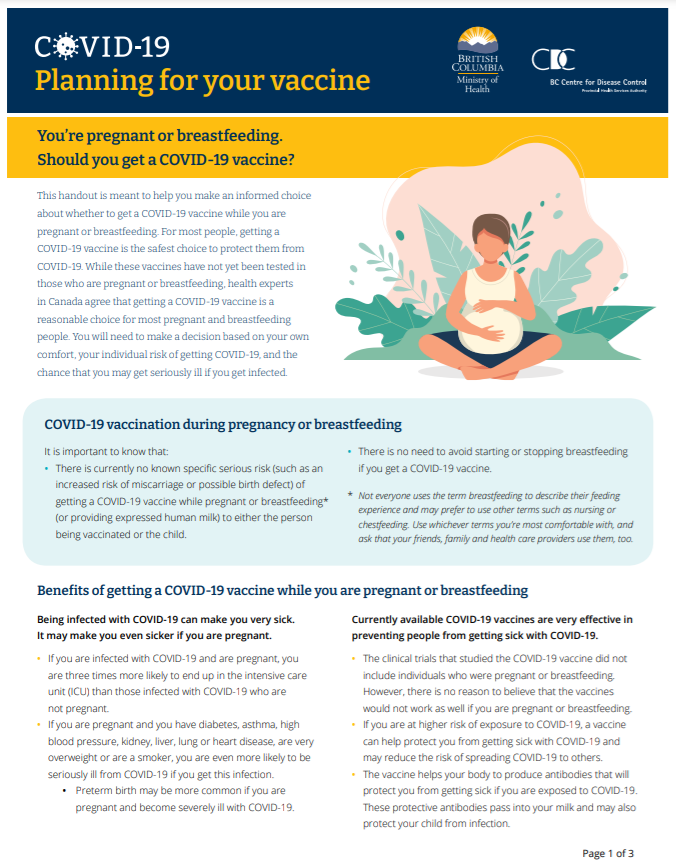 After your Vaccine 
From common side effects and symptoms to look out for, to the need to continue to follow public health guidelines, it's important to understand what to expect after receiving a COVID-19 vaccine.
The BCCDC's Vaccination Aftercare handout has information for the public on what to expect after your vaccine.
Translations available include: American Sign Language, Arabic, Simplified Chinese, Traditional Chinese, Farsi, French, Korean, Punjabi, Spanish, Tigrinya, Vietnamese
For information and other resources, including videos, on what to expect after receiving a COVID-19 vaccine see: 
Vaccine Information for Indigenous People in BC
All Indigenous people in BC age 18 or older may register for a COVID-19 first-dose vaccination appointment as part of the province's mass vaccination clinics. 
There are two methods by which Indigenous people in BC can be vaccinated:
The province is offering mass vaccination clinics prioritized by age group. This is usually the best option for people who live away from home (off-reserve). 
The FNHA is working with First Nations communities to offer community clinics for members age 18 and older. While intended for those who live on reserve, some can serve members who live off-reserve by nearby. 
The FNHA is promoting a "whole of community" approach in which everyone age 18 and over is offered immunization. As of March 31, 2021, every First Nations community in BC had been offered a first-dose vaccination clinic. More clinics are being held for people who missed receiving their first dose and second-dose clinics will soon be scheduled as well.
 
COVID-19 Vaccination Materials for Indigenous People
Protecting communities by building immunity: Indigenous physicians share stories about COVID-19 vaccination.
About Vaccination
Learn about why it's important to get a COVID-19 vaccine, possible side effects and what happens after you get your vaccine.
Additional COVID-19 Vaccine Information for Indigenous People and Communities
Immunization Communication tool 
The Immunization Communication Tool (ICT) is a project of the Professional Education Working Group, a subcommittee of the British Columbia Immunization Committee, and the British Columbia Centre for Disease Control (BCCDC) Communicable Diseases and Immunization Service team.
The purpose of the ICT is to support health care providers with the information and tools needed to communicate effectively about vaccines and address vaccine hesitancy.
The ICT was first created in 2008 and updated in 2014. This 2021 edition of the tool has a new format and new content. When revising the tool, special consideration was given to the most recent literature recommendations for addressing vaccine hesitancy. 
Immunization Communication Tool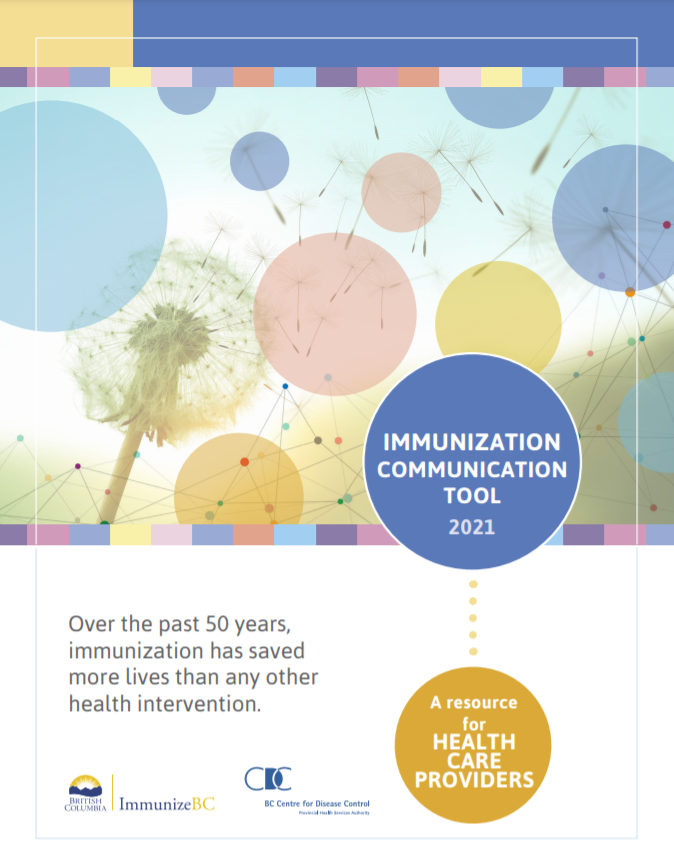 Vaccine FAQs 
Please refer to the following resources for additional questions about the COVID-19 vaccines and BC's Immunization Plan
Additional Resources