The College and MAID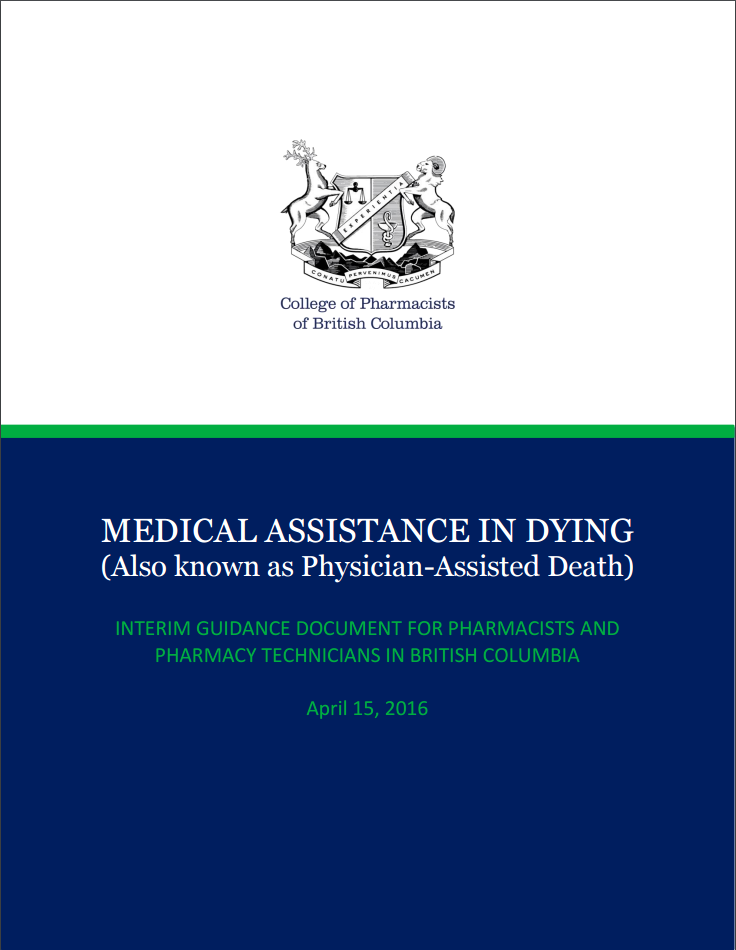 Note: The College has updated information on MAID. Learn more here: http://www.bcpharmacists.org/medical-assistance-dying. The College's Interim Guidance Document on MAID is no longer in effect as of June 6, 2016. 
Over the past few months the College's role in Medical Assistance in Dying (MAID) has been on the minds of many pharmacy professionals. In February, the Supreme Court of Canada (SCC) ruled that competent adults who have enduring, intolerable suffering and whom consent to ending their lives can access MAID on a case-by-case basis. The Federal government has a deadline of June 6, 2016 to develop legislation to support this ruling. These are significant and historic changes that will have a lasting impact for patients and health care professionals alike.
The SCC has ruled that in certain circumstances, Canadians have the right to end their own life, and physicians who assist them should not be subject to criminal charges. For us as the College, the question is what does this mean for pharmacists who are asked to assist in the process by providing advice or supplying the drugs?
The Federal government tabled Bill C-14 on April 14, 2016, and it specifically recognizes the essential role of the pharmacist in the MAID process. This, along with recognition for other health care professionals including nurse practitioners, is a welcome clarification. Should Bill C-14 be passed on June 6, 2016, a pharmacist would be exempted from the Criminal Code provisions when participating in MAID.
The College also recognizes that certain pharmacy professionals may have a religious or personal conviction that prevents them from participating in the MAID process, and we have to respect and acknowledge that.
This is by no means an easy or straightforward situation to navigate.
The College is actively working with government and other health professional colleges to address the evolving landscape. 
The College published an interim guidance document for pharmacists who may be approached to participate in MAID prior to June 6, 2016. It is available to read here: http://www.bcpharmacists.org/medical-assistance-dying. 
After June 6, 2016, the College will update its guidance document and any other related legislation (e.g. Code of Ethics) to incorporate new federal legislation and any legislative frameworks as indicated by the provincial government. 
MAID, Medical Assistance in Dying