Black History Month 2022: February and Forever
February is Black History Month in Canada. Black History Month is about honouring and celebrating the achievement and contributions that Black People have made and continue to make within Canadian history, culture and society.
The 2022 theme for Black History Month in Canada is "February and Forever: Celebrating Black History Today and Every Day."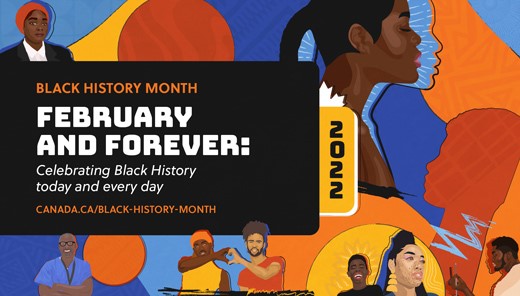 This year's theme reminds us that actively recognizing the innumerable achievements and contributions of Black Canadians and their communities is something we should be doing all year long. 
Which is why this February, and in the months and years that follow, the College encourages all British Columbians to celebrate, recognize and acknowledge the achievements of Black Canadians and their role in making British Columbia and Canada a more culturally diverse, compassionate, and prosperous place to live. 
"Black communities have made and continue to make a difference in all areas, including academia, health, sciences, business, sport, the arts, and on the frontlines of the COVID-19 pandemic. They have shown resilience, innovation, and determination in the face of ongoing barriers, inequalities, and systemic anti-Black racism that still exists in our country." 

 

- The Honourable Ahmed Hussen, Minister of Housing and Diversity and Inclusion 
THE IMPORTANCE OF SELF-EDUCATION
As health professionals, self-education is especially important in addressing the unconscious or implicit biases that are all too present within our health system. It's important to recognize that these biases are rooted in our history and culture. For example, there is often little mention of the fact that slavery once existed in Canada and these omissions are at the heart of the inequities faced by Black Canadians in our health system. 
While it may be difficult to participate in in-person community-led Black History Month events this year, we ask all British Columbians to take some time to self-educate, reflect on and learn about the significant efforts of Black Canadians, and their foundational role in shaping our country's history. 
This year's theme reminds us that we must keep the conversation going beyond the month of February, and to continue to seek out and explore resources to learn about, understand and combat the systemic racism faced by Black Canadians. 
As a starting point, we encourage you to take a look at the following Black History Month resources provided by the Government of Canada: 
About Black History Month
Learn how Black History Month came to be recognized in Canada.
Noteworthy historical figures
Read the biographies of notable Black Canadians who helped shape Canada.
Black history organizations and educational resources
Explore the organizations and resources that promote awareness of Black history in Canada.
The legacy and impact of Black Canadian women's organizations
Learn about the impact that Black Canadian women organizations have had on their communities, and how they advanced equality and human rights.
Significant events in Black Canadian history
Learn more about the Black experience in Canada through the events and contributions made by people of African and Caribbean descent to the settlement, growth and story of Canada.
THE COLLEGE STANDS IN SOLIDARITY WITH THE BLACK COMMUNITY 
In June 2020, the College's former CEO & Registrar, Bob Nakagawa, pledged the College's commitment to developing a plan to guide our organization in raising awareness of, and combatting the racism faced by Black People in BC. In order to achieve this, the College established an internal working group to help lead the change and identify ways to address racism within our health system.  
Since then, the College's Black Lives Matter Working Group has been building awareness of racism and working towards developing an organizational framework to guide the College as we move toward a more equitable future for Black Canadians. 
BLACK HISTORY AND ANTI-BLACK RACISM RESOURCES
Explore the following resources to learn more about the history of Black Canadians and anti-racism.   
Featured Image: