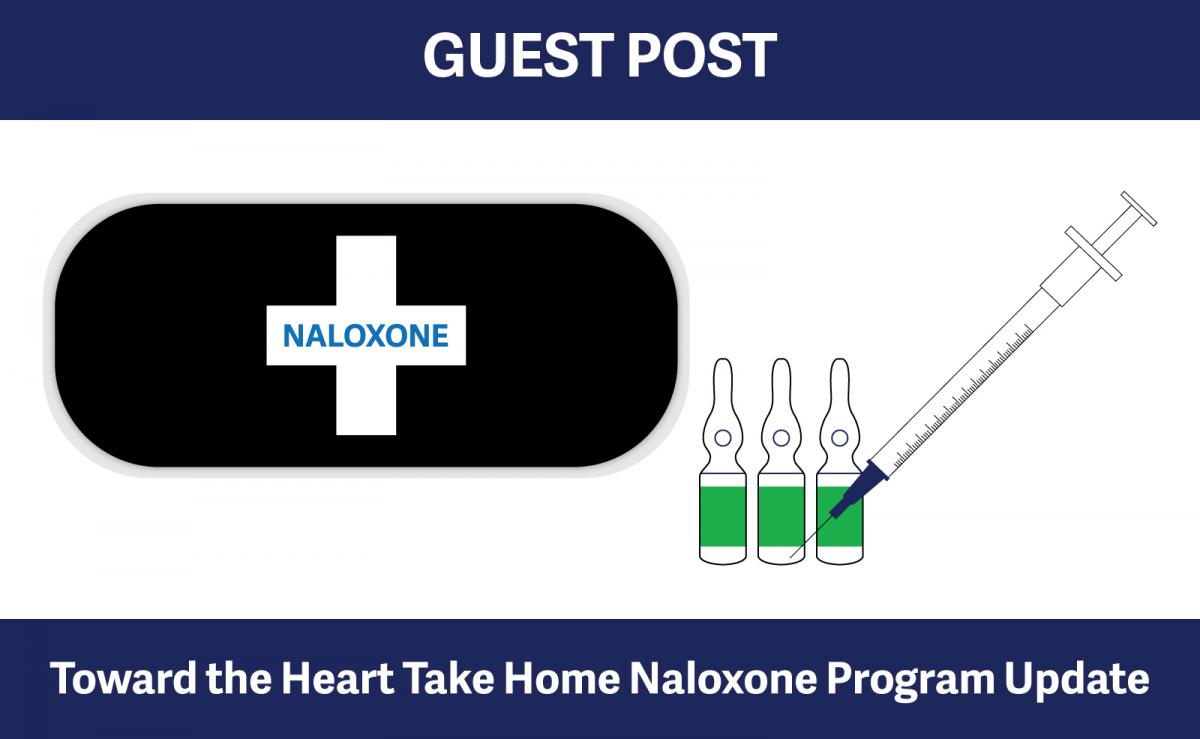 Since 2012, a total of 181,800 kits have been reported as distributed by Take Home Naloxone (THN) sites in British Columbia (BC). Of those, more than 50,000 kits have been used to reverse an overdose.1
The BC Centre for Disease Control (BCCDC) THN program provides low-barrier access to naloxone kits and training at no cost to:
Individuals at risk of an opioid overdose
Individuals likely to witness and respond to an overdose such as a family or friend of someone at risk

* Individuals who do not meet this criteria (such as healthcare employees, businesses, or those seeking it for OH&S purposes) are encouraged to purchase naloxone from a local pharmacy. Both injectable and intranasal formulations are available for pharmacies to order.
The BC THN program initially made naloxone kits available through harm reduction sites and community organizations where individuals at risk of an overdose may be accessing other services. In December 2017, the program expanded into community pharmacies to increase access to THN.
As of November 15th 2019, 708 community pharmacies participate in the BC THN program.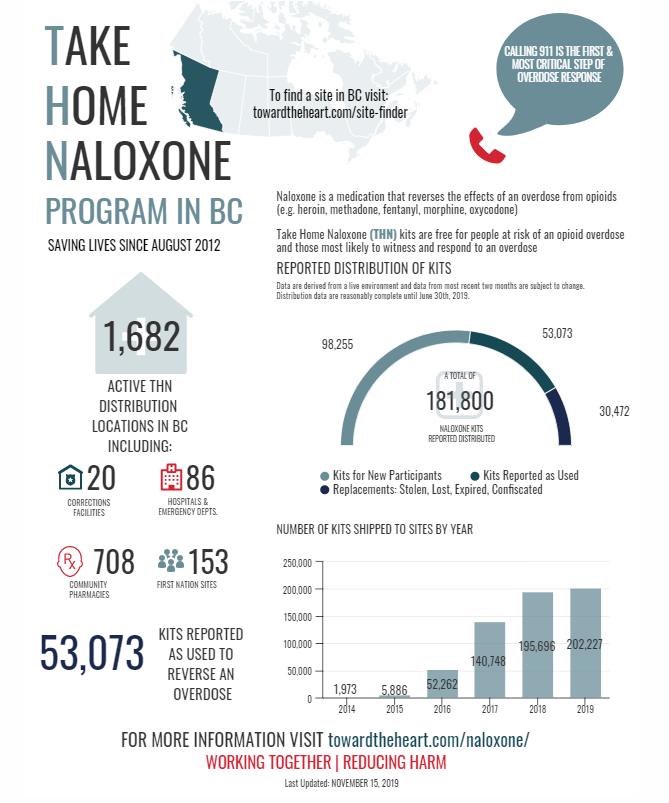 (The latest stats on the Take Home Naloxone Program)
Summary of Evaluation Findings and Recommendations
A mixed-methods program evaluation was conducted to identify strengths and barriers of the implementation and ongoing management of THN in community pharmacies, as well as to capture participant attitudes, perceptions and beliefs one year after the expansion into pharmacies. The report was recently published by BCCDC Harm Reduction Services on Toward the Heart.
Program Record Review: Key Findings
Between January 1, 2018 and December 31, 2018 a total of 3,523 kits were reported as distributed by 562 pharmacy sites
Most individuals obtaining a THN kit from a pharmacy were male (51%) and aged between 31 and 60 (47%)
71% of kit recipients at pharmacy sites were receiving their first kit compared to 40% at non-pharmacy THN sites
The majority (58%) of THN kits were distributed to individuals not at risk of overdose themselves compared to 32% at non-pharmacy THN sites
Learnings and Recommendations
Overall, the expansion of THN into community pharmacies has been well received across the province. Centralized distribution models have facilitated the onboarding of hundreds of pharmacies to date. Continued expansion is encouraged, especially in rural and remote areas with limited access to THN. The distribution of THN kits through pharmacies increases access to individuals who may not access traditional harm reduction services (i.e. family or friend of someone at risk).
Interviewees highlighted that participating in the THN program creates opportunities to have meaningful conversations and dialogue about substance use and portraying naloxone as any other medicine. This may address some of the stigma associated with substance use.
The evaluation revealed the importance of communication between all levels of the program including banner/chain coordinators, individual stores and the BCCDC as this would support implementation and awareness of operational processes such as ordering and required program reporting. Participants identified a need for refresher training for pharmacists. Furthermore, the evaluation found that there is an opportunity to increase awareness of the availability of THN in community pharmacies. Individuals can be referred to the site finder to locate a naloxone site nearest to them: towardtheheart.com/site-finder
THN distribution sites, including pharmacies, have willingly joined the program to best support the communities they serve and to increase access to this life-saving intervention during the ongoing opioid crisis.
Thank you to the many sites and individuals providing naloxone training and kits across BC!
THN Kit Distribution Program Reporting
All participating sites are required to complete a distribution record for each kit provided to an individual.
Sites can e-mail records indicating their site name or ID to naloxone@bccdc.ca on a monthly basis
Personal details such as name, date of birth, PHN are not required by the program
Distribution records demonstrate the ongoing lifesaving work of THN sites and individuals in BC and enables the program to estimate the number of overdose reversals and lives that have been saved by Take Home Naloxone.
The return of these records provides evidence of the ongoing uptake of reach of the program, enables prediction of future trends, and helps to ensure ongoing funding of these supplies.
Additional
Report reference: Mamdani, Z. & Buxton, JA. (2019). Evaluation of British Columbia's Take Home Naloxone Program in Community Pharmacies. BC Centre for Disease Control.
1Program data complete as of November 15th, 2019
---
   
Toward the Heart
Toward the Heart is a project of the Provincial Harm Reduction Program and one of many initiatives of the Harm Reduction Program of the BC Centre for Disease Control.
---
GUEST POST DISCLAIMER
ReadLinks Guest Posts are intended to expose the public and pharmacy professionals to a diverse range of knowledge, and expertise, with the goal of expanding awareness of issues related to public safety and pharmacy practice. While the College enforces strict Guest Post Submission Guidelines, the views and opinions expressed in Guest Posts articles are those of the author(s) and do not necessarily reflect the official standards or positions of the College of Pharmacists of British Columbia.
Guest Post; opioid overdose crisis