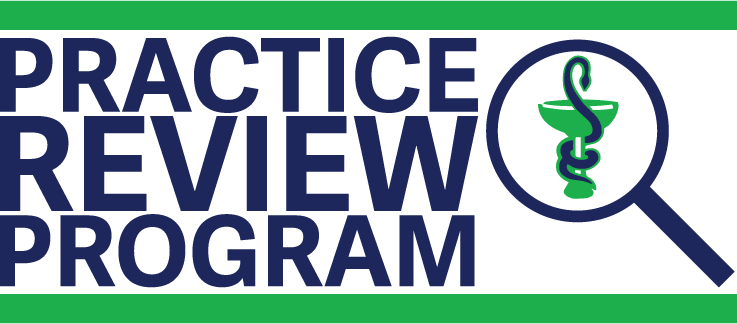 Pharmacy Managers – How to Schedule Practice Reviews
There are two components to the Practice Review Program: the Pharmacy Review and the Pharmacy Professionals Review.
Pharmacy Managers assist in the delivery of both parts of the practice reviews by completing the Pharmacy Pre-Review, scheduling the Pharmacy Review, and scheduling staff for their individual Pharmacy Professionals Reviews.
The following information is intended to assist Pharmacy Managers in scheduling Practice Reviews and ensuring you have completed all the preliminary requirements.
Role of the Pharmacy Manager during a Practice Review
As a Pharmacy Manager, when your pharmacy is selected for a Practice Review, you need to:
Review Practice Review Program information on the College website bcpharmacists.org/prp
Confirm availability of your pharmacy and the selected registrants for your review dates
Confirm the registrants working at the pharmacy during the expected review period by working with the College (by reviewing the staff roster provided to you in the selection email received from the College)
Update staff roster in the College's eServices Pharmacy Portal (if needed)
Request all registrants to update their College eServices profiles
Complete the Pharmacy Pre-Review (link provided in PRP selection email)
Schedule your selected registrant staff for their Pharmacy Professionals Reviews and provide your Pharmacy Professionals Review Schedule to the College
Schedule your own Pharmacy Professionals Review (if applicable)
Be on-site at the start and end of the Pharmacy Review
Print and post the Practice Reviews in Progress poster to keep staff informed (optional)
Notification of a Practice Review
Pharmacy Managers will receive email notification of their upcoming review in advance of the scheduled start date.
Pharmacy Managers must confirm their availability for the date range provided or address any scheduling conflicts by responding to [email protected] (Community) or [email protected] (Hospital).   
How to Complete a Pharmacy Pre-Review
The Pharmacy Pre-Review is an important step in the practice review process. It assists you, as the pharmacy manager, to prepare for the Pharmacy Review by self-assessing your own practice setting against the College's bylaws and policies. You can identify and correct (if possible) any areas of non-compliance prior to your on-site Pharmacy Review.
When on-site, Compliance Officers will use the same review questions as the pre-review, so there are no surprises. If there has been a change in requirements between the pre-review and the Pharmacy Review, the pharmacy will be reviewed using the current standards.
You will need approximately 2 hours to complete the Pharmacy Pre-Review.
During your on-site Pharmacy Review, discuss any areas of non-compliance identified in the pre-review and the corrective changes you have made with your Compliance Officer.
Scheduling Practice Reviews
After completing the Pharmacy Pre-Review, the College will contact the Pharmacy Manager via email to confirm the exact review date(s).
Once the Practice Review dates are confirmed, Pharmacy Managers need to:
The two components of the Practice Review – the Pharmacy Review and the Pharmacy Professionals Review – each require unique scheduling considerations.
Use the following guidance to help schedule the Pharmacy Review and Pharmacy Professionals Reviews in the least disruptive way.
Pharmacy Reviews
Time Requirements
Schedule 1 to 2 days depending on the size of your pharmacy and the services provided (this will be confirmed by the College).
Personnel Requirements
Pharmacy Managers should be available to accompany the Compliance Officer during the pharmacy review.
Pharmacy Professionals Reviews
Time Requirements
Schedule 2-3 hours per pharmacy professional.
Use your existing staff schedule for casual, part-time and full-time pharmacy professionals during the review period to plan practice reviews.
You do not need to schedule additional staff during a practice review. Compliance Officers will be observing pharmacy professionals in their practice, allowing pharmacy professionals to work during the review. Compliance Officers will always try to minimize any disruption where possible. 
Compliance Officers may accommodate registrants who work outside of regular work hours (i.e. Monday-Friday, 9:00 am-5:00 pm) on a case-by-case basis. This applies to registrants who ONLY work evenings, nights or weekends.
Pharmacy professionals on vacation or sick leave during the review period will be contacted and reviewed at a later date.
Contact the College if any of your staff members require alternative scheduling arrangements. 
Personnel Exemptions
Pharmacy Professionals not engaged in patient care, such as those working solely in support, academic, administrative, IT, or buyer/purchaser roles are exempt from the Pharmacy Professionals Review.
Personnel Requirements
Pharmacy Managers must schedule individual Pharmacy Professionals Reviews for all registered Pharmacists and Pharmacy Technicians employed by and practising in the licensed pharmacy, where at least one of the following Pharmacy Professionals Review focus areas applies to their job description:
Patient Identification Verification,
Profile Check
Counselling
Product Distribution
Documentation 
Methods of Assessment
Ideally, pharmacy professionals will be reviewed while involved in patient care, such as during dispensary and/or clinical shifts. This allows compliance officers to observe registrants in all focus areas within their practice setting. However, if a pharmacy professional is not scheduled to work in patient care during their practice review, Compliance Officers are still able to complete a review using alternative methods of assessment.
While observation is always the preferred method of assessment, to ensure all pharmacy professionals receive a comprehensive review there are three different methods of assessment that may be used to assess if an individual is meeting the College bylaws and policies.  
Practice Review Methods of Assessment




Observe (action)

Watch work performed
Interact when clarification is needed

Recall (case)

"How did you?"
Review recent work (recall charts, orders, computer records, etc.)

Describe (process)