Board Highlights - February 26, 2021
Topics include the amendments to Bylaws under the Health Professions Act (HPA) on temporary registration, amendments to HPA Bylaws Schedule "C", Strategic Plan 2021/22 to 2025/26, and ActionADE PharmaNet Final Report and more!
How to Watch
Along with organizations across Canada, College staff and Board members have been doing our part to reduce the spread of COVID-19 by working remotely. As such, this month's Board meeting was conducted virtually, via video conference.
A recording of the February Board Meeting is available here:
land acknowledgement 
On behalf of the College of Pharmacists of BC, Board Chair Claire Ishoy, acknowledged and thanked the Sylix Okanagan people on whose unceded traditional territories she chaired the February 26, 2021 meeting. With Board members meeting virtually in different locations across BC, Chair Ishoy also acknowledged that Indigenous Peoples are the traditional stewards of the lands and waters from which each member attended the meeting from. 
To the Indigenous peoples of this place we now call British Columbia: We turn our minds to you and to your ancestors. You have kept your unceded homelands strong. We are grateful to live and work here.
Black history month
Board Chair, Claire Ishoy, began the meeting by acknowledging Black History Month and encouraging the Board, registrants and the public to take a moment to reflect on and celebrate the achievements of Black Canadians throughout our country's history.
Budget 2021/2022 
The Board approved the 2021/2022 budget in order to support significant College work and initiatives over the coming fiscal year. 
The College has an essential role to play in regulating pharmacy practice in British Columbia, and ensuring public safety is protected – a role made even more vital by the COVID-19 pandemic and overdose crisis. Regulation, along with patient needs and the healthcare environment have grown increasingly complex, resulting in increasing cost pressures to fulfill its legislated duty. 
The pandemic has had a significant impact on the College budget. The College worked hard to find savings to mitigate the impact of the pandemic, reducing expenses in the past fiscal year for travel, professional development, and staffing and will continue to look for cost-saving opportunities in the coming year. The College also worked quickly to establish online and COVID-19 safe options for administering the JE examination which was essential to enabling new licence registrations and the additional fees that come with those.
The budget for 2021-2022 supports both the College's essential operational functions as well as planned activities under the College's upcoming strategic plan, and balances the need for fee increases while maintaining an acceptable reserve balance.
Classification of Expenses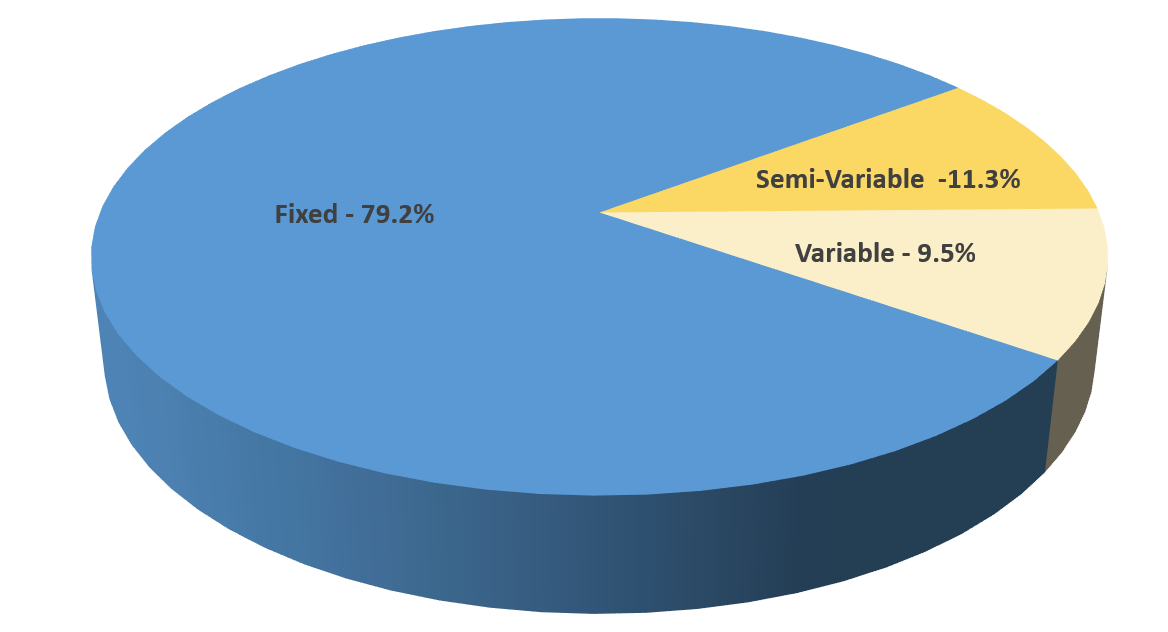 In particular, the College's budget for 2021-2022, reflects:
Reduced expenditures in travel and professional development as a result of the provincial guidance to avoid unnecessary travel to help prevent spread of COVID-19. 
Increased expenditures to enable the College to modernize the JE exam, in addition to continuing to provide online and in-person COVID-19 safe options through a partnership with Prometric. 
IT, privacy, security, improvements to ensure the College is continuing to take appropriate measures to protect public and registrant information, while supporting continuous improvement, innovation, and the use of best practices to improve our processes and efficiency.
Future initiatives included in the College's upcoming strategic plan, which are needed to ensure the College can continue to regulate in the public's best interest now and into the future. This includes the significant amount of work towards updating our standards of practice under the Health Professions Act to ensure the public is given evidence-informed, patient centred, team-based care, and work towards implementing mandatory medication error reporting. 
Continuing to build up acceptable reserve balances as part of a muti-year budgeting process to ensure the College is financially secure and fiscally responsible. Because it generally takes almost three years for the revenue generated by fees to be realized in the College's revenue, these fee increases must be implemented this year in order to ensure sufficient funding and reserve balances during the 2023/24 and 2024/25 fiscal years.  
As such, in order to earn sufficient revenue to support the 2021/22 budget, registrant fees approved are:
| Fee Type | fee | increase | effective |
| --- | --- | --- | --- |
| Pharmacy Licensure | $2,474 | Approved in 2020 | April 1, 2021 |
| Pharmacist Registration | $809 | 4.0% | November 1, 2021 |
| Pharmacy Technician Registration | $539 | 4.0% | November 1, 2021 |
Even with this increase, the College's fees for pharmacy professionals remain among the lowest in Canada, with annual pharmacist fees reaching up to $1,000 in other provinces. Pharmacy technician fees remain similar to those in Alberta and Ontario, which currently sit at $504/508.
The College is funded almost entirely through registrant and pharmacy licence fees. Previously, the College has been able to keep increases to a lower level by drawing on its reserves to reduce the fee increases required to fund the budget. However, the College cannot continue to draw as significantly on its reserves to offset fee increases as it needs to ensure it maintains appropriate reserves.
Amendments to Bylaws under the Health Professions Act on Temporary Registration
The Board approved publicly posting proposed amendments to the Health Professions Act (HPA) Bylaws that will require temporary registrants to provide additional information to the College every 12 months, when a declared emergency lasts up to and longer than 12 months.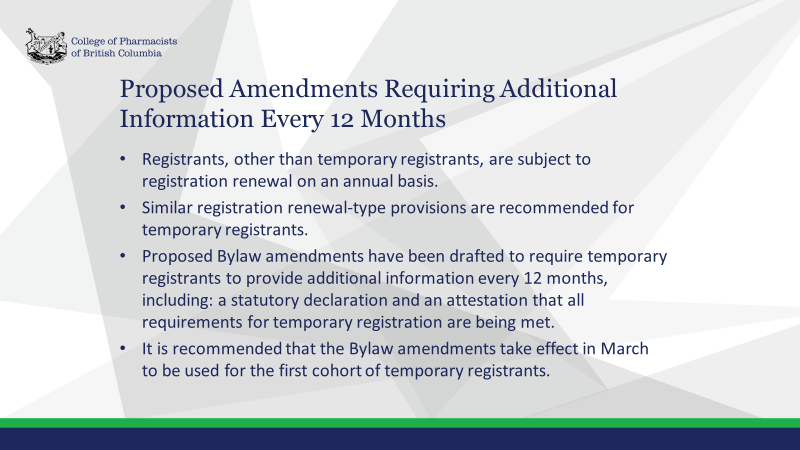 On March 31, 2020, given an anticipated increased demand for pharmacists and pharmacy technicians during the COVID-19 pandemic, the Board approved amendments under the HPA Bylaws to grant temporary registration to eligible persons during a declared emergency.
According to the Bylaws, this temporary registration is valid until a date determined by the Registration Committee or Registrar. 
Registrants, other than temporary registrants, are subject to registration renewal requirements on an annual basis. This renewal process is an important public safety measure allowing the College to verify that registrants are still in compliance with the College's requirements. 
As the declared emergency is still in effect and is anticipated to last well into 2021, the College is proposing amendments to the Bylaws for temporary registration to enable a process similar to registration renewal for regular registrants, other than temporary registrants. These proposed amendments aim to require that temporary registrants provide additional information every 12 months, including a statutory declaration and an attestation that all requirements for temporary registration are being met. 
The proposed bylaw amendments have been posted for public comment on the College's website. With many temporary registrants approaching one year of practice as soon as April 2021, the College has requested a shortened public posting period from the Minister of Health to enable the College to implement these changes as soon as possible.   
The Board has approved filing the amendments with the Minister of Health, along with a request for a shortened filing period, subject to no comments being received. If comments are received, the proposed amendments, feedback, and any recommended changes will be brought back to the Board, for consideration. 
Amendments to the Health Professions Act Bylaws, Schedule "C" to Recognize PharmAchieve's Drug Administration Course 
The Board approved for public posting, amendments to the Health Professions Act ("HPA") Bylaws, Schedule "C" – Recognized Education Programs, to incorporate an injection education program by PharmAchieve.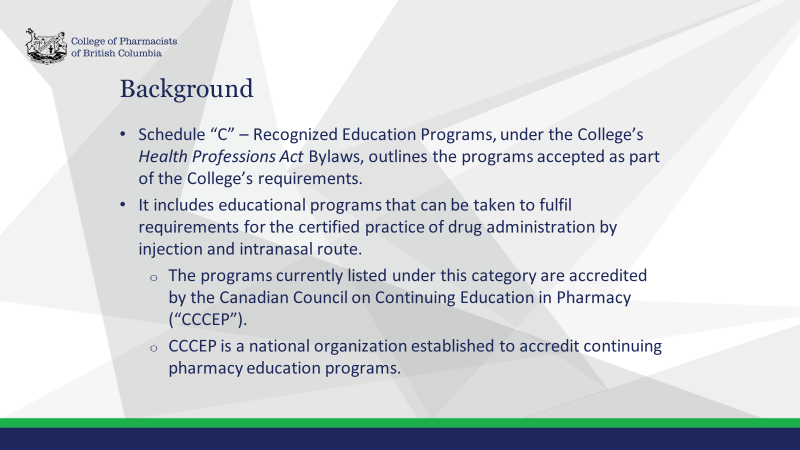 The College's existing recognized programs for the certified practice of drug administration by injection and intranasal route educational programs are accredited by the Canadian Council on Continuing Education in Pharmacy ("CCCEP"). CCCEP is a national organization established to accredit continuing pharmacy education programs, and CCCEP accreditation is recognized by the pharmacy regulatory authorities in all Canadian provinces and territories.
PharmAchieve offers pharmacy exam preparation courses and continuing education courses. It offers an Immunizations and Injections Certificate Program for pharmacists, which is CCCEP accredited. The course is available in multiple cities in Canada, and includes an online individual-led component, an in-person component, and assessment.
These amendments will now be publicly posted for comment until May 27, 2021. All feedback received will be reviewed and is anticipated to be brought forward to the June 2021 Board meeting, at which time, the Board will consider whether to file the proposed amendments with the Ministry of Health. 
Guest Presentation - ActionADE PharmaNet Final Report
Drs. Ellen Balka and Corrine Hohl, from the Centre for Clinical Epidemiology & Evaluation, Vancouver Coastal Health Research Institute, presented to the Board the ActionADE Software and Research Program Final Report. 
The College granted funding to the ActionADE team to support their work in pilot testing and evaluating the ActionADE software. ActionADE is a software designed to support clinicians as they work collaboratively across professional boundaries and locations to diagnose and document adverse drug events during clinical care. 
Adverse drug events are the harmful and unintended consequences of medication use, and a leading cause of emergency department visits and hospital admissions.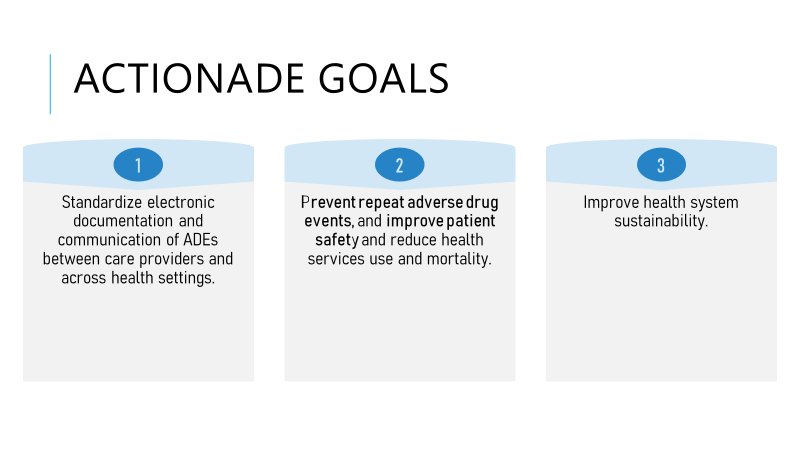 ActionADE was co-designed with multiple stakeholder groups with the objective of reducing the recurrence of preventable adverse drug events, which occur when patients are re-exposed to medications that have previously caused harm. ActionADE enables a bi-directional flow of information between acute care settings and community-based practices. Once fully operational, ActionADE will communicate adverse drug event information that is documents in hospital to PharmaNet. This data will then become a part of a patient's PharmaNet record. 
Strategic Plan 2021/2022 to 2025/2026
The Board approved amendments to the College's Strategic Plan Goals and Objectives and their effective dates, due to delays caused by COVID-19.
The Board originally approved the 2021/22 to 2024/25 Strategic Plan Goals and Objectives at their September 13, 2019 meeting, however much of the Strategic Plan was delayed due to the operational and budgetary impact of COVID-19.
The amendments were first discussed during a working session with an external facilitator, the purpose of which was to review the strategic plan and discuss possible changes to reflect the impact of COVID-19 and other recent events.