Complaints and Discipline Publication Policy
Under Section 39.3 of the Health Professions Act, the Inquiry Committee and Discipline Committee must direct Registrar to notify the public  of certain complaint outcomes. 
Framework for Public Notification 
The BC Health Regulators developed a framework for public notification to help illustrate the publication notification requirements in the Health Professions Act. The Framework for Public Notification includes the process for publishing the details of inquiry and discipline proceeding and outlines what information is provided at each stage of a complaint.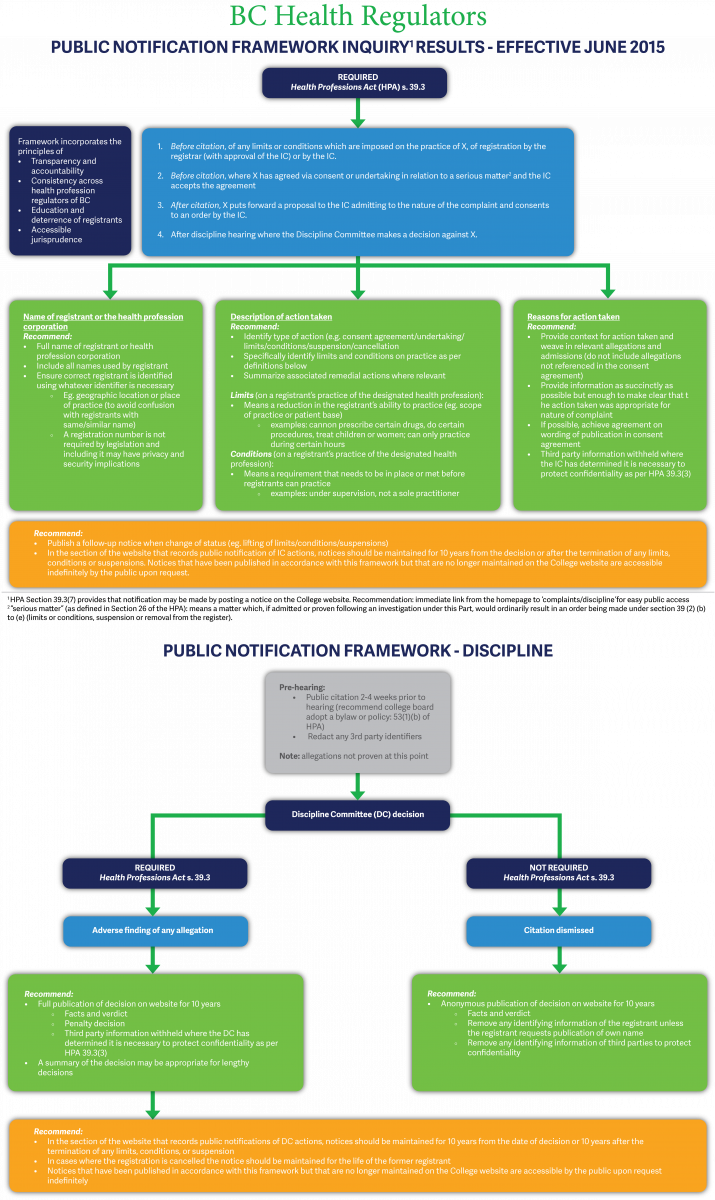 Extraordinary action to protect public
When the Inquiry Committee takes extraordinary action to protect the public during the investigation or pending a Discipline Committee hearing, the College notifies the public of the issue and any limits and conditions or suspensions imposed by the Inquiry Committee.  
Discipline Hearings
Citations for a Discipline Committee hearing are published under Discipline Hearing Notifications on the College's website 2-4 weeks prior to the hearing.    
When the Discipline Committee takes action in response to complaint under Section 39 (2) of the Health Professions Act, the College publishes the outcomes of the hearing under Complaints Outcomes on the College's website.
September 1, 2019 – Posting of Discipline Hearing Notifications
In order to enhance transparency, beginning September 1, 2019, the College will publish citations and Discipline Hearing Notifications as individual items in the 'News' section of its website. These notifications will also appear on the College's homepage. The College may include information about upcoming Discipline Hearing Notifications in its monthly 'ReadLinks Roundup' email, which is sent to all pharmacists and pharmacy technicians.
As a Health Professions College under the Health Professions Act, the College's mandate is to serve and protect the public. Greater transparency assures the public that they can trust their pharmacies, pharmacists, and pharmacy technicians to provide safe and effective pharmacy care.