Board Highlights - June 10, 2022
Topics include the Practice Review Program Annual Review Data and Registrant Feedback, amendments to Telepharmacy Schedule "G", amendments to recognized pharmacy education programs, updates to the Strategic Plan 2021/22 - 2025/26 and more.
A recording of the June Board Meeting is available here:
LAND ACKNOWLEDGEMENT 
On behalf of the College of Pharmacists of BC, Board Chair Steven Hopp, acknowledged and thanked the Coast Salish peoples on whose unceded traditional territories he chaired the June 10, 2022 meeting. With Board member and guests meeting in-person and virtually in different locations across BC, Steven Hopp also acknowledged that Indigenous Peoples are the traditional stewards of the lands and waters from which each member attended the meeting from. 
To the Indigenous peoples of this place we now call British Columbia: We turn our minds to you and to your ancestors. You have kept your unceded homelands strong. We are grateful to live and work here.
Practice Review Program Annual Review Data and Registrant Feedback
Peter Williams, Chair of the Practice Review Committee, and James Van, CPBC Compliance Officer, presented to the Board the Practice Review Program ("PRP") Annual Data and Registrant Feedback for the 2021-2022 Fiscal Year.
The PRP is a vital component of the College of Pharmacists of British Columbia's approach to providing quality assurance for pharmacy care in British Columbia and fulfilling its mandate as the regulator of pharmacy practice. The program aims to protect public safety by improving compliance with College bylaws and Professional Practice Policies and ensuring consistent delivery of pharmacy services across BC. To support this goal, all pharmacies, pharmacists, and pharmacy technicians in BC undergo a comprehensive and cyclical review of their practice. Through individual reviews, and insights gained from compliance data trends, the Practice Review Program helps pharmacy professionals improve areas of non-compliance and high patient-safety risk. As part of the program, pharmacy professionals can also provide feedback on the Practice Review Program through a voluntary anonymous feedback survey.
As the COVID-19 pandemic persists, the PRP continues its work by conducting virtual pharmacy professional reviews. This virtual review format allows the College to continue its quality assurance efforts to protect public safety while mitigating COVID-19 transmission risk.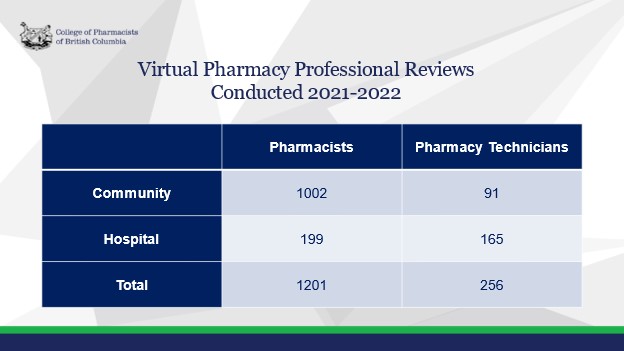 During virtual practice reviews, Compliance Officers (COs) work in collaboration with pharmacy professionals to assess compliance with standards of practice. The Focus areas reviewed for pharmacists in community or hospital practice are:
Patient Identification Verification
Profile Check
Counselling
Documentation
The four focus areas reviewed for pharmacy technicians in community and hospital practice are:
Patient Identification Verification
Product Distribution
Collaboration
Documentation
Where non-compliance is identified, COs guide and work with pharmacy professionals to correct issues in the interest of public safety. This year, the top non-compliance category identified for community pharmacists, community pharmacy technicians, and hospital pharmacy technicians was documentation. For hospital pharmacists, the top non-compliance category identified was counselling.
Once a virtual practice review is complete, pharmacy professionals are invited to participate in an optional and anonymous online survey. For the 2021-2022 fiscal year, 28% of community and 37% of hospital pharmacy professionals reviewed completed the survey.
Responses received in the registrant feedback survey reported an overall average agreement rating of 85.80% for pharmacists and pharmacy technicians across community and hospital settings. Agreement ratings are a measure of agreement to positive statements in the registrant feedback survey by pharmacy professionals.
Pharmacy professionals also reported an overall average impact score of +1.84. This represents the sentiment of the virtual practice review having a moderate to good positive impact on their practice. Impact scores are measured on a scale of -5 to +5, with positive impact scores representing a positive impact, and negative impact scores representing a negative impact on a pharmacy professional's practice and patient safety.
By monitoring feedback and making iterative changes, the PRP continues to fine-tune the review process with the goal of assessing and improving pharmacy practice to protect the public. Learnings from collected data will continue to inform the development of resources and PRP Insights articles while providing the College with valuable information to support its work in ensuring safe, effective, and ethical pharmacy care in BC.
Amendments to Telepharmacy Schedule "G"
The Board approved filing amendments to Schedule "G" under the Pharmacy Operations and Drug Scheduling Act ("PODSA") Bylaws with the Minister of Health, to reflect an anticipated address change of the McBride Telepharmacy site.
At their February 2022 meeting, the Board approved publicly posting draft amendments to Schedule "G" to allow the telepharmacy to relocate to another site and keep its grandfathered status due to exceptional circumstances. The amendments were posted on the College website for a 90-day period. No comments were received.
The filing period for bylaw amendments is typically 60-days; however, the Minister of Health can shorten this period upon request. Due to the timing of the McBride Telepharmacy's lease end date and in the interests of maintaining patient access to pharmacy services in McBride and surrounding areas, along with the fact that no comments were received during the public posting period, the Board will request that the filing period for this amendment be shortened. If approved by the Minister of Health, this will result in an effective date of June 27, 2022.
Recognized Pharmacy Education Programs
The Board approved for public posting, housekeeping amendments to the Health Professions Act (HPA) Bylaws, Schedule "C" – Recognized Education Programs.
Multiple sections of the HPA Bylaws require that potential registrants obtain specific educational credentials from recognized programs to be registered with the College. In addition, specific educational credentials are required for pharmacists seeking certification for drug administration.
Maintaining a current list of recognized pharmacy and pharmacy technician education programs, including programs for injection/intranasal drug administration authority, enables the College to ensure registrants are appropriately registered with the College and certified to practice.
Due to the development of new pharmacy education programs, program name changes and the discontinuation of certain programs, from time to time it is necessary to amend Schedule "C" to accurately reflect those changes. As such, Schedule "C" has been amended to remove outdated content and reflect current program names.
The amended Schedule "C" of the HPA Bylaws is available for comment on the College's website for a 90-day period. All feedback received will be brought forward for consideration at the September 2022 Board meeting, at which point the Board will decide whether to file the amended Schedule "C" with the Ministry of Health for a 60-day period.
Cultural Safety and Humility and Integration into the UBC Faculty of Pharmaceutical Sciences Curriculum
Michael Coughtrie, professor and dean at the Faculty of Pharmaceutical Sciences at the University of British Columbia (UBC) presented to the Board on the integration of cultural safety and humility into UBC pharmacy curriculum.
Strategic Plan 2021/22 – 2025/26: Approval of Updated Goals, Objectives and Actions
The Board, along with the newly appointed Registrar and CEO, Suzanne Solven, conducted a comprehensive review of the current strategic plan during an April 2022 Committee of the Whole Strategic Planning Session.
Based upon this work, and consultation with cultural safety and humility advisor, Joe Gallagher, the Board approved updates to the Strategic Plan for 2021/22 - 2025/26.
Updated Strategic Plan Elements:
Goal 1: Continuous Quality Improvement
Objective:
To ensure College requirements enhance public care and safety.
Key Actions
Develop a Bill of Rights that increases the transparency and awareness of what the public can expect from pharmacy professionals.
Develop and implement Medication Incident Reporting to identify trends in incidents across the province and to identify opportunities to learn and improve practice and health outcomes.
Modernize the Health Professions Act (HPA) Standards of Practice and other supporting bylaws and requirements, as applicable.
Review and assess the impact of business metrics on patient safety and address as necessary.
Goal 2: Regulatory Excellence Objective
Objective:
To regulate with intention in all aspects of our work.
Key Actions
Define and communicate the regulatory approach to enabling practice innovation that optimizes patient safety and improves outcomes.
Engage with British Columbians on their expectations of pharmacy professionals and the pharmacy care they expect to receive.
Enrich the College environment with a stronger Indigenous presence
Recruit Indigenous individuals into key leadership and staff positions
Goal 3: Indigenous Cultural Safety and Humility Objective
Objective:
To take actions that address Indigenous-specific racism.
Key Actions
Develop a cultural safety and humility practice standard.
Engage with, and build strong, mutually respectful relationships with Indigenous peoples, advisors and other key partners.
Implement applicable recommendations from In Plain Sight Report
Conduct an external review of the complaints process and implement recommendations to make the process culturally safe and accessible for Indigenous peoples
Conduct an audit of College bylaws, policies and practices to identify and address Indigenous specific racism
Goal 4: Partnership and Collaboration
Objective:
Enhance existing, and develop new, partnerships and collaborative initiatives.
Key Actions
Conduct meaningful engagement of public in support of actions across all strategic focus areas.
Engage with relevant partners to ensure successful transition to modernized Health Professions Act.
College staff will now begin to develop operation plans regarding the actions outlined in the updated Strategic Plan.
Approval of Updated Mission and Vision Statements
Along with the updated Strategic Plan mentioned above, the Board and Registrar & CEO also discussed whether the College's current Mission and Vision required updates during its April 2022 Committee of the Whole Strategic Planning Session.
As such, the Board approved replacing the College's current Mission and Vision statements with the following Commitment Statement:
We are committed to being an inclusive and collaborative regulator, dedicated to regulating pharmacies and pharmacy professionals in support of public safety, optimal health, equitable and culturally safe care - free from Indigenous specific and other forms of racism.
Advanced Medication Review Skills Training of Community Pharmacists in BC: Utilizing the UBC Therapeutics Initiative
Wade Thompson of the UBC Therapeutics Initiative presented to the Board advanced medication review skills training for Community Pharmacists in BC.
The Therapeutics Initiative (TI) was established in 1994 by the Department of Pharmacology and Therapeutics in cooperation with the Department of Family Practice at The University of British Columbia with its mission to provide physicians and pharmacists with up-to-date, evidence-based, practical information on prescription drug therapy.
BC First Nations Perspective of HEalth and WEllness
Dr. Nel Weiman, Deputy Chief Medical Officer at the First Nations Health Authority (FNHA), presented to the Board an overview of BC First Nations Perspective of Health and Wellness.
During the presentation, Dr. Weiman discussed the FNHA's approach to First Nations Decision-Making, their key priorities over the past year, and their strategy for hardwiring cultural safety and humility into health services in BC with accountability to First Nations.
Dr. Weiman went on to discuss with the Board the work of the FNHA's In Plain Sight (IPS) Task Team and Working Group including an overview of its work on BC's Cultural Safety & Humility Standard.
A provincial Technical Committee was struck to develop this standard and was co-chaired by Dr. Weiman and Elder Gerry Oleman. The 8 domains of the CSH Standard include:
Support social, public & reciprocal accountability
Establish inclusive & meaningful partnerships
Share governance & implement responsible leadership
Invest in financial & physical infrastructure
Develop human capacity
Build a culture of quality & safety
Design & deliver culturally safe services
Collect evidence & conduct research & evaluation
Dr. Weiman then discussed the disproportionate impact of the toxic drug crisis on Indigenous Peoples in BC, and some of the FNHA's emerging toxic drug initiatives, which include:
Indigenous-focused overdose prevention sites
Pharmaceutical alternatives to toxic drugs
Increased Nation and community capacity for harm reduction and overdose prevention
Expanded supports for people experiencing grief and loss due to the toxic drug crisis
Decriminalization of people who use substances.
OUD Medication Access: Pharmacy Regulatory Support for First Nations
Nikhil Gandhi, Cindy Preston and Twinkle Ruparel of the First Nations Health Authority presented to the Board an opportunity for CPBC to support access to Opioid Use Disorder medication BC First Nations, with a focus on oral Opioid Agonist Therapy. More specifically, they discussed pharmacy regulatory barriers to medication distribution through nurse-led programs (e.g. health centres, treatment/healing centres). 
Clients often require daily dispensing and/or witnessing of OUD medications, especially when starting a medication, depending on their level of clinical stability, ability to safely store medication, ongoing concurrent substance use, etc. 
The presenters made a number of short and long term recommendations for the College to consider in support of oral OAT access in alignment with its mission of promoting best practices for the delivery of pharmacy care 
College staff will review the recommendations and bring forward any recommendations to the Board to determine a path forward to ensure greater support for Indigenous Peoples.