Board Highlights - February 18 & 19, 2016
BOARD APPROVES KELOWNA AS DESTINATION FOR SEPTEMBER MEETING AND 125 ANNIVERSARY CELEBRATION
The Board approved a decision to hold the College's September Board meeting and the 125th Anniversary celebration in Kelowna on September 15-17, 2016. This decision reflects the Board's direction to host September Board meetings in different districts on a rotating basis.
More details will be shared in the coming weeks – mark your calendars and be sure to save the date!
BOARD APPROVES 2016/17 BUDGET
The Board unanimously approved the College's operational budget for 2016/17, which comes into effect March 1, 2016. The new budget will add resources to support the Board's Strategic Plan and other College initiatives without increasing any registration and/or licensing fees.
Certified Pharmacist Prescriber Update
The College presented an update on its Certified Pharmacists Prescriber Initiative. The College has begun engaging stakeholders on this initiative and will be collecting feedback into a report. We want to make sure everyone's opinion is involved in the stakeholder engagement phase – stay tuned for a short survey.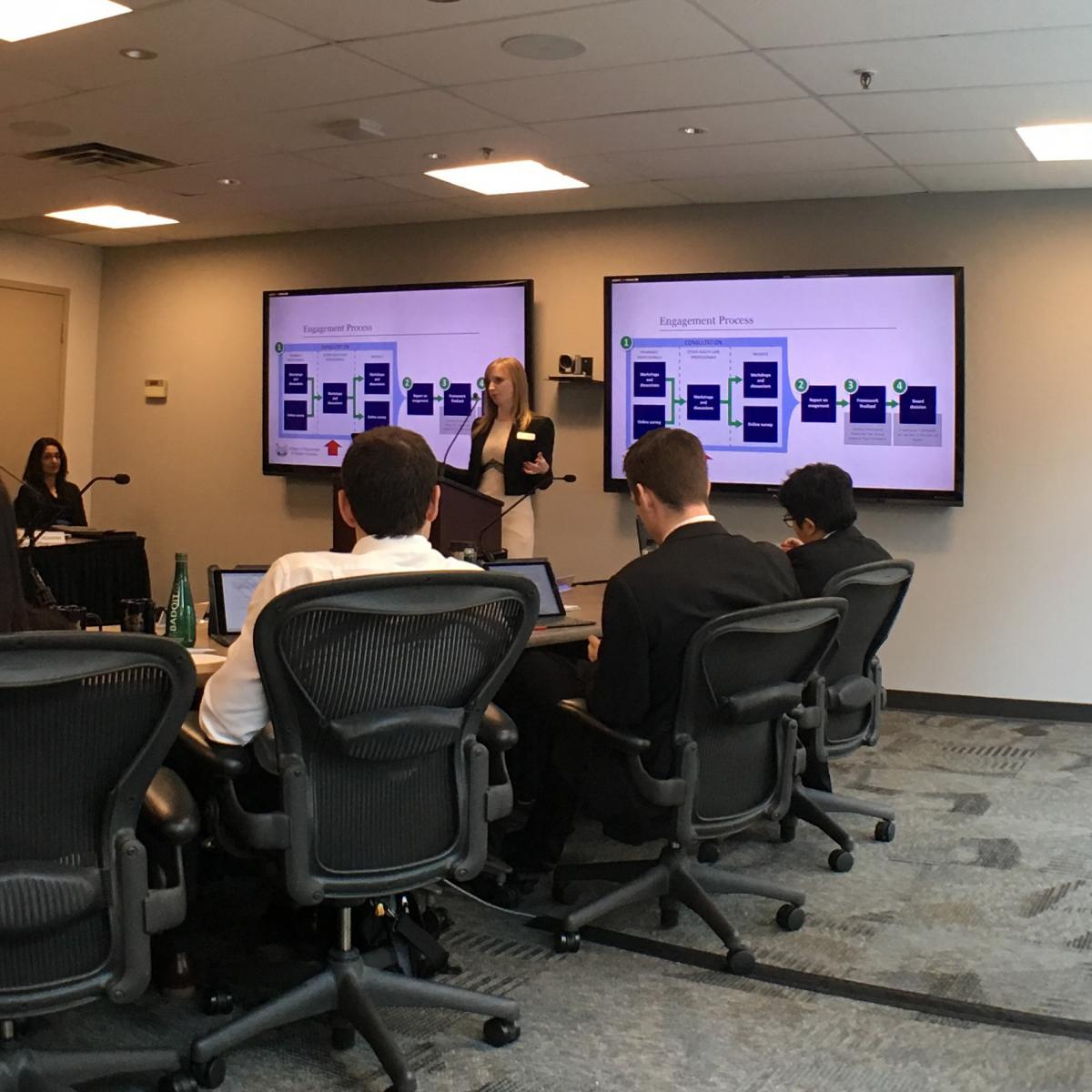 Director of Communications and Engagement, Gillian Vrooman, is presenting the College's engagement process for the Certified Pharmacist Perscriber initiative.
BOARD APPROVES NALOXONE SCHEDULE CHANGE
The Board approved proposed amendments to the Drug Schedules Regulation that would allow non-prescription use of Naloxone for opioid overdose emergencies outside of hospital settings. These amendments would reflect Health Canada's proposed amendments to the Prescription Drug List.
Health Canada is expected to complete its consultation period on Naloxone in March 2016. If no significant issues are raised during the consultation, Health Canada has indicated they will waive the 6 month period for appeal that typically forms part of their process.
The College is working with the Ministry of Health and the BC Centre for Disease Control to develop in-person orientation sessions for registrants – stay tuned for more details. 
BOARD PRESENTATION ON POINT-OF-CARE HIV TESTING
Bob Rai and Reka Gustafson presented the results of a 1-year point-of-care HIV testing pilot in community pharmacies. Piloted at 4 community pharmacies for 1 year, the point-of-care HIV test was available free of cost to patients. The pilot had almost 1000 participants.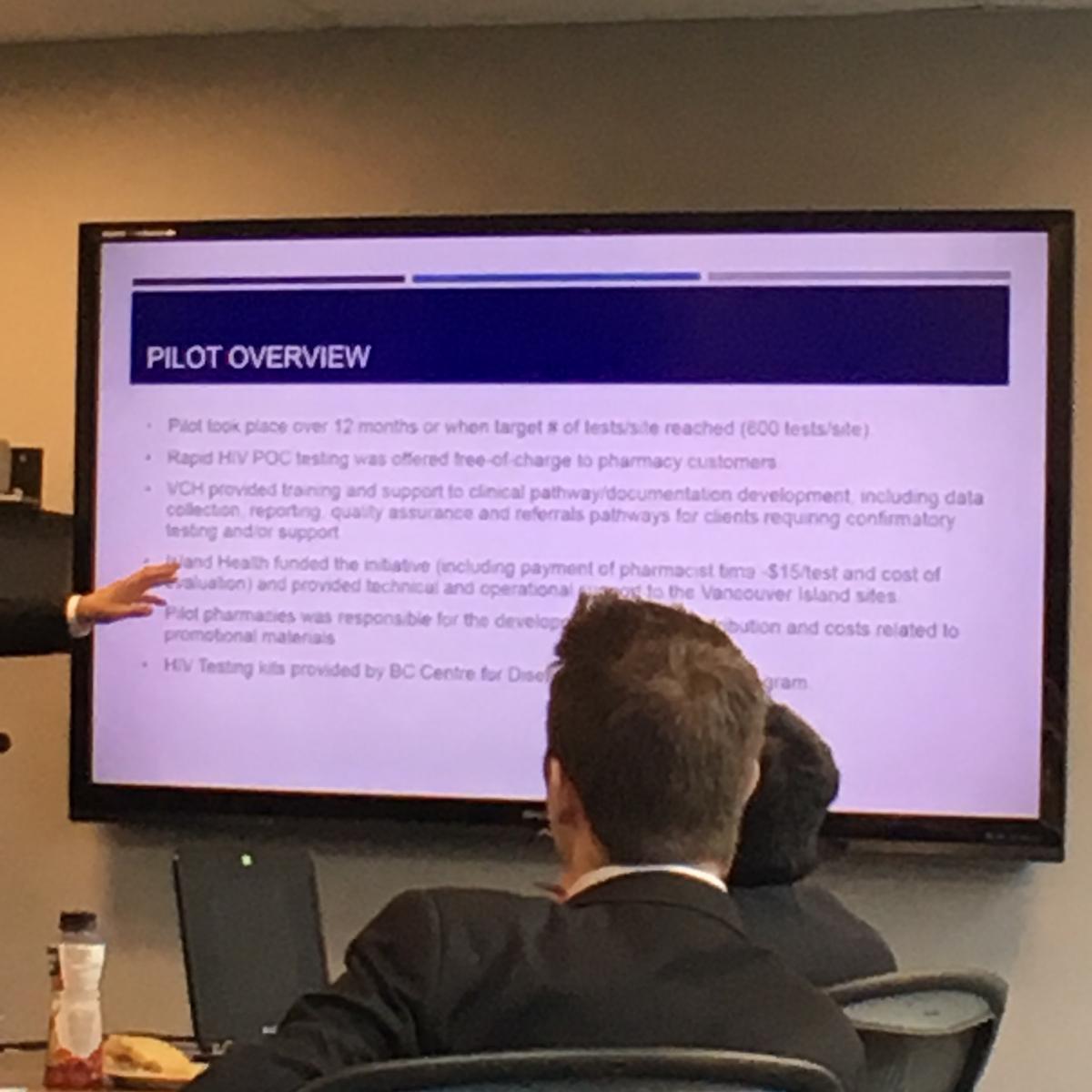 Board members attentively listening to the point-of-care HIV testing presentation.
BOARD PRESENTATION ON Post-Transplant and Chronic Kidney Disease Patients Study
Greg Wheeler presented results from the BC Transplant and BC Renal's joint pilot project on Optimizing Pharmaceutical Care for Post-Transplant and Chronic Kidney Disease Patients. The study looked at 4 pilot project sites from 2012 to 2016. Pharmacists at these sites performed over 700 medication reviews and flagged 664 drug-related problems during the pilot.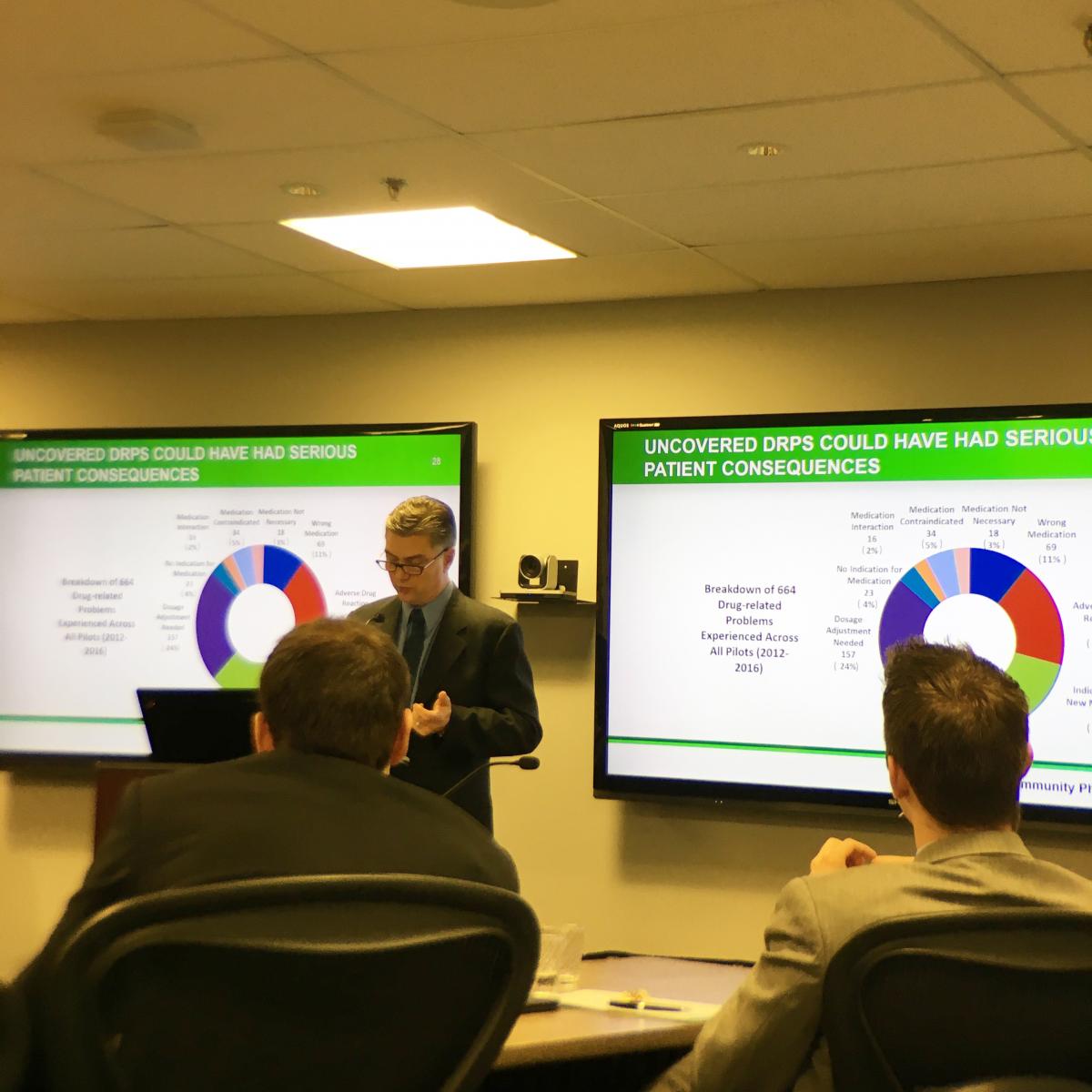 Greg Wheeler, presenting to the Board.
BOARD PRESENTATION PHARMACOGENOMICS 
Allison Nourse, BC Pharmacy Association Board President, presented an update on the completion of Phase I of Pharmacogenomics for Precision Drug Therapy in Community Pharmacy project. The project, which launched in October 2014, is the largest community-based pharmacogenomics project in Canada with 33 pharmacies and over 200 patients participating.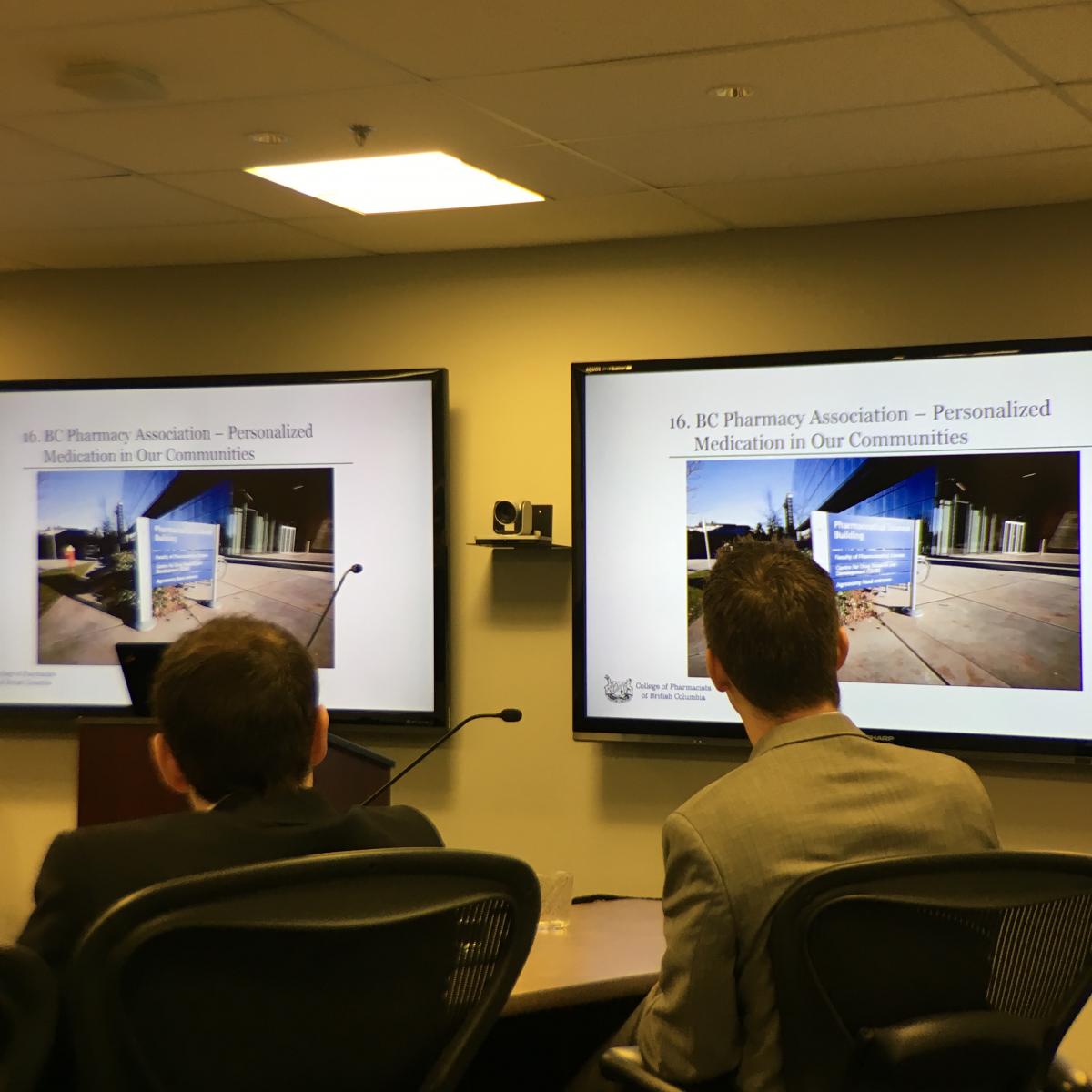 Board members watching a video from the BC Pharmacy Association about the pharmacogenomics

 project.
Methadone Maintenance Treatment (MMT) Action Plan Update
The College presented an update on its Methadone Maintenance Treatment Action Plan. The College exceeded its target for focused inspections in Year 1 of the Action Plan, and is also committed to completing undercover investigations, enhancing relationships with stakeholders and informing the organization-wide legislation review as the plan progresses. 
Read the Action Plan here: http://library.bcpharmacists.org/A-About_Us/A-8_Key_Initiatives/1041-MMT_Action_Plan.pdf
Senior Investigator, George Budd, showing the number of focused inspections done by the College since May 2015.
The following informational agenda items were not presented at the Board meeting but were discussed as part of the Consent Agenda: 
PHYSICIAN-ASSISTED DEATH IN CANADA
Effective February 6, 2016, an exemption provided by the Supreme Court of Canada (SCC) now permits Canadians to receive physician-assisted death (PAD) on a case-by-case basis.
The College is working to develop guidance documents on PAD to assist registrants. Until further guidance is provided, the College encourages pharmacists and pharmacy technicians to seek an independent legal opinion should they be interested in assisting in the delivery of PAD.
Read the College's News Item on PAD: http://www.bcpharmacists.org/news/information-registrants-physician-assisted-death
MIFEGYMISO® NOW APPROVED FOR USE IN CANADA
The Board heard that Mifegymiso® is now approved for use in Canada. Health Canada approved the abortion-inducing drug in July 2015 after careful consideration and determination of its safety, efficacy and quality. Mifegymiso® is only approved for physician dispensing at this time. The College will continue to monitor any updates for this product and will inform registrants should any further information come available.
RECAP of the Board meeting on Social Media