District 7 - Claire Ishoy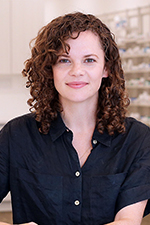 Dr. Claire Ishoy is a Clinical Pharmacist with over 10 years of pharmacy practice experience. She graduated from the University of Waterloo in 2012 and completed her Residency in 2013 at Sunnybrook Health Sciences Center. Claire completed her Doctor of Pharmacy in 2017. Claire has served as a board member with the College for the past 3 years and was the Chair of the Board for November 2020-November 2021. During her term, she was successful in leading the board to hiring a new Registrar/CEO of the College.
The past 3 years have been full of challenge and growth for the organization. Both the onset of the Covid-19 pandemic and the hiring of a new Registrar/CEO for the College have meant a great deal of change. Claire is excited for the shift toward planning for the future and how best to serve the Public of BC through accountability and right touch regulation in pharmacy practice.
Claire is grateful to lead the work the College has done in Cultural Safety and Humility including implementing a practice standard to improve care for Indigenous members of the public. She looks forward to being accountable for this and all recommendations of the In Plain Sight Report that called out Indigenous specific racism in the BC Health Care System.
Moving forward, Claire would deeply appreciate the opportunity to continue her work with the College to address some of the challenges facing current pharmacy practice including shortages of health care workers, supporting innovative practice settings, and the role of technology in pharmacy practice and how these systems can improve health outcomes for the BC Public.