District 3 - Lauren Drzewiecki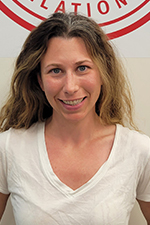 I would like to gratefully recognize and acknowledge that I was born and raised, and continue to live, learn, and work in Nanaimo, on the unceded territories of the Snuneymuxw, Snaw-naw-as, and Stzuminus people.
I graduated from UBC in 2013, awarded with the Dr. Pernarowski Honorary Activities Award for my array of volunteer work promoting pharmacy practice. I served 3 years as the pharmacy representative for an Interdisciplinary health professional student organization that operated clinical services & programs to the Vancouver downtown east-side residents (CHIUS), served a two-year term with the Pharmacy Undergraduate Society, and participated in a 2 year interdisciplinary directed study focused on identifying barriers and improving contraceptive access in rural and urban BC.
I am excited to take this opportunity to step into a regulatory role with our profession so as to further promote the health and wellness of the patients and community we serve.
I have worked in both chain and small banner retail pharmacies in both staff and management positions. I have volunteer work experience at my local hospital in the pharmacy and palliative setting, and completed a 1 month interdisciplinary study in HIV/AIDS prevention & care through UBC and St Paul's Hospital. I currently work for a local pharmacist owned and operated banner, Central Drugs, where we work closely with our local home & community care, senior living, community living, and mental health outreach teams to provide ongoing medication management and transitional care to patients between hospital, assisted living, and community settings. I completed my ISTM certification in travel health in 2021.
In identifying a need for undergraduate education on regulatory compliance and adjudication, I have served as an annual guest lecturer with the UBC faculty of pharmaceutical sciences to the 3rd and 4th year students presenting on the topic for the last 5 years, keeping me personally up to date with changes to regulatory practice.
It is my hope to collaborate with our current policy makers and regulators to address solutions to the ongoing shortage of primary care physicians within our district that has placed immense strain on our patients and pharmacists, left with limited options to maintain existing therapies, and limited ability to communicate with prescribers, resulting in further delays and barriers to patient care. I will also serve as an advocate for culturally safe care to our aboriginal communities, and promote inclusion of diverse sexual and gender identities.
Lauren Drzewiecki (she/her)