District 4 - Steven Hopp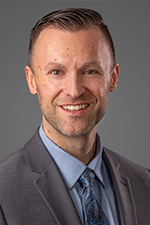 I have lived my whole life in small town BC. After graduating in 2002, I moved to the South Okanagan, the beautiful unceded territory of the Syilx Aboriginal People who have been the stewards and protectors of these lands for thousands of years.
I spent my first 5 years as a staff pharmacist, the next 13 years as an owner of pharmacies in both Osoyoos and Penticton, and more recently have been working as a relief pharmacist throughout the region. I spent 6 years as the elected representative on a board representing franchise owners for my previous company, 4 years on the Board of Directors of the Desert Valley Hospice Society, have volunteered my time with the CMHA and many other community and regional organizations and initiatives. I have extensive experience providing pharmacy care to long term care homes and have a passion for mental health awareness and travel medicine.
As the College Board Representative during the last 3 years, I have chaired the Audit and Finance Committee, served on the Pharmacy Advisory and Registrar Evaluation-Succession Planning Committees, and most recently the Registrar Search Committee that is currently undergoing the search for the new Registrar of the College. For the last year, I was voted as the Vice Chair of the College Board.
I believe that pharmacists have an especially important role to play in small towns and rural settings to ensure superior and safe patient care. Pharmacists are the go-to-health care professionals for our communities. Through better regulation, and innovation of care, pharmacist can advance the safety, quality, and level of care that British Columbians receive. More important, our patients want this innovation, and the regulation that would make it possible for pharmacists to do more for them. I want to see the College fill this need.
I believe that the strongest currency for pharmacists is integrity. Without integrity of our actions and ethical business practices, we will not be successful in providing the high level of care that the public demands. This includes leading the anti-racism movement to ensure culturally safe and accessible care is always provided for Indigenous, Black and all patients of colour, and to ensure safety of care for all BC residents no matter what their cultural background. The college is currently at a crucial crossroads with potential opportunities through right touch legislation to support, optimal, evidence-based care and to progress towards a safer, more effective future of pharmacy practice in British Columbia that responds to the evolving needs of our population.
I am confident that my experience, my passion for patient care and rural communities, my love for the profession, and my belief in integrity make me the right person to repeat as the District 4 Board representative.
If you wish to contact me for anything during this election period, please email or text me at: steven.hopp@bcpharmacists.org | 250-328-8312