District 4 - Logan McNeil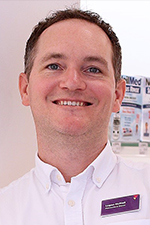 I grew up in Campbell River, and graduated from UBC in 2008 with my BScPhm. Since then, I have had opportunities to work in several areas of the province, including in rural and urban communities, and in different chains and pharmacy formats. I have had the privilege of operating two different Shoppers Drug Mart Franchises, in Vernon and Lake Country, BC, for over a decade. I've worked in high as well as lower volume stores. I have seen and lived the many challenges we face day-to-day and have also experienced the joy of using my skills to help patients with their pharmacy-related needs.
In 2020, I left SDM to open an independent pharmacy, Pivot Rx, in Vernon, BC. At Pivot Rx, we are reimagining a pharmacy model that allows pharmacists to practice to the full scope of their skill set while placing patient outcomes and experience at the centre of everything we do. The College of Pharmacists plays an immensely important role in upholding the high standards we all practice within. As a passionate advocate for meeting and exceeding those standards, as well as an early adopter of many pharmacy innovations (i.e. integrating CareConnect into our workflow), I am excited to contribute my unique perspective and real-world experiences in implementing college policies to shaping the future of our profession. In recent years, we have seen how quickly the profession has had to pivot and adapt to changing demands- I'm looking forward to playing my part in ensuring that we are equipped to best serve the public in this time of increasingly rapid change, challenges and opportunities.
I'm currently living in beautiful Oyama, BC, located between Vernon and Kelowna, with my wife and toddler. In my spare time I enjoy getting involved in community activities, spending time with friends, and tinkering with all things car-related.