District 7 - Kristoffer Scott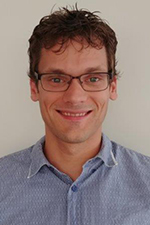 My name is Kris Scott and I am a clinical pharmacist working in the emergency department at Kelowna General Hospital.
After graduating from the University of British Columbia in 2012, I practiced as a community pharmacist in Prince Rupert for four years.  It was during this time that I became interested in volunteering with the college, as the idea of self-regulation and holding our profession accountable to the public interest really resonated with me. 
In 2015, I was appointed to the College of Pharmacists inquiry committee, which is responsible for complaints resolution.  I still serve on this committee and have gained extensive knowledge of the standards of practice to which the college holds all registrants to account.  Additionally, I have served on the former hospital pharmacy advisory committee and am a current member of the pharmacy advisory committee, which is responsible for providing recommendations to the Board on matters relating to pharmacy practice issues.
In 2016, I was accepted to the Interior Health Pharmacy Practice Residency program.  After completing the program in 2017, I worked as a clinical pharmacist at Penticton General Hospital for a short period of time prior to accepting a full time position at Kelowna General Hospital in 2018.  I have worked in a variety of inpatient practice settings including cardiac surgery, acute renal and general medicine.  I have served as a preceptor for both UBC PharmD students as well as pharmacy residents, and am involved in both regional and local pharmacy committees within Interior Health.  As a clinical pharmacist, I have developed a keen interest in quality improvement and patient safety initiatives, a passion which I believe aligns with the duty of a College of Pharmacists Board Member.
If elected, I would like to work with the College to continue to modernize bylaws and professional practice policies to improve patient safety and outcomes.  Changes could be made to the practice review program so that it accurately reflects the evolving role of pharmacists and technicians.  In particular, it is important that the hospital pharmacy professionals review be designed to evaluate the work of pharmacists in different roles and settings, as a single assessment tool may not accomplish this (ex. evaluating pharmacists in a non-dispensary or ward-based role versus inpatient dispensary role).  Above all, I would serve to advance the mission of the college, to regulate the pharmacy profession in the public interest.
I believe I have the experience required to serve as an effective board member for District 7 (Community Hospitals) and it would be an honour and a privilege to do so.