District 7 - Claire Ishoy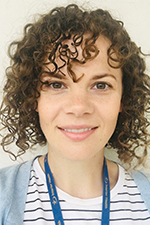 For the past 6 years I have been a clinical pharmacist with Interior Health. I have worked in a variety of practice settings which include cardiology, internal medicine and cardiac surgery. Most recently my work has taken me to general medicine at Vernon Jubilee Hospital.
My interest in health was piqued prior to entering my practice as a pharmacist. A degree in Health Science opened my eyes to the broader picture of health, including understanding the social determinants of health and examining different models of healthcare delivery. In 2009, I attended the University of Waterloo pharmacy program, where through cooperative education I had the opportunity to experience community, primary and hospital care in both clinical and project positions. Following my degree I continued my education through an Ambulatory Pharmacy Practice Residency at Sunnybrook Health Sciences Centre in Toronto. Each of these experiences has allowed me to better understand the overall picture of healthcare and the role of pharmacists within this greater system.
As my career progressed, I began to seek opportunities to expand my ability to impact pharmacy on a broader practice and health systems level. It began by joining pharmacy related committees to assist in care pathways and clinical practice standards. It has since progressed to participating in a diverse range of activities including co-chair of the North Okanagan Ethics Committee, secretary and board member of the Lake Country Health Planning Society (LCHPS), and Interior Chapter Chair for the BC-Canadian Society of Hospital Pharmacists (BC-CSHP).
Through my experiences with CSHP and the board of the LCHPS, I have seen the impact that pharmacists can have on patient care and shaping the health system. I believe the vision of better health through excellence in pharmacy is achievable. It is, however, critical that this growth is done in an evidence informed way to ensure judicious use of the finite resources in our care system. As the profession continues to adjust to the needs of the population, changes need to be anchored in the understanding that protection of the public is at the center of decision making.
My involvement in the ethics committee and pharmacy practice committees has enhanced my communication skills and understanding of the value of stakeholder engagement and meaningful, balanced dialogue in decision making. Effective engagement will allow us to meet the demands of the public and the healthcare system and address their concerns in these changing times.
Please accept my interest in applying to the Board of the College of Pharmacists of BC to represent District 7. I hope you will consider my skills and experiences I have gained throughout my practice to further the mission and vision of the BC College of Pharmacists.
Sincerely,
Claire Ishoy BHSc., PharmD