District 5 - Michael Ortynsky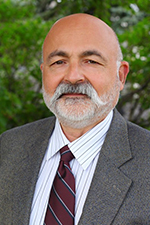 Most of my life has been spent in the world of pharmacy here in B.C. My father was a pharmacist who worked in community practice at Vancouver, Delta and Dawson Creek. Some of my earliest childhood memories were about visiting my dad at work and when I was old enough, I was allowed to spend Saturdays helping him at his little pharmacy in Marpole. It was a fairly natural step for me, then, to enter pharmacy school at UBC graduating with a BSc(Pharm.) in 1980. While attending UBC, I was able to work as a pharmacy assistant at Vancouver General Hospital where I gained valuable insight into how pharmacists can be involved in clinically focused practice.
After graduating from UBC in 1980 I worked in community pharmacies at Dawson Creek, Mackenzie, Fort St John and Tumbler Ridge for both small privately-owned and very large chain pharmacy organizations. In 2001, I partnered with a few like-minded colleagues to purchase the pharmacies where we'd worked at Tumbler Ridge and Fort St John. I continue to enjoy working as a community pharmacy manager to this day.
I married my wife Catherine in 1980 and we have two adult children, Mary and David and two grandchildren, Liam and Miya. Given any chance at all, I try to spend time with my family traveling, scuba diving and just hanging out.  
It is my firmly and passionately held belief that pharmacists and pharmacy technicians play a critical role in our health care system. While I fully appreciate the challenges of daily practice and understand why many of us feel "pushed to the wall" these days, I also know that our profession was never meant to be solely a means of gainful employment and satisfying work. We are first and foremost, health care professionals in the service of our communities. It is a rare privilege to contribute to a self-regulating profession such as ours and I would be honoured to serve.