District 3 - Jason Cridge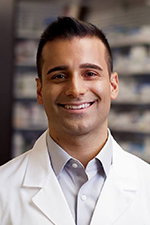 In my 11 year pharmacy career I have practised as a retail pharmacist in Victoria for the past 7, and before that a further 4 years in pharmacy support roles. I've worked in settings such as the
Hospital, large pharmacy chains like Costco and Rexall, independent banners and independent pharmacies allowing me to understand the individual practice concerns of all pharmacists. I also founded and am the owner/operator of Cridge Family Pharmacies located in Victoria; we are a proud member of the IDA/Guardian banner family which is part of Mckesson Canada.
The practice of pharmacy in Canada has been in flux for quite some years. It seems that the only constant in our profession has been change. I've seen it from the first pan-Canadian agreement almost 10 years ago, to third party payers and Pharmacare reducing remuneration for pharmacies, auditing, regulations becoming more onerous, and professionals expected to do more with less.  This creates challenges in the delivery of pharmacy services to meet the professional standards of day to day pharmacy practice.
I strongly believe that fiscally responsible payers, regulators and practitioners coupled with appropriate regulation will support a robust pharmacy environment that is able to maintain its commitment to the public and their safety. My time on the board will recognize the challenges and reality of pharmacy practice and ensure that pharmacy regulation supports the best patient care.
Having won the Ben Gant Innovative Practice Award for 2018 makes me no stranger to the evolving role and responsibilities of pharmacists in today's retail pharmacies. In my own practice I push hard for expanded roles and collaborative environments. As a prospective board member I take a particular interest in ensuring these new practice areas have adequate regulation and that regulations are proactive in nature to ensure the protection of patients.
Thank you for considering me as your candidate for District 3 Vancouver Island/Coastal. I pledge to bring a strong voice to the board that will ensure fiscally responsible patient care; a balanced regulatory environment that proactively regulates new practice areas that will allow for enhanced public safety and protection of the public.