District 3 - Andrea Silver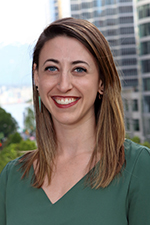 As pharmacists, we self-govern to work for our patients. We stand to protect them from unsafe clinical and operational practice, and in return they give us their trust, respect, and business.
I would like to serve to give back to the public and ensure they continue to get the best of our services as our practice advances and continues adapt to the current healthcare market.
GOALS:
Prioritize patient safety and reduction in medication errors by normalizing the incidence of error reporting, thereby reducing shame and allowing for preventative solutions and continuous improvement
Adapt and update legislature so that scope of professional practice is inline with current and future healthcare market
Maintain and improve Practice Review Program as a practical means of assessing professional competency
ABOUT ME
EDUCATION:
Community Residency | University of British Columbia 2016
BSc Pharmacy graduate | University of British Columbia 2015
HBSc Biology & Psychology | McMaster University 2009
Certified Diabetic Educator
Certified Immunization Pharmacist
Caregiver-Friendly Pharmacy
RECOGNITIONS:
Excellence in Patient Care award | BCPhA 2019
Apotex Inc Award in Pharmaceutical Sciences | Apotex 2015
EXPERIENCE:
Pharmacy Manager of independent pharmacy in Victoria BC
Clinical Lead for new community programs such as Heart@Home in Victoria BC
Author for CPhA's Therapeutic Choices for Minor Ailments (TCMA)
Preceptor to the next generation of pharmacists
UBC Community Residency provided exposure to many patient populations and specialties of practice in the lower mainland and Vancouver Island

Seniors outpatient clinic, Royal Jubilee Hospital
Dialysis clinic at Royal Columbian Hospital
Various primary care clinics in Vancouver Mainland
Palliative care, Fraser Health
Drug & Poison Information Center, Vancouver
Medication management services with Burnaby Hospital
Heart Health Clinic, Jim Pattison Outpatient Center
Oncology outpatient clinic, Burnaby Hospital
St Paul's HIV Outpatient Center
Provincial Academic Detailing, Ministry of Health 

Retail experience in both corporate and independent structures
Regular presence at continuing education events and conferences
15 years working as pharmacy assistant, 3 years spent in research and statistics