District 1 - Cathy Wang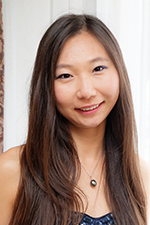 Yi Cong (Cathy) Wang H.BSc, PharmD
To my colleagues in District 1, I would like to ask for your support and vote for the College of Pharmacists Board of Directors. My colleagues believe I will be a strong and representative voice to the board given my diverse background, passion for public safety and patient care.
I started my pharmacy career as a pharmacy assistant in 2009, and then I obtained my PharmD in 2015 at the University of Waterloo, Ontario. After practicing in Ontario for a year, I relocated to the beautiful city of Vancouver. During my time working as a student pharmacist and in recent years as frontline pharmacist, I have gained a diversity of experiences in various patient care settings:
Cooperative rotation in industry as medical information specialist, pharmacy student in a small community hospital and extremely busy big chain pharmacy
Fourth year PharmD clinical rotation in a mental health hospital
Casual, staff pharmacist, pharmacy manager and I have transitioned to an independent pharmacy owner in Vancouver
Providing mental health and addiction care pharmacy services at Downtown Eastside community based clinic (Downtown Community Health Clinic, DTES Connections and Crosstown clinic)
Servicing a youth detox centre with pharmaceutical needs, providing a safe space for youth to detox from substances
Working in various patient education groups and providing presentations
Currently, as an independent pharmacy owner in the Westend neighbourhood in Vancouver, I strive to provide optimal personalized patient care to everyone. I embrace the full scope of pharmacy practice to ensure safe and comprehensive patient care, from providing vaccination services, travel health consultation, compounding services to prescription adaptations and medication reviews. Furthermore, I work closely with the patient, prescribers, other healthcare providers and my pharmacy team to ensure patient-centered care and that public safety is protected, which is mandated by the College.
From my day-to-day practice, I experience the high level of trust that patients instill on us as valued health care professionals, and that I believe this is achieved through qualified pharmacists collaborating on the best shared decision-making that leads effective and efficient patient care. As an integral part of frontline patient care, I feel that we are in a unique position to ensure safe and ethical pharmacy care.
The landscape of pharmacy practice as well as health care is ever-changing and increasingly complex.  Therefore, I understand the vital link the College plays in ensuring the health and wellness of the public is protected through regulations of pharmacy practice including any new scope changes. The fact that I am a young and vibrant frontline community pharmacy owner, who is passionate about our ever-growing contribution to positive patient outcomes, I would be proud to provide a forward-thinking and progressive influence to the Board for our patients.
It would be my great honour to represent District 1 on the Board, to ensure all pharmacists' and pharmacy technicians' voices and opinions are heard. 
Thank you for consideration,
Cathy Wang
https://www.facebook.com/Cathy-Wang-District-1-106149737416083/