District 1 - Alex Dar Santos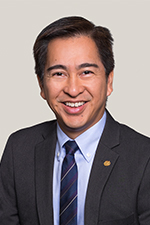 I would like to introduce myself for your consideration for the College of Pharmacists Board, District 1. 
I am a graduate of the University of British Columbia with Bachelor of Science in Pharmacy (2002), I am very passionate about the profession of pharmacy in our province.  I have more than 17 years of experience as a front-line community pharmacist and 16 years of pharmacy management experience.  I am a UBC Practice Educator and have been a preceptor for the past 15 years and have enjoyed the opportunity to connect with the next generation of pharmacists.
I am currently the Associate-owner of Shoppers Drug Mart #2237 in Richmond.   I have previously been elected by my peers to represent them and advocate on their behalf to our corporate office on our Shoppers Associate PEERs committee from 2005 to 2013. I am also finishing my final year on the BCPhA Board of Directors to which I was elected in 2013 and served as president in the 2017/18 term.  I am very proud of the work of the BCPhA in the role of advocacy for the profession.  Should I be elected to the College Board, I am looking forward to a different role as a board member for the College, with a mandate of ensuring the public trust and safety.
As a practicing frontline pharmacist, I hold myself and other pharmacists to a high level of integrity and professional standard.  I also strive for common sense solutions in order to continue to practice pharmacy safely and efficiently.  I believe that patients and the public benefit the most when a pharmacist spends more time with their patients rather than on administrative burdens and paperwork.  I believe that a pharmacist's time is most beneficial when solving drug related problems rather than cycling through repetitive tasks.  I believe that upholding the public trust is critical in maintaining the best possible professional reputation.
With the College's mandate of protecting the public, I believe my prior board and community practice experience gives me a strong voice and a solid understanding of the needs of the public.  Ensuring public safety is an important mandate, one that can be achieved using a common sense approach, without unnecessary burdens to pharmacists providing evidence based pharmaceutical care.  I also believe that because of the diversity of pharmacies and pharmacists in the province, a one-size fits all approach may not always be the best solution.  By leveraging our professional skills, and regulating in the public interest, I am a strong believer that the College can enable pharmacists to do the right thing for patients.
In addition to my professional work, I am involved with various charitable causes, including the Richmond Hospital Foundation, Richmond Cares Richmond Gives and Shoppers Drug Mart Growing Women's Health.  In my spare time I enjoy playing golf and spending time with my fiancé and my two children.
If you wish to contact me during the election period, feel free to email me at asdm2237@gmail.com